Our goal is to give you the tools and confidence you need to improve your finances. Although we receive compensation from our partner lenders, whom we will always identify, all opinions are our own. Credible Operations, Inc. NMLS # 1681276, is referred to here as "Credible."
Repairing or replacing a damaged appliance can often cost hundreds or thousands of dollars. Homeowners insurance typically covers personal property in your home, including home appliances, but only for damages caused by a covered event.
If your appliance breaks down from normal wear and tear or maintenance issues, you'll need to pay out of your own pocket to repair or replace it.
Here's what you need to know about home insurance and appliances:
Does home insurance cover damages to appliances?
Homeowners insurance can help cover home appliances damaged due to a covered peril. Covered perils under a standard homeowners policy typically include: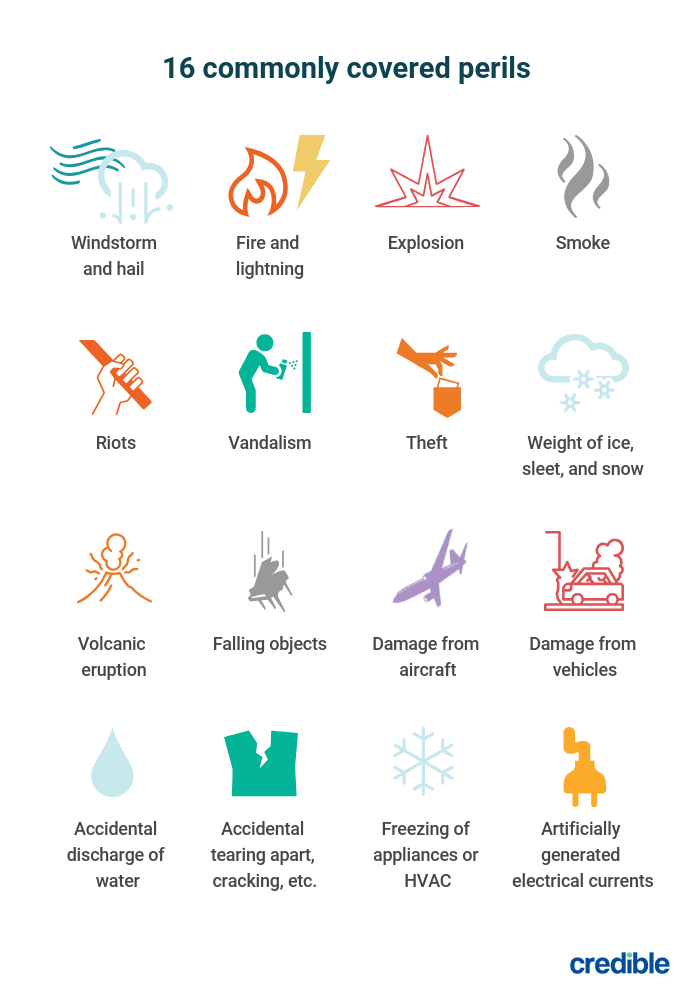 Home appliances can fall under several coverages within a standard homeowners policy depending on the type of appliance and how it's installed:
Personal property coverage: Appliances that plug into an outlet in your home may be covered under your policy's personal property coverage. These may include dishwashers, microwaves, ovens, and refrigerators.
Dwelling coverage: Appliances built into your home are often covered under your policy's dwelling coverage. This includes furnaces and water heaters.
Other structures coverage: If you have appliances in a detached structure on your property, such as a shed or garage, they may be covered under your policy's other structures coverage.
Appliance damage coverage limits
Coverage for appliances is subject to policy limits, which are the maximum amounts your insurance carrier will pay out for a covered loss. The amount you receive to repair or replace a damaged appliance depends on:
Whether the damage resulted from a covered peril.
What type of coverage it falls under.
Your policy's limits and deductible.
Keep in mind: Your dwelling coverage should be enough to cover the full replacement cost of your home. Personal property coverage is typically 50% to 70% of your policy's dwelling coverage limit. Other structures protection is generally about 10% of your dwelling coverage.
Actual cash value vs. replacement cost
Home insurance payouts generally fall under two categories:
Actual cash value: Your policy may pay to repair or replace the appliance, minus depreciation. If you have older appliances, they likely wouldn't be covered for the amount paid at the time of purchase.
Replacement cost: If your policy pays replacement cost value, you'll receive funds to repair or replace the appliance at today's cost.
In some cases, your policy's deductible (the out-of-pocket cost you pay before your insurance kicks in) may be more than the cost of replacing an appliance. If your deductible is $1,000, but your oven damaged by a fire costs $700 to replace, it doesn't make sense to file an insurance claim.
Check Out: Homeowners Insurance Deductible: What You Need to Know
When does home insurance not cover damage to appliances?
A homeowners insurance policy doesn't cover every type of damage to your home appliances. Here are some common exclusions:
Normal wear and tear
Neglect
Misuse
Poor installation
Earthquakes
Floods
Sewer backups
Water leaks not caused by a covered peril (like a storm)
Learn More: What Does Homeowners Insurance Cover?
Additional appliance damage coverages
A couple other coverages can help protect you financially if one of your appliances is damaged:
Loss of use coverage: If your home becomes uninhabitable following a covered loss involving one of your appliances — maybe your stove caught fire or your dishwasher flooded and ruined your kitchen — loss of use coverage can pay for the cost of lodging and meals up to policy limits while repairs are made. Loss of use coverage is included in every standard homeowners policy. It's typically 20% of your dwelling coverage.
Home warranty: Many appliances come with their own warranty, but you can also buy a separate home warranty for additional coverage. This covers your appliance if it breaks due to normal wear and tear. You may be able to purchase one through your home insurance provider. Pay attention to a home warranty's terms and conditions to understand what's covered and what isn't.
How to file a claim for appliance damage
If a fire or other covered peril damages one of your appliances, you can file a claim through your insurance provider for reimbursement. The claim process will vary depending on your insurer, but you'll generally take these steps to file a claim:
Contact your insurance provider. Get in touch with your insurer promptly, and have your policy number on hand to speed up the process. Share details on the incident and the damages that occurred. This also gives you a chance to ask about your coverage, policy limits, and deductible.
Submit claim forms. Your insurance provider will provide the necessary forms to file a claim. You'll need to provide information like the date and time of the event, details on what happened, and photos of your property.
Get an estimate. Your insurer may schedule an inspection for an insurance adjuster to inspect the damages. The insurance carrier then creates an estimate of repairs based on the information provided and lets you know how much of the damage is covered.
Receive payment. Following the inspection, your insurance provider will send you (or the contractor you select) payment for the estimated amount. You can use any contractor to repair or replace the damaged appliances.
If you're shopping for homeowners insurance, it's a good idea to compare quotes from multiple companies. It's easy to research insurers, compare quotes and purchase home insurance with Credible Insurance.
Compare home insurance from top carriers
Fully online, buy home insurance coverage instantly
Compare quotes from highly rated home insurance carriers in your area
No spam, phone calls, upselling, or fake quotes
Copyright (c) 2023, Credible Insurance, Inc. d/b/a Credible Insurance Agency (CA Lic. # 0M90597). Insurance Services provided through Credible Insurance, Inc., VA: Credible Insurance Agency, Inc., MN SOS: Credible Cover, Inc. Credible Insurance is a subsidiary of Credible Labs Inc. 1700 Market St. Ste. 1005, Philadelphia, PA 19103.