Our goal is to give you the tools and confidence you need to improve your finances. Although we receive compensation from our partner lenders, whom we will always identify, all opinions are our own. Credible Operations, Inc. NMLS # 1681276, is referred to here as "Credible."
Standard homeowners insurance usually covers hail damage to your home, but there are a few instances when it doesn't. For example, some insurers in hail-prone regions may limit or restrict the amount of hail coverage they offer.
Here's when home insurance covers hail damage to your home and how to file a claim for hail damage:
Does home insurance cover hail damage?
Most basic home insurance policies cover hail damage. Dwelling coverage, or Coverage A, usually covers hail damage to your home's physical structure, like your roof, siding, and chimney. It also provides protection for structures attached to your home (e.g., an attached garage or backyard patio).
Other structures coverage, or Coverage B, typically covers detached structures on your property (such as gazebos or sheds).
If you have an HO-3 policy, the most common type of home insurance, it generally covers these 16 perils: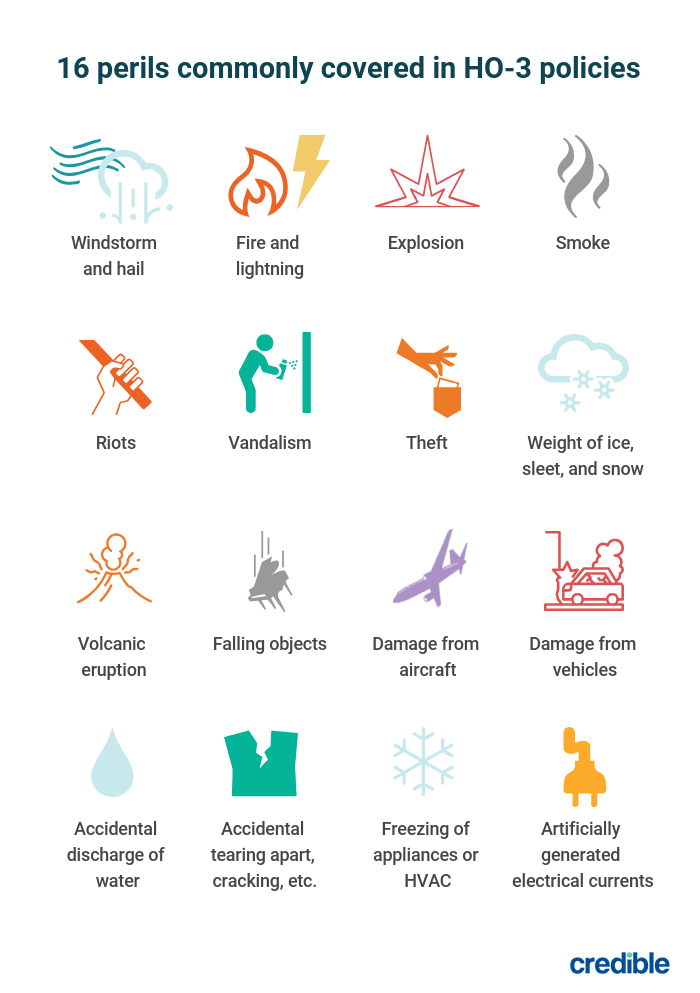 It's important to note that flooding isn't on the list. This means that if hail damage leads to flooding, your home insurance policy won't cover the flood damage. To cover flooding, you'll have to purchase a separate flood insurance policy.
Compare home insurance from top carriers
Fully online, buy home insurance coverage instantly
Compare quotes from highly rated home insurance carriers in your area
No spam, phone calls, upselling, or fake quotes
Hail damage coverage limits
The limits for your home hail damage coverage depend on various factors, such as where you live, your insurance provider, and your deductible (the amount you pay for a claim before your insurance kicks in).
That said, the amount of money an insurer reimburses homeowners for hail damage to their home can be thousands of dollars. For example, the average hail claim for homeowners was more than $12,000 for State Farm customers, according to a 2021 State Farm report.
The top 5 states for total home and auto hail claims that State Farm paid in 2021 were:
Texas: $710 million
Minnesota: $253 million
Oklahoma: $202 million
Illinois: $187 million
Colorado: $139.5 million
When does home insurance not cover hail damage?
Although basic home insurance usually provides coverage for hail damage, some exceptions exist. Here are some scenarios when hail damage to your home might not be covered:
Your policy has a hail damage exclusion. Some insurers list hail damage as a home insurance exclusion in certain hail-prone areas. If this is true of your insurer, hail damage to your home might not be covered. But you may be able to purchase a separate windstorm policy that covers hail damage.
Your policy has a cosmetic damage exclusion. Some insurance providers don't cover hail damage that only impacts the way a structure looks. For instance, if your siding has a dent but still functions properly, the damage might not be covered.
Your policy lapsed before the damage occured. If your insurance policy wasn't active when hail damage occurred, you'll have to pay for the damages out of your own pocket.
Tip:
You can find out if your insurance provider excludes hail damage by reviewing your insurance policy — most
home insurance exclusions
are listed in the main coverage section of your policy. You can also find them in the endorsements, definitions, and conditions sections. If you have any questions, contact your insurer.
Will a home warranty cover hail damage?
Although a home warranty can provide protection for your home, it's not the same as home insurance. A home warranty doesn't cover hail damage or any other unfortunate event. It's a service contract that can help you pay for servicing, repairing, or replacing various appliances and systems in your home, such as your dishwasher, dryer, and air conditioning system.
Additional home insurance coverage to protect from hail damage
Although standard home insurance can help you pay for hail damage repair costs, consider adding some of these other coverages to maximize your protection:
Roof replacement cost coverage: A standard home insurance policy usually only covers repairs for your roof for its actual cash value — your roof's current value, minus depreciation over time based on factors like wear and tear, age, and roofing materials. Replacement cost coverage, on the other hand, pays for your roof's replacement cost value — what it costs to replace now.
Matching siding coverage: If hail damages your home's siding, standard home insurance usually only pays to repair or replace the part that was damaged. As a result, you could have mismatched siding if you can't find a matching replacement from a siding manufacturer. To avoid this potential issue, you can purchase matching siding coverage, which replaces the damaged siding — and the undamaged siding if a match isn't available.
Higher coverage for other structures: A standard home insurance policy usually covers hail damage to detached structures on your property, such as gazebos, fences, and sheds. The amount of protection it provides for your other structures is usually around 10% of your dwelling coverage. But if that amount isn't enough to repair or replace your other structures if they experience hail damage, consider contacting your insurer to purchase additional coverage.
Will home insurance cover hail damage to your car?
Home insurance doesn't cover hail damage to your car, regardless of whether the damage occurred in your home's driveway or elsewhere on your property. But if you have comprehensive car insurance, your policy should cover hail damage after you've met your deductible.
One way to prevent hail damage is to park your car in the garage if you know a storm is coming. If that isn't an option, consider covering your car with blankets or a car cover.
How to file a hail damage claim
Although the claims process varies by insurer, you'll generally take these steps to file a home insurance claim:
Document the damage. First, take videos and pictures of the damage to your home. This can come in handy when you meet with an insurance adjuster.
Report the damage to your insurer as soon as possible. Next, contact your insurance provider. A claims representative should be able to tell you whether the hail damage is covered and how long you have to file a claim. They should also be able to tell you how much your deductible is — the amount you have to pay before your insurer pays the rest.
Fill out claims forms. Your insurer will send you the forms you need to file a hail damage claim. Once you receive them, make sure to fill them out correctly and submit them on time.
Prepare for an insurance adjuster to visit. After you file your hail damage claim, an insurance adjuster should contact you to schedule a time to visit your home and inspect the damage. To prepare for the meeting, gather and organize any documentation of your damages, such as pictures, videos, and repair bill receipts. Also, try not to throw away any damaged items before the insurance adjuster arrives.
Get repair estimates. Contact a reputable contractor who can assess the damages and give you a second opinion on how much repairs might cost.
Receive a settlement offer. After an adjuster has completed their work, you should receive a settlement offer from your insurer. Review this offer and make sure it's for an amount you agree with before accepting it.
Tip: The Federal Trade Commision recommends checking with your local Home Builders Association to see if any complaints have been filed against the contractor you're considering, and to confirm they're licensed and insured. These two actions can help you avoid scams.
Copyright (c) 2023, Credible Insurance, Inc. d/b/a Credible Insurance Agency (CA Lic. # 0M90597). Insurance Services provided through Credible Insurance, Inc., VA: Credible Insurance Agency, Inc., MN SOS: Credible Cover, Inc. Credible Insurance is a subsidiary of Credible Labs Inc. 1700 Market St. Ste. 1005, Philadelphia, PA 19103.