Our goal is to give you the tools and confidence you need to improve your finances. Although we receive compensation from our partner lenders, whom we will always identify, all opinions are our own. Credible Operations, Inc. NMLS # 1681276, is referred to here as "Credible."
Most vandalism occurs in public spaces, according to a report by the Urban Institute's Justice Policy Center. But private properties can also be targets, especially at night and if the property appears unguarded.
You may hope vandals pass your home by, but if your home ever is vandalized, your homeowners insurance may pay for the damage.
Here's what to know about homeowners insurance and when it might — or might not — pay to repair damages caused by vandalism:
Does home insurance cover vandalism?
A standard homeowners insurance policy covers damage to your home caused by vandalism, riots, and civil unrest. This protection is offered under the dwelling coverage aspect of your policy which covers the structure of your home including built-in appliances and attached structures such as a deck or porch. This means your insurance carrier will pay to repair or replace the damaged structure of your home.
Good to know:
If you can't live in your home because it's damaged by vandalism, your insurance carrier may
provide coverage
for a temporary living space and related living expenses while repairs are made.
Vandalism is a type of general peril covered under homeowners insurance policies. Below are some types of vandalism incidents that would be covered under a basic policy:
Graffiti and spray paint: Graffiti and spray paint on a residential home is not only unpleasant to look at, but it can also lead to erosion of building materials and siding. Home insurance can help cover the professional cleanup and repair of this type of vandalism.
Arson/fire: Home insurance also covers fire damage if it's a peril listed on your policy. This provides protection if someone intentionally or unintentionally sets fire to your home or if the structure suffers fire damage from a natural cause.
Breaking windows: Let's say something throws a rock through your home's window during a riot or period of civil unrest in your area. The damage to your windows or replacement cost would be covered under your home insurance's dwelling coverage.
Damage to your mailbox, patio furniture, or yard: Standard homeowners insurance typically covers personal property damaged by a covered peril — in this case, vandalism.
The graphic below shows the 16 perils typically covered in standard homeowners policies: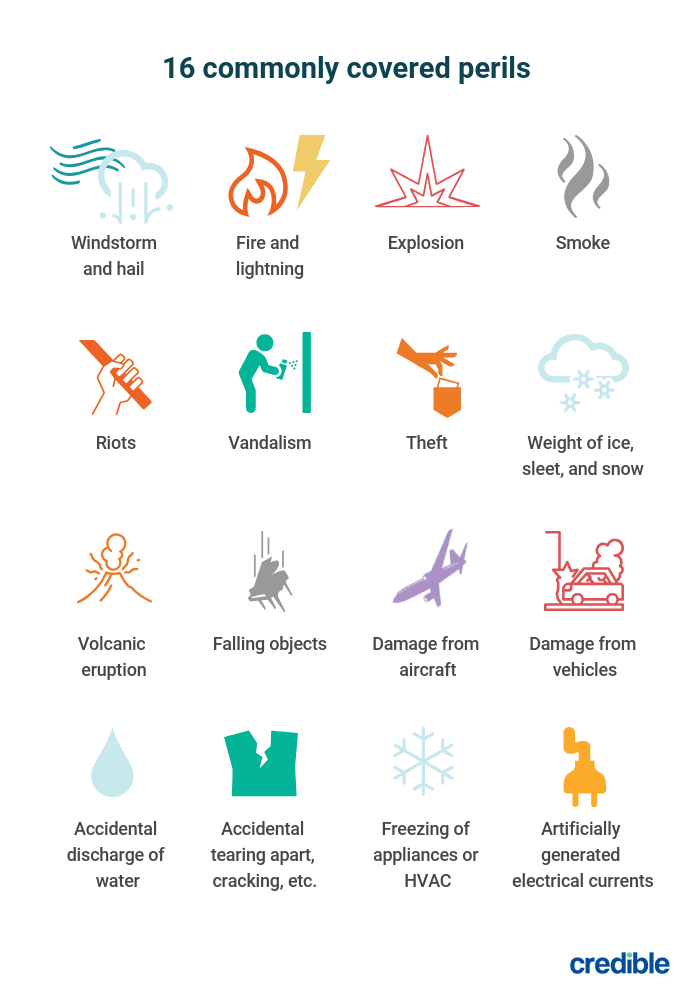 Check Out: An Overview of Loss of Use Coverage
Vandalism coverage limits
Each home insurance policy has a coverage limit that you typically set when you first get coverage. Insurance carriers will cover a peril listed in your policy (such as vandalism) up to the coverage amount you purchased.
For dwelling coverage, it's a good idea to get enough coverage to cover the cost to fully rebuild your home. In some cases, vandalism coverage limits will be a percentage of your total coverage limit, depending on your home insurance and policy details.
Be sure to read your policy thoroughly to determine what your limits and deductibles will be for vandalism. Also, realize that you must pay your deductible before any coverage kicks in.
Learn More: What Is Dwelling Coverage?
When doesn't home insurance cover vandalism?
There are some circumstances where your home insurance policy won't cover vandalism. In this situation, you'll want to plan ahead to either extend your coverage or create a backup plan. Here are a few specific scenarios when home insurance won't cover vandalism:
It's excluded from your policy. Vandalism can simply be excluded from the list of covered perils in your policy. Sometimes, insurance providers include vandalism as an extended coverage or limit the perils it'll cover, so make sure your policy covers vandalism from the start.
Your home is vacant for an extended time. Home insurance policies will cover vacant homes, but some carriers place limits on how long a home can be vacant. If your home has been vacant for more than 60 days (in most states), your home insurance policy may be canceled and vandalism won't be covered.
Vandalism of an unattached structure occurs on your property. If someone breaks into an unattached garage or shed and causes damage to it, you may not be covered under a basic home insurance policy. However, an other structures endorsement would extend coverage for this.
Learn More: Other Structures Coverage: What It Is and What It Covers
Does home insurance cover vandalism if my car is parked in a garage?
Vandalism done to a personal car can be just as bad as vandalism damage to a home. If your car is parked in the driveway or even in your garage and gets vandalized or broken into, this is where the lines between home insurance and auto insurance can seem blurred.
Home insurance won't cover damages to your car due to vandalism, even if it's parked at home at the time — your car insurance's comprehensive coverage would help pay for these damages. You'd need to file a claim and pay your deductible before coverage kicks in. Deductibles for comprehensive auto insurance could go up to $2,000 but it depends on your policy and limits.
A deductible is the amount you must pay out of pocket before your insurance will pay for damage resulting from a covered peril. Generally, the higher your deductible, the lower your insurance premium will be.
However, if items are stolen from your car that's parked on your property, home insurance may cover the cost to replace the stolen items as part of your policy's personal property coverage.
Additional vandalism coverages
Generally, homeowners insurance should cover vandalism damage to your home but this particular peril is not always black and white. You may want to consider these additional coverage options to ensure full protection if your home is vandalized:
Replacement cost protection: Home insurance policies typically either pay replacement cost or actual cash value as reimbursement . If vandals damage the structure of your home , replacement cost protection provides coverage to help you rebuild or repair your home using materials of a similar type and quality. Meanwhile, policies with actual cash value protection will account for depreciation and deduct this from the reimbursement.
Comprehensive auto insurance: Comprehensive auto insurance will fill in the gaps to cover vandalism damage to your car.
Vacant home insurance: Since most carriers won't insure a vacant home past 30 to 60 days, if you have a vacant property you may want to consider adding vacant home insurance and making sure it covers vandalism and acts of mischief.
Business property insurance: If you run a home business check to see if your existing home insurance policy would cover vandalism damage to your home business property. If there are gaps, look into getting a business property endorsement added to your policy.
How to file a claim for vandalism
Vandalism done to your home and the items within your home should always result in a timely response by filing a claim with your home insurance carrier:
Start by evaluating the damage. Take a look at what was damaged and take notes so you can provide details in your claim. Also, take pictures so you can help further validate your claim.
File a police report. As you examine the damage, be sure to contact the police department to file a report right away. This additional documentation can help authorities find the person responsible for the damage and also benefit your home insurance claim.
Contact your insurance carrier and submit a claim. Next, contact your home insurance carrier to see how you can file a claim. Provide as much information as you can including the police report. When a claim is filed, the insurance provider will send an adjuster to your property to assess the damage and determine how much it should pay for repairs.
Pay your deductible. Once you've successfully filed a claim and it's been approved, be sure to pay your deductible to allow coverage to kick in.
Vandalism is something you hope never happens to your home, but it's important to be prepared for it with the proper home insurance coverage. Use Credible to compare personalized rates from more than 40 insurance providers.
Compare home insurance from top carriers
Fully online, buy home insurance coverage instantly
Compare quotes from highly rated home insurance carriers in your area
No spam, phone calls, upselling, or fake quotes
Copyright (c) 2023, Credible Insurance, Inc. d/b/a Credible Insurance Agency (CA Lic. # 0M90597). Insurance Services provided through Credible Insurance, Inc., VA: Credible Insurance Agency, Inc., MN SOS: Credible Cover, Inc. Credible Insurance is a subsidiary of Credible Labs Inc. 1700 Market St. Ste. 1005, Philadelphia, PA 19103.