Our goal is to give you the tools and confidence you need to improve your finances. Although we receive compensation from our partner lenders, whom we will always identify, all opinions are our own. Credible Operations, Inc. NMLS # 1681276, is referred to here as "Credible."
Odds are you've worked hard to be able to afford and maintain valuable assets like your car, your home, and the belongings you keep in each one. Unfortunately, though, a number of perils can cause damage or destruction to those valuables.
Perils are events like a fire, major storm, or break-in, that may result in damage to your home or belongings. Insurance can reimburse you for many of these losses, but not all policies and coverages are the same. It's important to read your policy's declarations page to understand what perils are (and aren't) covered.
Here's what you need to know about homeowners insurance perils:
What perils are covered by a homeowners insurance policy?
No two homeowners insurance policies are the same. Depending on the type of house you own, where you're located, and the specifics you chose for your policy, you might receive coverage for different perils than your neighbor or relatives.
With that said, homeowners insurance policies typically cover perils like: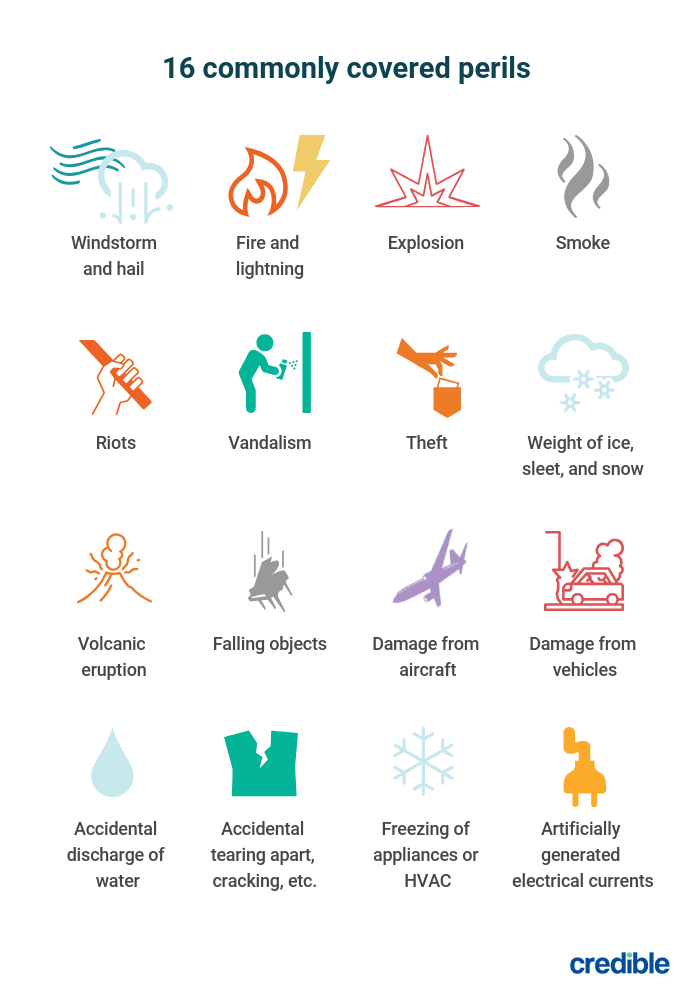 Even if your chosen policy doesn't cover a specific peril, you can sometimes purchase add-on coverage, also known as an endorsement or rider. For instance, flood insurance isn't included with your homeowners insurance; it must be purchased as an endorsement or as a separate policy.
Loading widget - hoi-embed
What isn't covered under home insurance?
Your insurance carrier's documents should spell out exactly what is and isn't covered by your specific policy, which can vary based on the level of homeowners insurance coverage you purchase. In general, though, these perils aren't typically covered:
Earthquakes: If you live on a fault line or earthquake-prone area, your basic policy may exclude damages related to earthquakes. You may be able to purchase an endorsement, however, or even get coverage through your state.
Flooding: While water damage (such as that from a burst pipe or leaking roof) is usually covered by homeowners insurance, flooding generally isn't. If you live in a flood-prone area, you may want to see about separate flood insurance through FEMA, your state, or your private insurer.
Lack of maintenance: Homeowners insurance protects your property against external perils, but you're still responsible for the upkeep and care of your home. Damages that occur as the result of neglect or a general lack of maintenance aren't covered.
Pests: Termites, ants, rodents … there's no shortage of pests that can overrun your property and cause significant damage. Unfortunately, homeowners insurance usually excludes the cost to prevent these pests, exterminate them, or repair pest-related damages.
Mold: The damage caused by mold can be catastrophic, but it isn't always covered by homeowners insurance. If mold is the result of a recent water event — like a broken water line — your insurance may cover it. However, mold can also be the result of neglect or slow water leaks over a long period of time, in which case it won't be covered.
Learn More: What Is an All Other Peril (AOP) Deductible in Home Insurance?
Open perils and named perils coverage
A homeowners insurance policy will have either named perils or open perils coverage. This determines exactly which situations are and are not covered by a specific policy.
Named perils policies provide coverage only against the perils specifically listed in the policy. If the peril isn't explicitly named, it isn't covered. It's also on the homeowner to provide evidence that the damage was caused by one of the listed perils in order to receive coverage.
Open perils policies, also known as "all risks coverage," covers all possible causes of damage except for the perils specifically excluded from the policy. The insurance carrier is responsible for providing proof that the damage isn't covered (if necessary).
Types of homeowners insurance policies and covered perils
Homeowners have four primary types of homeowners insurance policies to choose from: HO-1, HO-2, HO-3, or HO-5. Other policy types are available for renters, condo or co-op owners, mobile or manufactured homeowners, and owners of older homes, but these four are the most common.
Here's a quick breakdown of each homeowners insurance policy type:
| Policy form | Property type | What it covers | Best for |
| --- | --- | --- | --- |
| HO-1 (basic) | House | Limited named perils for structure and contents | Bare-bones coverage, where available |
| HO-2 (broad) | House | Greater number of named perils for structure and contents | More coverage than HO-1 but less than HO-3 |
| HO-3 (special) | House | Open perils for structure, named perils for contents | Most homeowners |
| HO-4 (contents broad) | Rental unit | Named perils for contents | Renters |
| HO-5 (comprehensive) | Higher-value house | Open perils for structure and personal property | Homeowners who want the most comprehensive coverage |
| HO-6 (unit-owners) | Condo or co-op unit | Named perils for contents and certain structural items | Condo or co-op unit owners |
| HO-7 (mobile home) | Mobile home | Open perils for structure, named perils for personal property | Mobile home owners |
| HO-8 (modified coverage) | Old, high-risk homes | Limited named perils for structure and personal property | Homeowners who don't qualify for any other coverage |
If you have a mortgage, odds are that homeowners insurance coverage will be required (at least for your dwelling). But purchasing a homeowners insurance policy to protect one of your biggest assets is a wise decision, even if your property is paid off.
Credible can help you compare rates on homeowners insurance policies. Get free customized quotes from top carriers today.
Compare home insurance from top carriers
Fully digital experience — Fill out all of your insurance forms online, no phone call required!
Top-rated carriers — Choose from a mix of highly reputable national and regional home insurance carriers.
Data privacy — We don't sell your information to third parties, and you won't receive any spam phone calls from us.
Copyright (c) 2023, Credible Insurance, Inc. d/b/a Credible Insurance Agency (CA Lic. # 0M90597). Insurance Services provided through Credible Insurance, Inc., VA: Credible Insurance Agency, Inc., MN SOS: Credible Cover, Inc. Credible Insurance is a subsidiary of Credible Labs Inc. 1700 Market St. Ste. 1005, Philadelphia, PA 19103.