Our goal is to give you the tools and confidence you need to improve your finances. Although we receive compensation from our partner lenders, whom we will always identify, all opinions are our own. Credible Operations, Inc. NMLS # 1681276, is referred to here as "Credible."
You've probably spent a lot more time at home than usual over the last year and a half. So, if you're tired of looking at the same old stuff, it might be time for a change.
From simple decorative projects to larger renovations, Credible has ideas to make your home more appealing on any budget, whether you own or rent. The price ranges listed are estimates — your total cost may vary depending on the size of the project, materials used, and professional service costs.
Here are 15 ways to upgrade your home for the summer: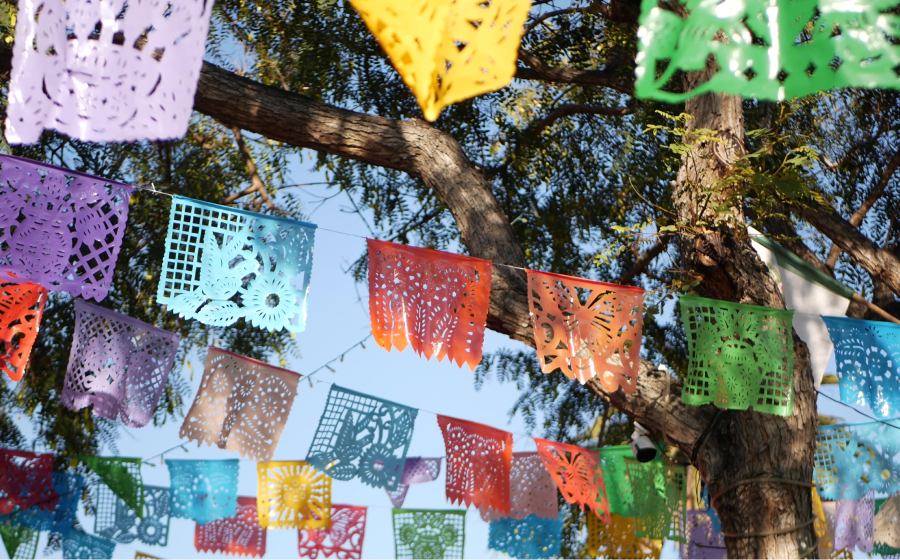 String up a banner or garland
Typical cost: Up to $50
From colorful Mexican papel picado to paper butterflies, banners and garlands are an inexpensive way to add seasonal flair. If you love craft projects, you can make one yourself — possibly with materials you already have.
These aren't costly to buy premade, either, so you can combine several to have a bigger impact.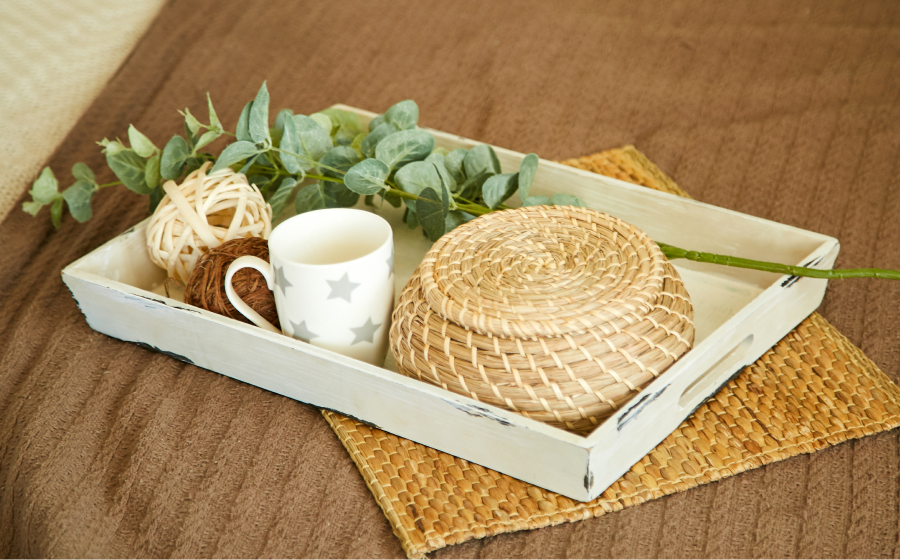 Style a decorative tray
Typical cost: Up to $50
Start with a flat rectangular tray, three-tiered circular tray, lazy susan, or cake stand. Follow it up by arranging seasonal fresh fruit, flowers, and greenery. Place these items in small bowls, mason jars, pitchers, or vases — make sure the colors, textures, and heights vary. And there you have it!
You can use the tray to embellish your kitchen counter, coffee table, entry table, or patio table.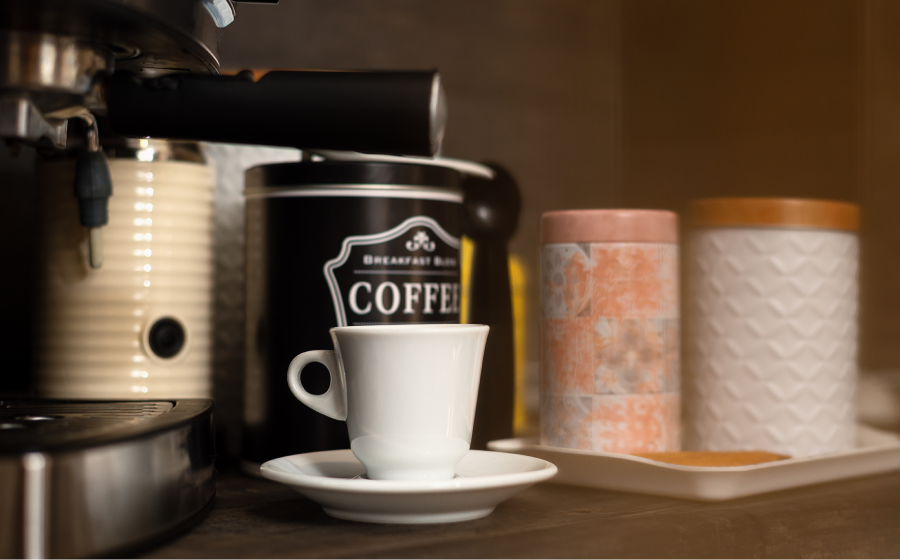 Create a coffee station
Typical cost: Up to $200
Combine style and function by placing items and ingredients you use together all in one place. Repurpose or buy a shelf, cabinet, rolling cart, or countertop. Gather your favorite beans and syrups, coffee maker, spoons, mugs, and whatever else you use: milk frother, coffee filters, mocha powder, granulated sugar.
If you're a big coffee drinker, you might already have all of these items on hand, in which case, this is one of the most frugal summer projects you can undertake.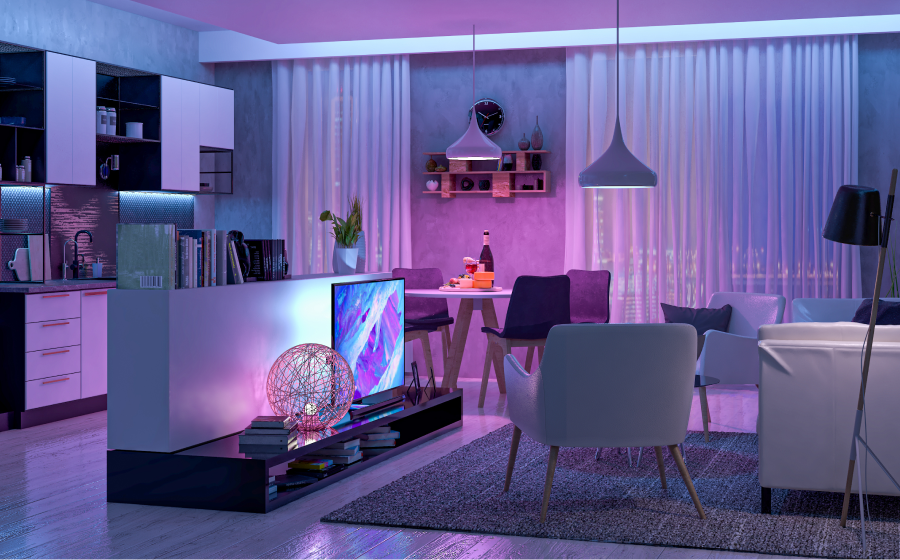 Add indoor lighting
Typical cost: $15 to $200
Color-changing bulbs, light strips, and wall tiles can shift the mood of a space and add accents underneath cabinets, on bookshelves, and within entertainment systems.
Smart technology lets you program your lights and turn them on and off with your phone or voice. Plus, LED bulbs save energy.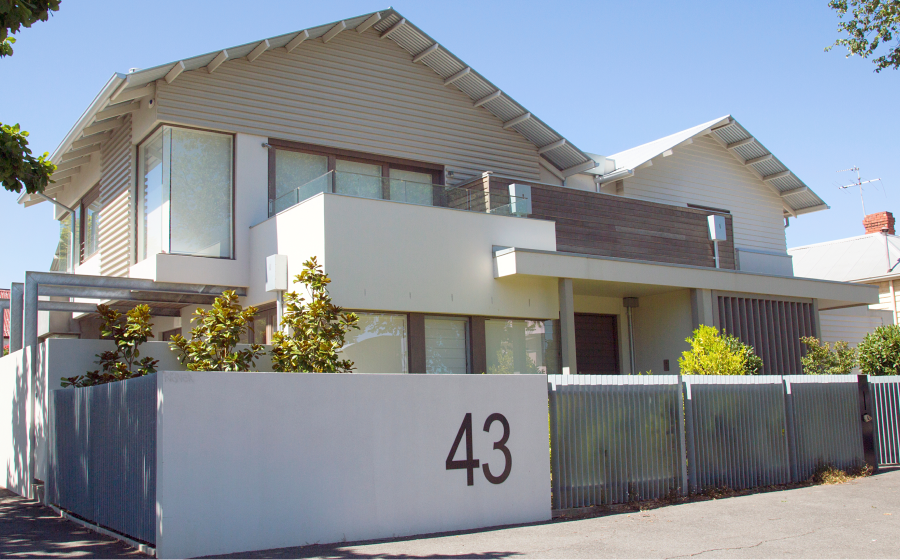 Update your house numbers
Typical cost: $10 to $250
Lawn address signs, floating mount house numbers, and wall address plaques are an inexpensive way to make it easier for new friends, delivery drivers, and emergency workers to find your place.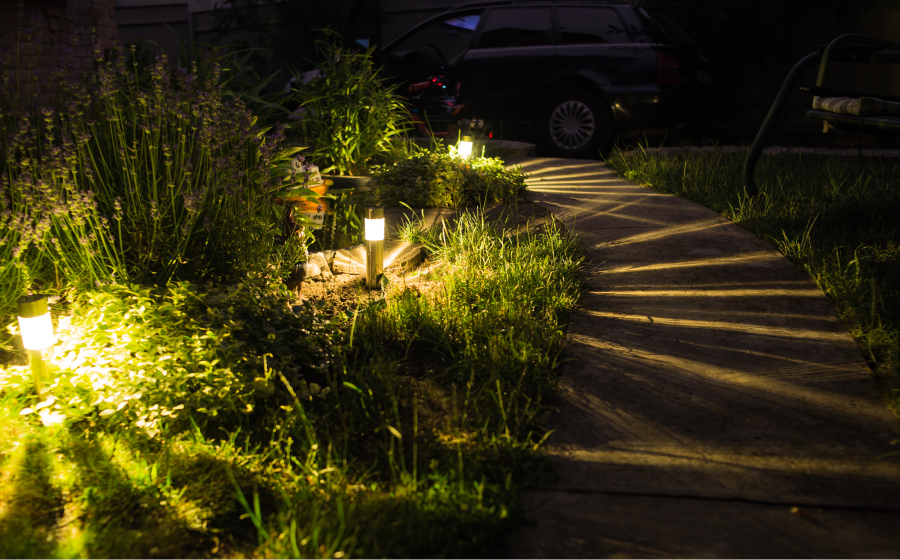 Add outdoor solar or LED lighting
Typical cost: $15 to $500
Add string lights to your balcony or patio. Position dramatic uplighting on trees or large plants. Illuminate a walkway or the edge of your yard with pathway lights.
Place lights where they won't get run over by lawn mowers or vehicles. You might also try one of these other outdoor space upgrades.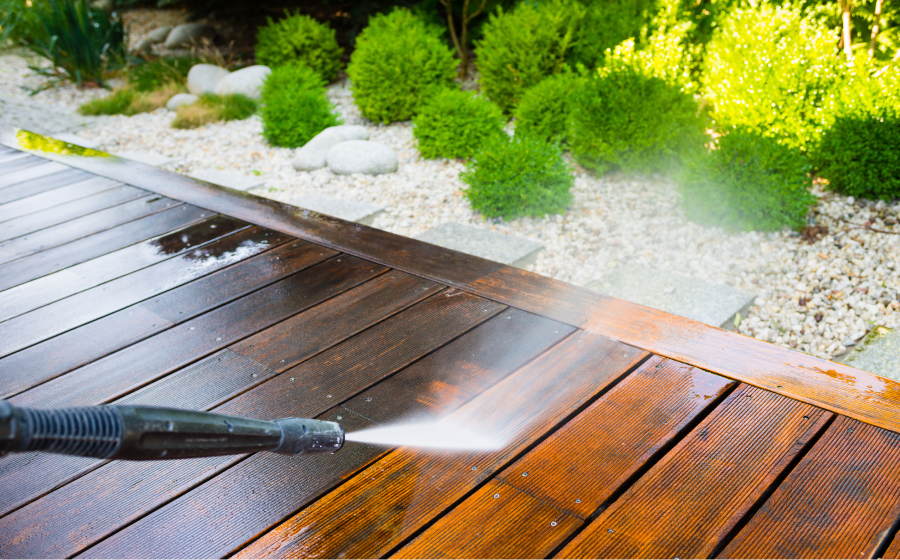 Pressure wash your property
Typical cost: $50 to $500
You can rent or buy a pressure washer and use it to clean dirt, grime, and mildew off a number of surfaces — from your cement driveway to your wooden deck. With the right machine, you can even use it to prep your house for fresh paint.
Tip: Make sure you learn how to use the pressure washer safely and know what not to use it on to avoid damage. Never point one at yourself or others.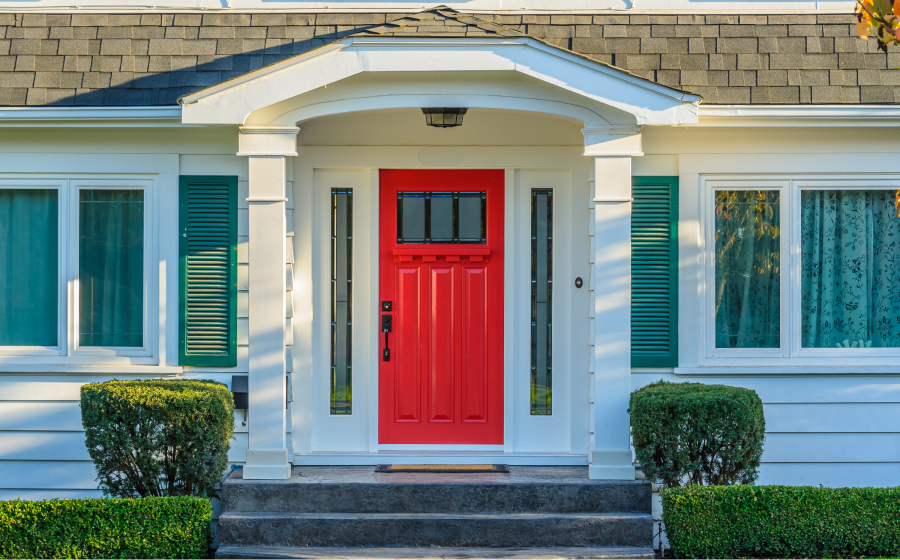 Refresh your front door
Typical cost: $100 to $2,000
Repainting or refinishing your front door — or replacing it altogether — can greatly increase your home's curb appeal and make a nice first impression on guests. This task can involve cleaning, sanding, taping over or removing hardware, and priming.
If that's more than you want to take on, a handyperson or painter can do the job. For door replacement, consider hiring a professional who can get the fit just right.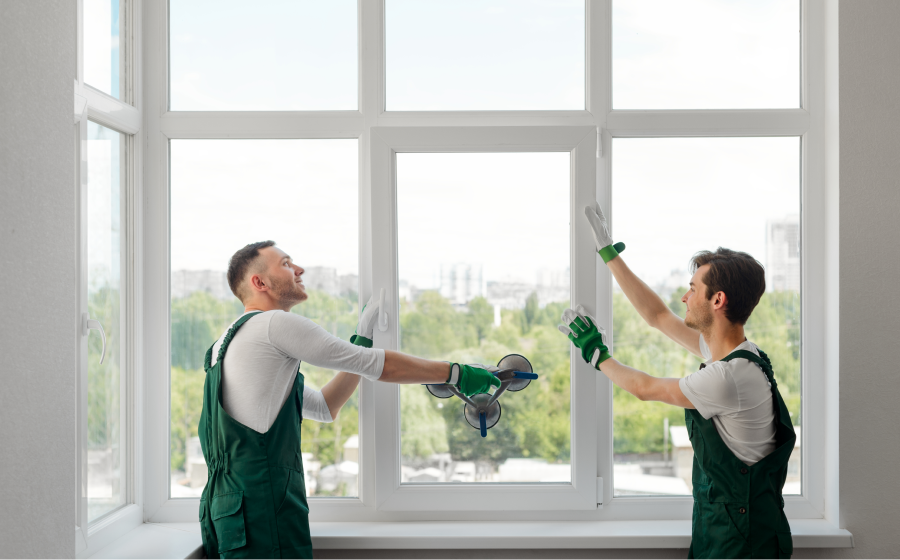 Get new windows
Typical cost: $650 to $3,500
New windows add curb appeal, increase energy efficiency, and, if you add windows or expand existing ones, brighten up spaces that don't get enough natural light.
Another potential benefit: fresh air. Sometimes old windows don't open easily or don't have any way to keep out bugs, in which case an upgrade might be welcome.
At about $650 each, a new window can be costly. If new windows aren't in the cards, getting your windows washed will help you make the most of what you have.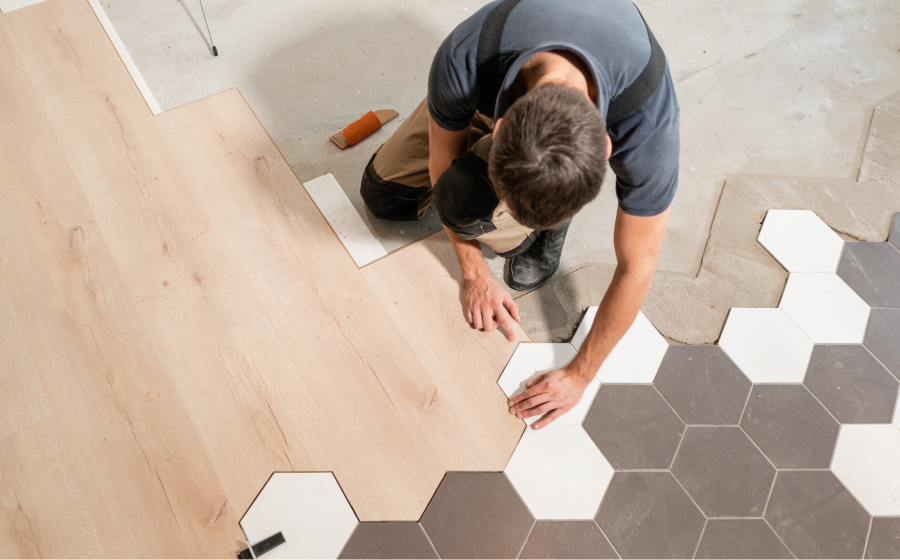 Replace your flooring
Typical cost: $1,500 to $4,500
New floors can change the whole feel of your place. They're cleaner and brighter, free of scratches and stains. You can choose a material and color that fits your lifestyle, climate, and decor.
If you have dogs and live in Arizona, for example, replacing your carpet with tile could give your home a major boost in coolness and cleanliness while providing extended durability.
Permanent options may cost homeowners several thousand dollars, but renters can spend a few hundred on temporary materials like peel-and-stick vinyl, floating laminate planks, and carpet or foam tiles.
Don't have the budget to replace your flooring? Try having it professionally cleaned, or if even that is too much, rent the equipment from a nearby home improvement store and do it yourself.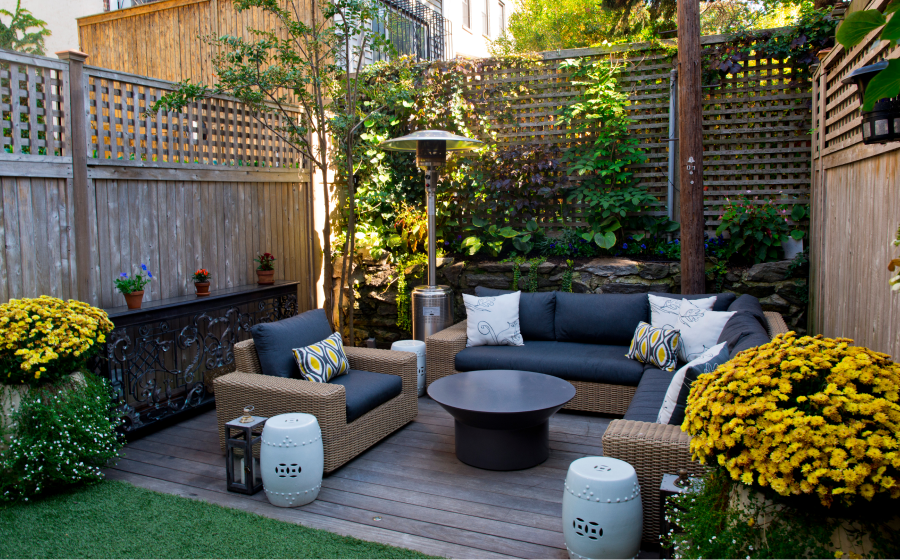 Create an outdoor seating area
Typical cost: $50 to $5,000
Depending on how much space you have and how much you like to entertain, your outdoor seating could be anything from a single chaise lounge or hammock to a patio sofa, chairs, rug, and table. Either will give you more opportunities to enjoy the fresh air.
Options for keeping bugs at bay can be as simple as mosquito netting or as big as building a screened-in porch.
To fund your next major home improvement project, consider a cash-out refinance. With Credible, you can compare refinancing options from all of our partner lenders. Our process is simple — and checking rates is always free.
Get the cash you need for your next home renovation
Compare lenders
Get cash out to pay for your home improvement project
Prequalify in just 3 minutes
Find My Loan
No annoying calls or emails from lenders!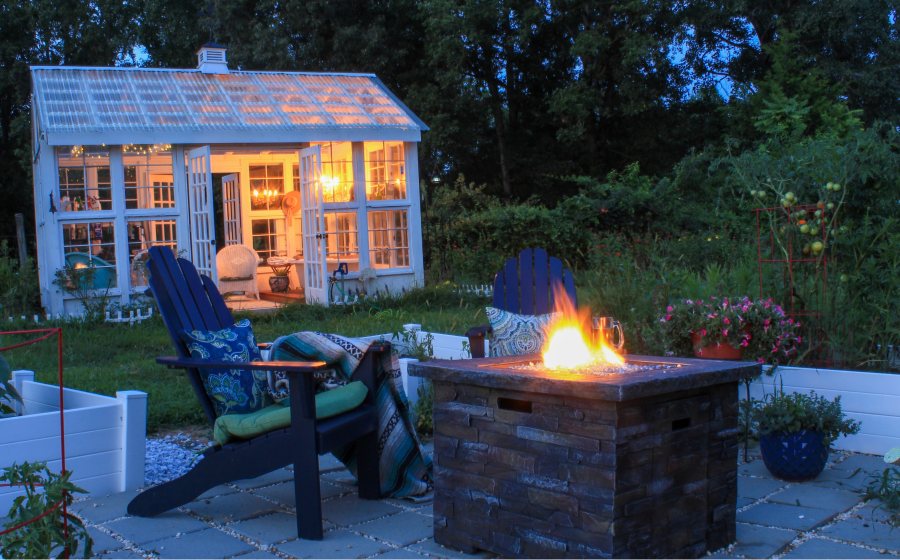 Install a fire pit
Typical cost: $50 to $5,000
If you live somewhere with chilly nights, a fire pit can make things more cozy and keep you outside longer. Fire pits are great for gathering around with friends, roasting s'mores with kids, and snuggling up alone with a book and a glass of wine.
Warning! Whether it uses natural gas, propane, or wood as fuel, make sure your fire pit won't accidentally set your home or plants ablaze. Be especially cautious if you live in a drought-stricken, fire-prone area.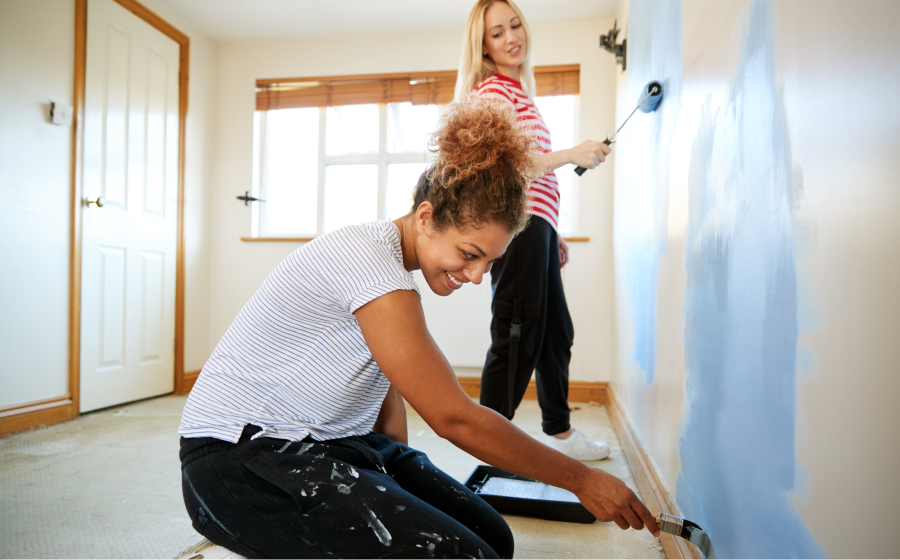 Freshen up your paint
Typical cost: $100 to $5,000
A gallon or two of good paint plus supplies to do one small-to-medium room yourself should cost less than $100. Getting the outside of your entire house professionally painted will cost several thousand.
In between those two extremes, you have all sorts of options, from just getting the exterior trim or front door repainted to having the entire inside of your home professionally painted.
Learn More: How Much Does It Cost to Paint a House?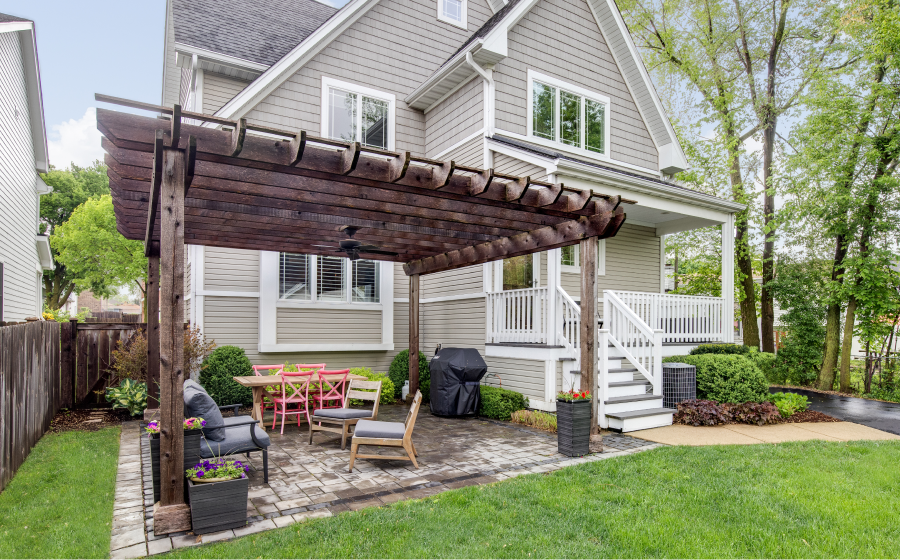 Add a pergola
Typical cost: $2,000 to $6,000
A pergola provides partial shade on your patio or deck. It can be attached to your house or built as a freestanding structure in your yard. Pergolas can be made from aluminum, wood, or vinyl to suit your budget and tastes, and can have a louvered or retractable roof if you want a total shade option.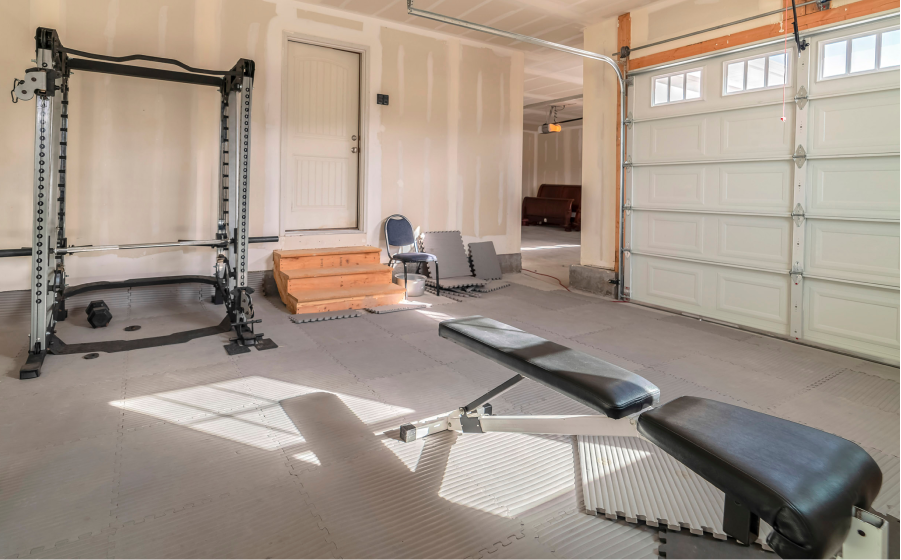 Convert your garage
Typical cost: $6,000 to $23,000
If the last year has made you wish your home had more space but you don't want to move, consider a garage conversion — assuming, of course, that you have other good options for parking your vehicles.
Your garage may be one of your home's largest spaces, and it could be used as a home office, gym, rec room, craft room, entertaining area, or even guest quarters.
While it's a major home improvement, it may be less disruptive and more cost-effective than expanding your home.
More: 18 Home Improvement Projects You Can Wrap Up in a Day
How to pay for your new summer style
From a purely financial standpoint, it's best to avoid taking on new debt for optional expenses. But if you do want to finance a project to spruce up your home this summer, here are some options along with the projects mentioned above they would be a good fit for.
Cash-out refinance
Possible projects: Flooring, windows, pergola, garage conversion, fire pit, exterior painting
If today's mortgage rates are lower than your existing mortgage rate, consider a cash-out refinance. It will replace your current mortgage with a new, larger mortgage so you have extra money to use as you please.
If you've decided that a cash-out refinance is right for you, take the time to shop around and compare lenders to find the right loan for you. Credible can help you do this — and it only takes a few minutes of your time.
Personal loan
Possible projects: Professional painting, outdoor living space, doors, flooring, windows
A personal loan lets you borrow a lump sum at a fixed interest rate and repay it over several years. If you're not a homeowner — or even if you are, but you want to get funds quickly and minimize borrowing costs — a personal loan for home improvement could be a good choice.
Home equity loan
Possible projects: Flooring, windows, pergola, garage conversion, fire pit, exterior painting
If your mortgage balance is less than 80% of what your home is worth and you want to borrow a lump sum of at least several thousand dollars, take a look at home equity loans.
You can lock in a low fixed rate, repay what you borrow over up to 30 years, and keep your existing mortgage. You'll also pay lower closing costs compared to a cash-out refinance.
HELOC
Possible projects: Flooring, windows, pergola, garage conversion, fire pit, exterior painting
A home equity line of credit is another option for homeowners who have at least 20% equity. If you want to borrow a little now and a little later, it can be a good alternative to a home equity loan.
HELOCs have a variable interest rate, so there's some uncertainty in what your monthly payments will be. But some lenders let you lock in a fixed rate rate after borrowing.
Credit card
Possible projects: Interior decor, new house numbers, lighting, DIY painting, pressure washing, fire pit
With excellent credit, you may qualify for a credit card with 0% interest for several months. If repaying what you borrow before the introductory period ends won't be a stretch, a no-interest credit card can be a great way to pay for home improvements.
Be careful: If you're still carrying a balance when the introductory rate expires, you could end up owing lots of interest, fast.