Our goal is to give you the tools and confidence you need to improve your finances. Although we receive compensation from our partner lenders, whom we will always identify, all opinions are our own. Credible Operations, Inc. NMLS # 1681276, is referred to here as "Credible."
Since April, 2016, Credible has been connected to all three of the major national credit bureaus that most lenders rely on, improving our ability to provide you with personalized rate quotes from multiple, vetted lenders — without doing a "hard" credit inquiry that can affect your credit score.
For the borrowers we help, getting personalized rate quotes is simple. You take two minutes to fill out our form and, with the click of a mouse, you'll instantly see the lenders and rates that you prequalify for. But in order for us to get you those free rate quotes, there's a lot going on behind the scenes.
We want to give you a peek inside our multi-lender marketplace for a couple of reasons. For one thing, knowing how the process works can help you get the best loan offer. But we also want people to understand that what we do — operate a multi-lender marketplace that matches borrowers to the right lender for their circumstances — is pretty unique.
Other sites that claim to help you "compare" rates just show you a table that displays the range of rates offered by several lenders. But typically, you'll have to go to each of those lenders' websites and provide your personal information. Only then will you see the actual rate you might qualify for if you're approved.
When you request rates through the Credible marketplace, you'll see actual rates you prequalify for with multiple lenders, ranging from traditional banks and credit unions to online lenders and state student loan authorities.
When you understand everything Credible does to help you find the best rate from our vetted partner lenders, we think you'll have a better appreciation of our commitment to delivering fair and unbiased solutions in lending.
Better data
Let's go back to our inspiration for providing you with a glimpse inside our process. What does it mean that we're connected to all of the major credit bureaus, and can communicate with them whenever we get a request for a personalized rate quote?
You've probably heard of these credit bureaus — Equifax, Experian, and TransUnion — because they are all collecting information about you that can affect your credit score.
These companies make it their business to track all of your credit card accounts, mortgages, car loans, and student loans — including how much you owe and on what terms, and how reliable you've been about making payments. They comb through public records to find out whether there are court judgments against you, whether you have tax liens against your house, or have filed for bankruptcy.
If that sounds a little scary, lenders aren't taking the information that's in your credit report and making moral judgments about what kind of person you are. They're plugging the information credit bureaus collect into underwriting models that help them decide how likely you are to repay a loan.
When it comes to your credit score, it's usually the credit bureaus that do the actual calculations, using proprietary formulas. The most well known of these formulas is probably the FICO score, but there are many flavors of FICO scores, and other companies offer different algorithms.
Now we're getting to why it's important that Credible has relationships with Equifax, Experian, and TransUnion. The information that each credit bureau has managed to collect about you may differ, and each bureau may generate a different credit score for you.
Because lenders may prefer to base their decisions on the credit scores and credit reports generated by a particular credit bureau, having access to all three is one reason we're able to serve up the most accurate rate quotes.
The other is our relationships with multiple, vetted lenders who share details with us about exactly who they will lend to, and on what terms, with what rates. We're constantly updating this information as lenders adjust their rates, terms, and offerings to reflect changes in the marketplace.
"Credible is able to provide a better quality experience for borrowers with personalized rate quotes, something you cannot get from any of the comparison sites that offer rate ranges," says Zach Pierce, a member of the Business Operations team at Credible.
How it works
Here's how the process works. When you request rate quotes, our relationships with credit bureaus and lenders means you don't have to fill out a mile-long form.
You give us some basic information — your name, date of birth, where you went to school, how much you earn, how much you want to borrow or refinance, and your monthly housing costs — and permission to obtain additional information about you from the credit bureaus.
We take the relevant facts about you, including your FICO score, and run them through filters that are based on the criteria that each lender provides to us.
"We are not exactly duplicating the lender's full underwriting model," Pierce says. It's more a process of elimination — each lender has a set of conditions that borrowers must meet. "The example we can share is that the lenders typically won't lend to anyone who has previously defaulted on a student loan."
After determining which lenders you'd be a good fit for, we use your FICO score and lender criteria to generate the rates that they're likely to offer you.
At this point, we're the only ones who have seen your credit report or any other information you have provided. We don't share your credit report with anyone. If you decide to move on to the next step in the process, we'll only provide lenders with information that you've self-reported, such as education, occupation, income and housing status, so you remain in control of your data. However, in order to be approved, the lender will need to perform a credit inquiry of their own, which usually means a hard credit check so that they can make a credit decision. This is the case with any lender who is going to extend an offer of credit to a consumer — it's not unique to Credible.
A quick digression: When Credible obtains information from a credit bureau to conduct a prequalification for credit, it's considered a "soft" credit inquiry to determine eligibility, which doesn't affect your credit score.
Later on in the process, if you decide to request an offer from a lender, they may choose to pull your credit to assess your eligibility. This may be reflected as a "hard" inquiry on your credit report.
Although multiple hard inquiries can lower your credit score, FICO considers multiple hard credit inquiries for the same type of financial product over a typical shopping period (less than 30 days) as "rate shopping" and only counts them as a single inquiry against your FICO score.
Credible's prequalification process means that you'll typically get to easily see which lender is likely to offer you the best rate, and then be able to move forward and share your information exclusively with the lender of your choice.
So in addition to saving you time, using Credible to compare rates protects your privacy and your credit score.
We've gotten a little ahead of ourselves, so let's back up a step. Once you've submitted a request for rate quotes, you'll see one of two things:
A "dashboard" — a list of lenders and the loans and rates we've determined you're prequalified for. When you move forward from here and request an offer, you are consenting for Credible to pass the information you provided to the lender for credit approval.
A notice informing you that while we couldn't match you with a lender, you can continue with the process anyway if you'd like. If you provide us with more detailed information — or find someone to cosign a loan for you — you can request offers from all the lenders you meet the basic eligibility criteria for. Just keep in mind that if you don't prequalify and still elect to proceed with multiple lenders, you could be subjected to multiple hard inquiries, and your information may be submitted to several lenders. It's best to submit such requests within a period of a few days. This should meet FICO's "rate shopping" criteria and have less of an impact on your credit score than searching beyond 30 days.
If you decide to request an offer, you'll add more information required by the lender or lenders you're interested in doing business with — fun stuff like your social security number, and details about each of your loans. You can save some time at this stage in the process by automatically linking your loan accounts. This will require you to log in to the account, but we do not store your credentials.
After you've submitted the form, you will be notified by Credible when you have offers to review in your dashboard. If you'd selected a single lender you prequalified with and completed your Credible profile, the dashboard will show you the rates that lender has approved you for. Those rates should match the rate you prequalified for.
If you didn't prequalify, but chose to proceed with multiple lenders, you'll see the lenders who have approved you and the rates they're offering.
At this point, Credible will hand you off to your chosen lender. You'll work with a specific lender to accept an offer and complete the process — which is generally as quick as uploading supporting documents and signing your loan documents.
You are under no obligation to accept any offer you receive. We recommend that you seek financial advice and evaluate any offer to ensure that you make a decision that's right for your own individual circumstances.
Remember that Credible is a marketplace for loans, not a loan broker — we don't charge borrowers a fee and we don't provide advice.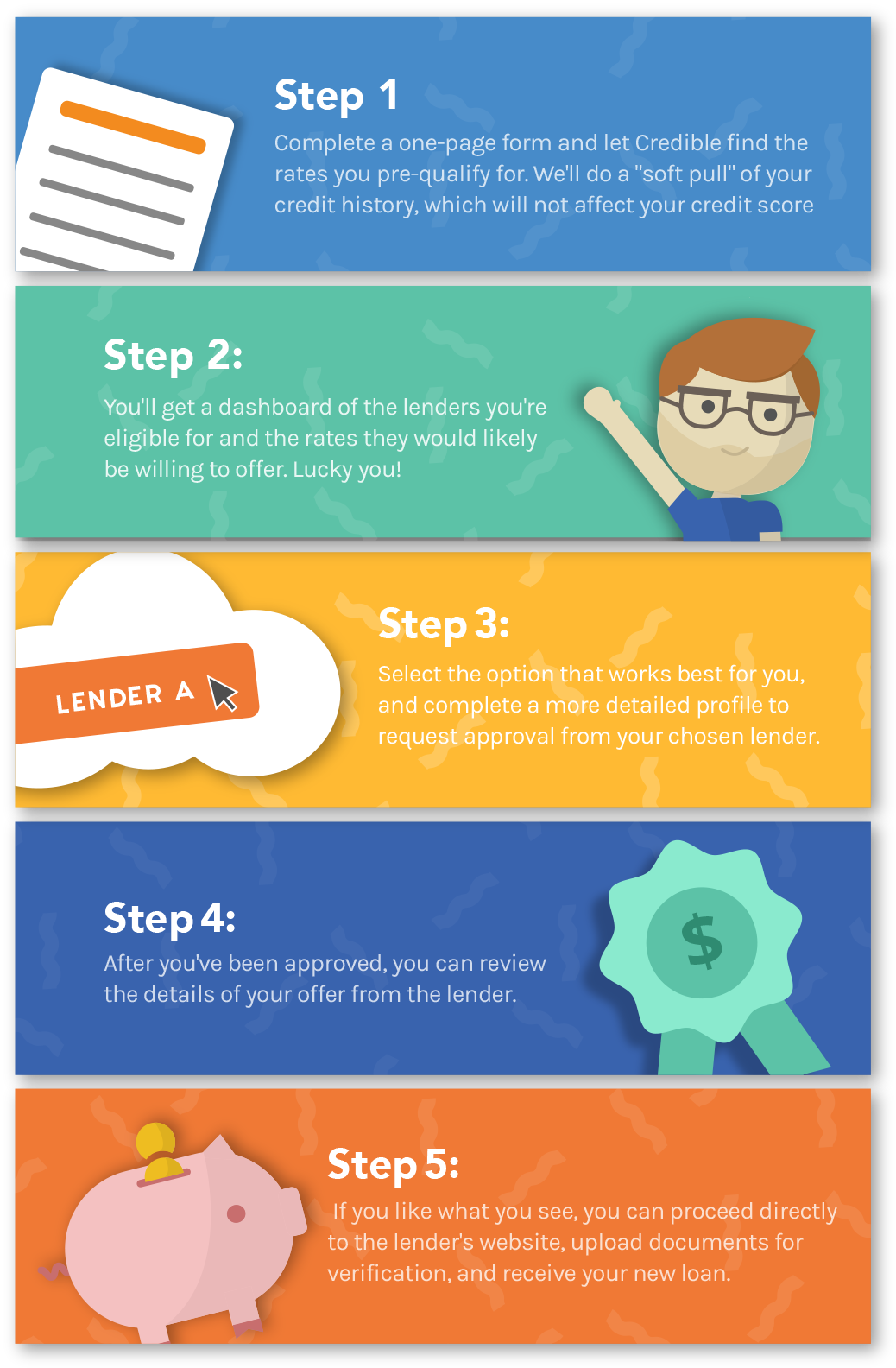 So what's Credible's business model? As we explain on our website, we typically earn fee from a lender when you accept an offer. We do not charge you any fees to use our service, and your offers are unaffected by any fee paid to Credible — they are exactly the same as if you went to the lender directly.
If you think about it from the lender's perspective, acquiring customers — whether through advertising, search engine marketing, or referrals — is part of the cost of doing business. That so many lenders find competing for your business on the Credible platform to be cost effective reflects highly on us — and you.
While not every student loan provider is on the Credible platform, our goal is to continue to ensure the lenders and loan products available through our marketplace are competitive and reflective of the market.
If you weren't able to find a lender through the Credible marketplace, remember that your circumstances can change, and that lenders are constantly adjusting their criteria.
We invite you to make use of the educational materials posted on the Credible Resource Center, including our comprehensive guides and how-tos on topics like building a strong credit score, claiming the student loan interest deduction, and ways to spot student loan debt relief scams.