Our goal is to give you the tools and confidence you need to improve your finances. Although we receive compensation from our partner lenders, whom we will always identify, all opinions are our own. Credible Operations, Inc. NMLS # 1681276, is referred to here as "Credible."
They're loaded down with student loan debt and haven't hit their peak earning years. But once they're old enough to settle down and start a family, urban-dwelling millennials have a burning desire to follow in the footsteps of generations that came before them — they're buying homes in the suburbs.
That's according to an annual study by the National Association of Realtors that breaks down generational trends among homebuyers and sellers.
Thanks in part to their sheer numbers, millennials accounted for a larger proportion of 2015 home purchases — 35 percent — than any other generation, NAR said.
Data aggregator Black Knight Financial Services reports a 40 percent increase in the number of mortgage holders carrying student loan debt over the past decade. Twenty-three percent of homebuyers who were approved for purchase mortgages in 2014 had student loan debt, Black Knight said.
Economists at Fannie Mae project that 6.16 million new and existing homes will be sold next year. Since more than two-thirds of home purchases involve a mortgage, it's likely that upwards of 1 million homebuyers with student loan debt will be approved for a mortgage and go to the closing table in 2017.
How are millennials managing to buy homes? They're buying smaller, older and cheaper homes than their elders — and they're making smaller down payments, sometimes with help from their parents.
NAR reports that:
Millennials tended to buy a 1,720-square foot home costing $180,900, compared to the 2,200-square-foot homes priced at $250,000 typically preferred by Gen X buyers.
The median down payment for millennial buyers was 7 percent (anything less than 20 percent often means the added expense of mortgage insurance).
Close to one in four millennials said they got help with their down payment from a relative or friend — typically mom or dad.
A number of state housing finance agencies have programs that help first-time homebuyers cover their down payments — some of these programs are specifically targeted at student loan borrowers and recent grads. But student loan debt can not only make it harder to save for a down payment, it can increase your debt-to-income (DTI) ratio to the point where you're disqualified from taking out a mortgage in the first place.
A Gallup survey of recent college graduates found that nearly half of those with more than $25,000 in student loan debt had put off plans to buy a home.
NAR's study found exactly how long debts of all types can delay saving for a down payment — a median of four years for buyers of all ages.
Surprisingly, NAR said members of Generation X (ages 36-50) and younger boomers (ages 51-60) are carrying more student loan debt than millennials (defined by NAR as those 35 and under).
"Whether it's from financing their own education or borrowed for their children, it's somewhat surprising to see a higher median amount of student debt among Gen X ($28,000) and younger boomer buyers ($29,100) compared to millennials ($25,000)," said NAR Chief Economist Lawrence Yun, in a statement.
Borrowers of all generations can often lower their monthly student loan payments — and the DTIs associated with those payments — by extending their loan terms, or refinancing with private lenders at lower rates. Federal student loans are eligible for income-driven repayment plans that can stretch loan terms out to 20 or 25 years.
When Credible users refinance into a loan with a longer term, they typically lower their monthly payment by about $209. If a borrower who can prequalify for a $300,000 home loan is able to trim $209 from their monthly student loan payment, they could boost their mortgage borrowing limit to about $340,000. In many housing markets, that could be the key to not being priced out.
A study by Zillow suggests that in the long run, having a college degree — particularly an advanced degree — dramatically increases the probability that you will be a homeowner. Zillow's analyses showed that among those with the same type of degree, increased student loan debt diminishes the probability of homeownership, most significantly for those with an associate's degree or no degree at all.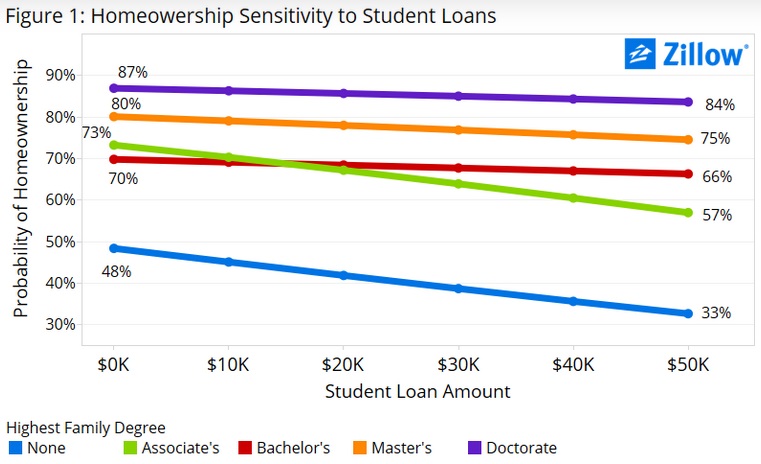 Source: Zillow
Credible is a multi-lender marketplace that allows borrowers to get personalized rates and compare loans from vetted lenders, without affecting their credit scores.