Our goal is to give you the tools and confidence you need to improve your finances. Although we receive compensation from our partner lenders, whom we will always identify, all opinions are our own. Credible Operations, Inc. NMLS # 1681276, is referred to here as "Credible."
Student loan debt "appears to have a dramatic effect on employee financial well-being" and concern around the issue is "not only justified, but possibly has even greater ramifications than initially thought."
That's how Kent Allison, leader of PwC's Employee Financial Education and Wellness practice, describes the findings of the accounting firm's latest annual survey tracking the financial health of full-time workers, many of whom are stressing out over student loans.
Millennials were the most likely among the 1,600 workers surveyed to have student loan debt — 42 percent said they had outstanding student loans, compared 26 percent of Gen X and 11 percent of Baby Boomers. But more than half of Baby Boomers with student loans said paying off educational debt was having a "significant impact" on their ability to meet other financial goals, compared to 31 percent of Gen Xers and 35 percent of millennials.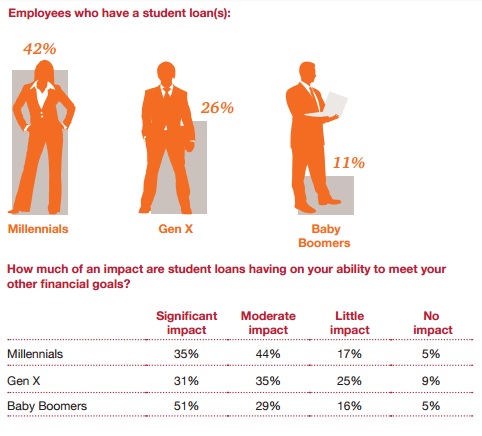 Source: PwC 2016 Employee Financial Wellness Survey.
A recent analysis of Credible user data showed how student loan debt can increase debt-to-income ratios, making it more difficult to achieve goals like becoming a homeowner, starting a business, or going back to school for a higher degree. One way borrowers can pay off student loan debt faster and reduce the total amount paid is by refinancing some or all of their loans with a private lender at a lower interest rate.
Among student loan borrowers of all generations, PwC's survey found that those who said student loan debt had a moderate or significant impact on their ability to meet their financial goals were more likely to:
Be stressed about their finances (81 percent of those with student loans, vs. 46 percent of all other employees)
Have trouble meeting household expenses (65 percent vs. 35 percent)
Rely on credit cards to meet monthly expenses (65 percent vs. 22 percent)
Dip into their retirement funds (57 percent vs. 40 percent).
Financial impact of student loans on full-time workers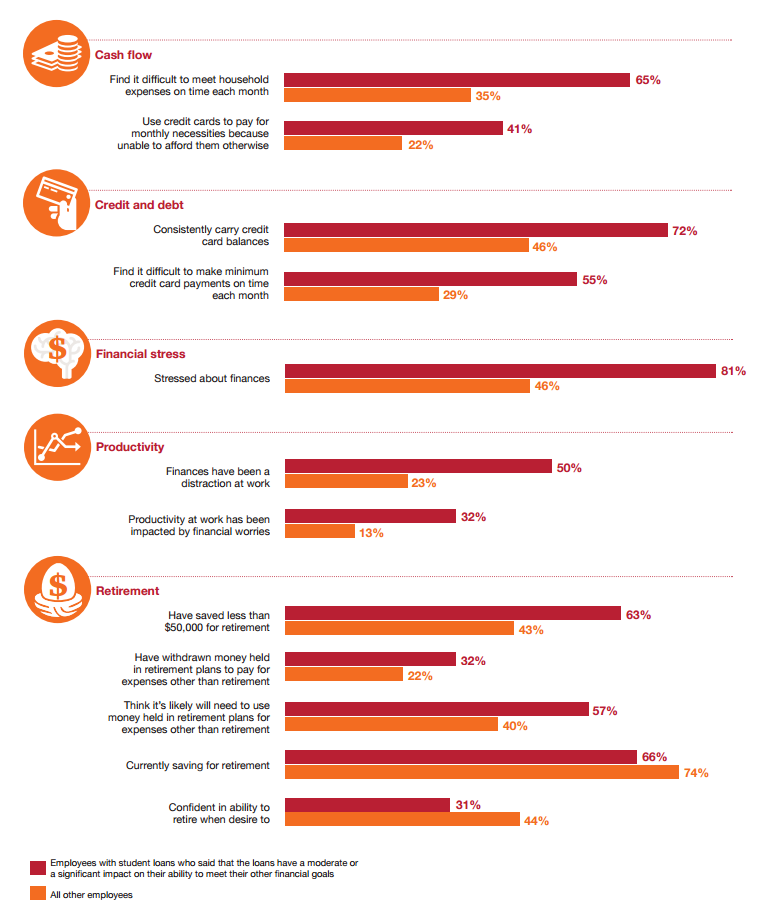 Source: PwC 2016 Employee Financial Wellness Survey.
After showing several years of gradual improvement in workers' financial situations, PwC's 2016 Employee Financial Wellness Survey revealed a "downward slide" in many key indicators.
"Despite having moved away from the edge of the financial cliff brought on by the Great Recession, many employees never fully regained stable footing due to cash flow and debt challenges and their lack of emergency savings," Allison said in the survey's introduction. "With recent volatility in the stock market, a less than robust economy, continued stagnation of wages, talk of rising interest rates, and confusion on the political landscape, it comes as no surprise that survey respondents are more worried about the future."
Credible is a multi-lender marketplace that allows borrowers to request competitive loan offers from vetted lenders, without affecting their credit scores.