Our goal is to give you the tools and confidence you need to improve your finances. Although we receive compensation from our partner lenders, whom we will always identify, all opinions are our own. Credible Operations, Inc. NMLS # 1681276, is referred to here as "Credible."
Happy Monday and welcome back to another weekly roundup of the biggest news in the student lending space from last week!
Universities No-loan Policy
Harvard, Princeton, Stanford, and University of Pennsylvania have implemented a no-loan policy that replaces undergraduate government student loans with grants paid for by the university and other donors. The program allows for the university to be competitive while recruiting and respond to the restructuring of the education system.
SoFi Achieves "A" Rating From S&P and "A2" From Moody's
Social Finance (SoFi) announced it has closed a $303 million+ securitization of refinanced student loans for graduate borrowers with investment grade ratings from S&P and Moody's. Morgan Stanley served as the structuring agent, and Goldman Sachs, Barclays, and Deutsche Bank distributed the senior notes.
Millennials Expect Student Debt Forgiveness
A recent study conducted by Junior Achievement and PwC US found that 24 percent of millennials said they expect their loans will ultimately be forgiven. The survey did not include why the graduates thought their loans would be forgiven. The Consumer Financial Protection Bureau estimates that 25 percent of the U.S. workforce is employed by a public service employer that may be able eligible for repayment benefits.
Class of 2013 Debt Statistics
Studies from 2013 show that 69% of graduating seniors at public and private nonprofit colleges have student loans. Despite the unemployment rate of 7.8%, a college degree is still highly valued as the unemployment rate for those only finishing high school is 16.5%. At the state level, borrowers' average debt at graduation ranges from $18,656 to $32,795, with six states topping $30,000 and only one under $20,000.
Navient Buys Portfolio Worth $8.5 Billion
Student loan servicer, Navient Corp plans to buy a portfolio of federally guaranteed student loans from Wells Fargo amounting to $8.5 billion.
Democrats Owe Their Midterm Losses to Student Loans
Democrats struggle to get young voters to the polls despite the economic recovery, improved unemployment rate and drop in gas prices. Democrats carried 18-to-29-year-olds 54% to 43% and this 11-point margin is Democrats worst showing among young voters since 2002. Voters are likely not feeling the benefits of the recovery economy led by the continual increase in student debt.
U.S. Treasury to Service Some Student Loans
The U.S. government will begin a pilot program early next year that seeks to collect delinquent student loans through the Treasury Department. The move comes as the Obama administration focuses on addressing mounting student debt and difficulties borrowers face in paying back loans. The Federal Reserve Bank of New York estimates that roughly one in four student loan borrowers is at least 90 days behind on a payment.
Chart of the Week!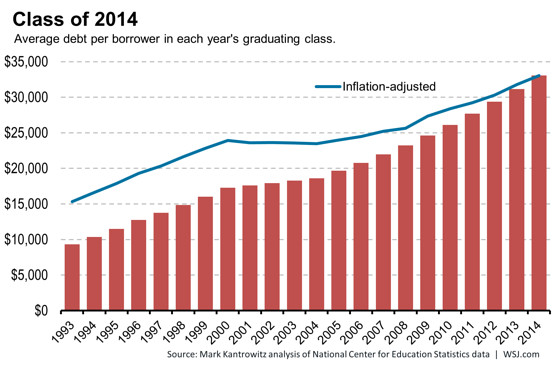 Give us a shout-out on twitter and we'll see you here next week!