Our goal is to give you the tools and confidence you need to improve your finances. Although we receive compensation from our partner lenders, whom we will always identify, all opinions are our own. Credible Operations, Inc. NMLS # 1681276, is referred to here as "Credible."
Credible Operations, Inc. NMLS# 1681276, "Credible." Not available in all states. www.nmlsconsumeraccess.org.
If you're thinking of buying a house, you're probably wondering how much home you can afford. When you shop for a mortgage, lenders wonder the same thing, and they use the 28/36 rule to determine how much debt you can safely take on based on your income, other debts, and lifestyle. The two numbers represent debt percentage limits.
Let's take a closer look at the 28/36 rule and how to use it.
The 28/36 rule and how it affects your mortgage
The 28/36 rule recommends you limit spending on housing to under 28% of your gross monthly income and limit spending on your total debt to under 36% of your gross monthly income. If you exceed these limits, you may have trouble getting approved for a conforming mortgage.
But keep in mind that the 28/36 rule merely serves as a guideline to help you figure out what you can comfortably afford. Lenders may be willing to approve loans with a higher or lower monthly payment depending on your credit score, down payment, and other factors.
When you're ready to shop around for a mortgage, Credible makes it easy to compare mortgage rates from multiple lenders.

How to calculate the 28/36 mortgage rule
When you apply for a mortgage, lenders calculate two ratios to help determine the monthly payment you can afford. The first is the front-end ratio, which is the percentage of your gross monthly income that goes toward housing. The second ratio is the back-end ratio, which is the percentage of your gross monthly income that goes toward paying all debts, including your mortgage.
Say your gross monthly income is $7,000 and you're interested in a home that has a monthly mortgage payment of $1,120. If you divide $1,120 by $7,000, you get 0.16. This means your front-end ratio is 16% — well under 28% — which is a good thing. But you also need to factor in your back-end ratio. Let's say you have the following monthly payments::
$700 student loan payment
$500 car payment
$200 credit card payments
Your other debt payments total $1,400. Add your desired home's monthly mortgage payment to that amount ($1,400 + $1,120) and you get a total of $2,520. When you divide $2,520 by your gross monthly income ($7,000), you get 0.36. This means your back-end ratio is 36%. With a front-end ratio under 28% and a back-end ratio right at 36%, you have a good chance of getting approved for the mortgage.
The 28% front-end ratio
Let's break down the front-end ratio, your monthly housing costs vs. your monthly gross income. You should spend a maximum of 28% of your gross monthly income on housing expenses, according to the 28/36 rule.
Housing expenses include:
Mortgage principal — The amount that pays down your outstanding mortgage loan balance
Mortgage interest — The cost of borrowing money that's determined by your interest rate and loan balance
Property taxes — Assessments your local government collects based on your property's location and value
Homeowners insurance premiums — Insurance that offers financial protection from risks such as fire, wind damage, vandalism, and other hazards
Homeowners association dues — If you purchase property in a community with a homeowners association (HOA), you'll pay fees that cover the cost of keeping up amenities, such as a swimming pool, gym, and other common areas.
Credible lets you compare mortgage rates from various lenders quickly and easily.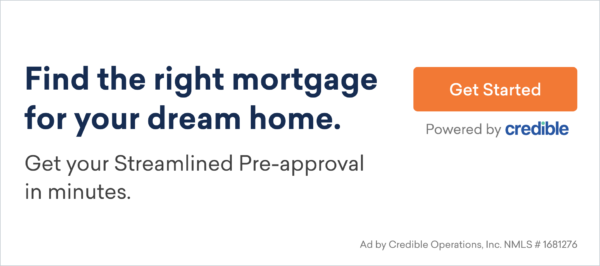 The 36% back-end ratio
The second half of the 28/36 rule is the back-end ratio, also known as the debt-to-income ratio. This number is the ratio of all your monthly debt payments (including housing) vs. your gross monthly income. You should spend no more than 36% of your gross monthly income on all recurring monthly debt payments, according to the 28/36 rule. This includes all the expenses that are part of the front-end ratio, plus payments on:
Other mortgages or home equity loans
Credit cards
Car loans
Student loans
Personal loans
Child support
Alimony
How the 28/36 rule helps you as a buyer
The 28/36 rule can be a useful benchmark for determining how much house you can afford without breaking the bank. But keep in mind that qualifying for a loan based on these ratios doesn't necessarily mean you should spend that much money on a house. You still need to consider your unique financial circumstances and your future financial needs and goals.
When setting a budget for your mortgage, ask yourself the following questions:
Am I willing to spend a large chunk of my monthly income on a mortgage, or do I want to have more money to travel or save? Unfortunately, tying up a large portion of your income in mortgage payments leaves less money for travel, hobbies, and saving for the future.
Does homeownership fit my lifestyle? The 28/36 rule doesn't take home maintenance and repairs into account, but these costs can be significant. Depending on where you live and the age and condition of your home, you may need to spend time and money on caring for a lawn, servicing kitchen appliances, and performing other routine maintenance and upkeep. If these chores aren't appealing (and you can't afford to outsource them), homeownership might not be for you.
Does buying a home fit with my long-term plans? If you plan on moving within a few years, now might not be the right time to buy. Most experts recommend staying in a home for five to seven years to recoup your closing costs and turn a profit on the sale.
If you've decided that buying a home is right for you, use Credible to compare mortgage rates from multiple lenders.

---
About the author: Janet Berry-Johnson is an authority on income taxes and small business accounting. She was a CPA for over 12 years and has been a personal finance writer for more than five years. Janet has written for several well-known media outlets, including The New York Times, Forbes, Business Insider and Credit Karma. In 2021, Canopy named her one of the Top 10 Influential Women in Accounting and Tax.