Our goal is to give you the tools and confidence you need to improve your finances. Although we receive compensation from our partner lenders, whom we will always identify, all opinions are our own. Credible Operations, Inc. NMLS # 1681276, is referred to here as "Credible."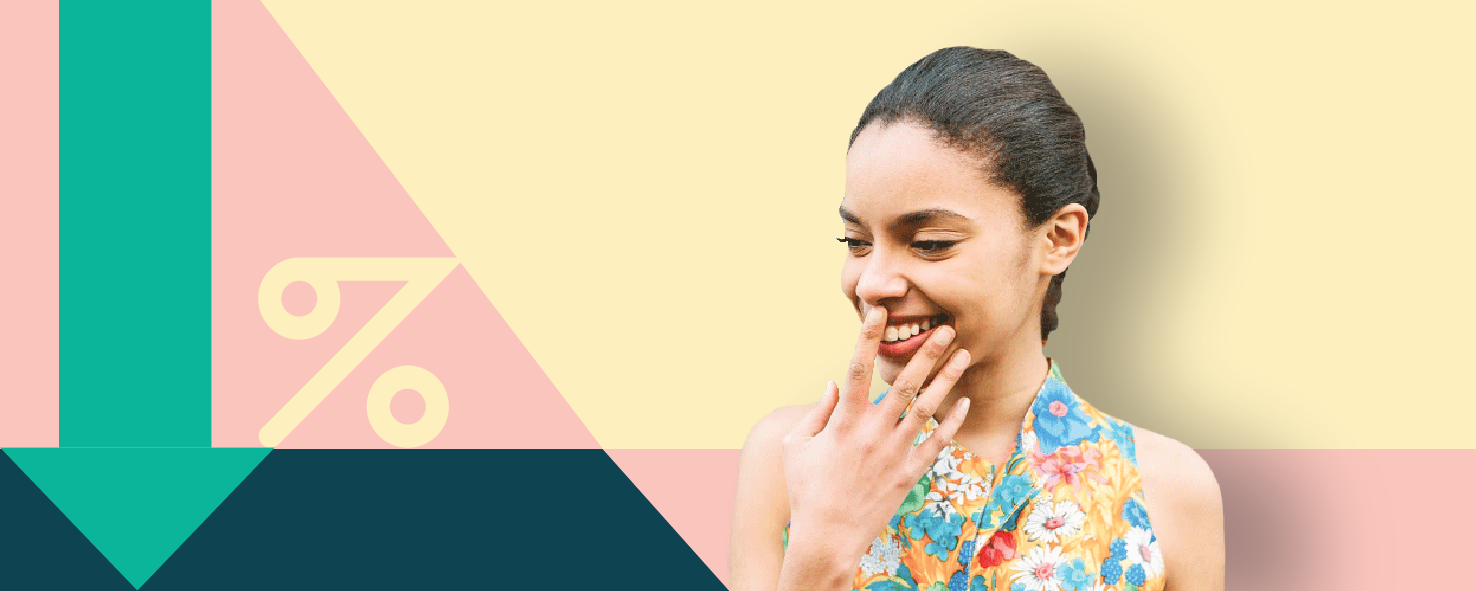 Content provided by Credible. Although we do promote products from our partner lenders who compensate us for our services, all opinions are our own.
This article first appeared on the Credible blog.
Paying off a student loan with a high interest rate can take a lot of time and money. But if you can reduce your rate, you'll likely save money on interest charges — and might be able to pay off your loan faster.
Here are seven ways to lower your student loan interest rate, including refinancing your student loans to get a lower interest rate. Credible makes it easy to compare rates from multiple lenders in just minutes.

1. Refinance your student loans
Student loan refinancing lets you pay off private or federal loans with high interest rates by taking out a new loan with different repayment terms.
It could also get you a lower interest rate, which will save you money on interest charges over time. You also have the option to refinance more than once if you qualify for even better loan terms later on.
Keep in mind: While you can refinance federal student loans, you'll lose your benefits and protections — including access to income-driven repayment plans and student loan forgiveness programs. Another option is federal loan consolidation through a Direct Consolidation Loan. Consolidating your federal student loan debt won't reduce your interest rate, but it could extend your repayment term and lower your monthly payment — lessening the strain on your monthly budget. Just remember that having a longer term means you'll pay more in interest over time.
If you decide to refinance, remember to consider as many lenders as you can to find a loan that fits your needs. Not all lenders will offer you the same rate or terms for student loan refinancing, so you'll want to get actual rates from the best student loan refinance lenders before you make a decision.
2. Sign up for autopay
One of the quickest ways to get a rate discount is to check if your lender or loan servicer offers an automatic payment discount. Most autopay discounts reduce your rate by 0.25% percentage points. That might not seem like a lot, but every little bit helps.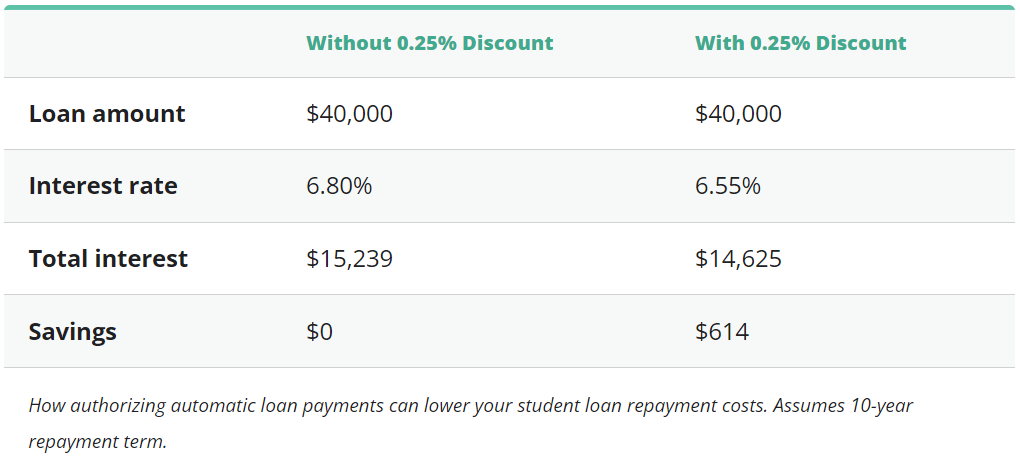 For example: If your total student loan debt is $40,000, that small rate discount can save you more than $600 over the life of a loan with a 10-year repayment term. You'll save even more if your loan balance is higher.
In addition to lowering your interest rate, authorizing automatic payments can:
Help you stay current on your loans
Avoid costly late fees and damage your credit score
Help you improve your credit by establishing a history of on-time payments
Here are Credible's partner lenders that offer automatic payment discounts:
Ascent
Brazos
Citizens
College Ave
EDvestinU
INvestEd
ISL Education Lending
RISLA
Sallie Mae
3. Look for loyalty discounts and more
Some lenders also offer loyalty discounts to borrowers that already have a relationship with them. These rate discounts are typically 0.25%, depending on the lender.
For example: If you already have an account with Citizens and refinance your student loans through them, you might qualify for a 0.25% rate discount. Or if you refinance with SoFi and are already a member, you could get a 0.125% rate discount.
Because borrowers who earn their degrees are less likely to default on their loans, you might also be able to earn rewards on private student loans for earning good grades or graduating.
For example, INvestEd will deduct 2% from your original loan principle if you graduate from your program within six years.
Keep in mind: Some lenders offer even bigger "relationship-based" discounts to customers who maintain high balances in a checking or savings account — such as First Republic Bank (up to 2.00%. Note that they are not a Credible partner.
Ask your lender if there are any other discounts you qualify for. You might be surprised at how much lower you can get your rate.
If you are able to refinance to a lower rate and also take advantage of any rate discounts you qualify for, you could save a lot of money in interest charges over the life of your loan. Use Credible's student loan refinance calculator to see what you might save by refinancing your student loans.
4. Make on-time payments
Some lenders offer an interest rate discount after you've made a specific number of on-time payments. Not all lenders offer on-time payment discounts, but it doesn't hurt to ask yours if it's available.
For example, MPOWER Financing offers a 0.50% rate discount if you make on-time, consecutive payments on your student loan for six months using autopay. Note that MPOWER isn't one of Credible's partner lenders.
Keep in mind: On-time payment history is a key component of your credit score. It also gives lenders a chance to reward you for good behavior.
5. Raise your credit score
To qualify for the lowest-advertised refinancing rates, you typically need very good to excellent credit — meaning a score between 740 and 850. If you have poor or fair credit, it might be a good idea to focus on improving your credit first so you can qualify for a lower interest rate later on.
Here are several ways to potentially raise your score:
Review your credit report: Check your credit report to ensure there are no errors or fraudulent accounts in your name. If you find any inaccurate information, dispute the accounts with the major credit bureaus: Experian, Equifax, and TransUnion. Having incorrect information removed from your report could improve your score within a few weeks.
Make payments on time: Your payment history comprises 35% of your FICO credit score. To boost your credit, be sure to pay all of your bills on time. Keep in mind that past missed payments can stay on your credit report for up to seven years. However, the longer you spend making on-time payments, the less impact those missed payments will have on your overall score.
Pay down debt: Your credit utilization makes up 30% of your FICO credit score. To reduce your credit utilization (how much of your available credit you use), make extra payments toward your existing accounts, such as credit cards or student loans. As you lower your credit utilization, your score will gradually improve.
Keep in mind: It generally takes about six months of following these steps to see a difference in your credit. The longer you stick to these behaviors, the more your credit will improve.
A good credit score can make it easier to qualify for the best available rates on a student loan refinance. You can start with Credible and compare student loan refinance rates from multiple lenders. It's 100% free to see your personalized rates and won't affect your credit score.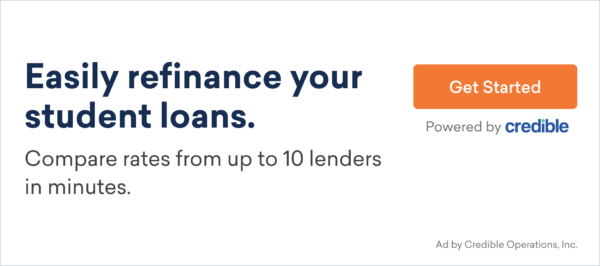 6. Use a cosigner when refinancing
If you have less-than-perfect credit, you might be able to lower your interest rates by refinancing your student loans with a cosigner. A cosigner is typically a friend or relative with good or exceptional credit as well as reliable income who will share responsibility for the loan.
Adding a cosigner reduces the risk to the lender, which could improve your chances of qualifying for a lower interest rate.
Keep in mind: Adding a cosigner to your loan doesn't have to be permanent. Some lenders offer cosigner release, which lets you remove a cosigner from the loan if you meet certain requirements.
To qualify for cosigner release, you'll typically need to:
Make consecutive, on-time payments for a specific amount of time (typically 12 to 48 months, depending on the lender)
Meet the lender's eligibility criteria (such as credit score and income requirements) on your own
If you're approved for cosigner release, your interest rate will likely stay the same.
7. Negotiate with your current lender
While this strategy isn't guaranteed, one way to potentially lower your interest rate is to negotiate with your current lender.
If you've improved your creditworthiness by increasing your income, paying down debt, or boosting your credit score, your lender might be willing to reduce your rate.
Tip: Before negotiating, consider shopping around with other refinancing lenders to get rate offers. Once you have these quotes, contact your lender, let them know you're considering taking out a loan from another company, and see if they'll give you a lower interest rate. If you have a good history with the lender, they might be willing to counteroffer to keep you as a customer.
Keep in mind that this strategy won't work for federal student loans — since you can't switch servicers, there's no incentive for your servicer to lower your rates. But if you have private student loans, this might be an effective way to score a reduced rate.
Other ways to save money when repaying student loans
If you're not able to lower your student loan interest rates, there are other ways to tackle your student loans. Here are a few other ways you could pay your loans off faster:
1. Pay more each month
Try making larger monthly payments rather than the minimum amount due. While you may not lower your interest rate, you'll end up paying less in interest over the life of the loan since you'll pay off student loans sooner.
You can also work towards making an extra payment on your student loans, whether it's every other month or once a year. Consider making full payments twice a month, too, if your budget allows it.
2. Deduct payments on your taxes
If you made payments toward your student loans, you might qualify for the student loan interest tax deduction. This will reduce your taxable income.
With the student loan interest tax deduction, you can deduct $2,500 or the amount of interest you paid during the tax year — whichever is less.
There are income restrictions on who qualifies for the deduction, and you'll need to have qualifying loans. But if you're eligible, taking advantage of the deduction could help you save money.
3. Avoid alternative payment plans
Income-driven repayment plans are great if you can't afford to make on-time minimum payments every month. But they can extend your loan terms from 10 years to as long as 25 years. That's a long time to be paying back your loans.
If you stick to the standard repayment plan, you'll be paid in full within a decade. When you extend your loan term, you may get a lower monthly payment, but you can end up paying a lot more in interest.
4. Use the debt avalanche method
If you want to reduce how much you pay in interest, using the debt avalanche method could be a good way for managing your loans. By using this approach, you'll tackle the most expensive debt first — which will save you money on interest charges and help you pay off your loans faster.
Here's how it works:

If you decide to refinance your student loans, remember to consider as many lenders as you can to find a loan that fits your needs. Credible makes this easy — you compare your prequalified rates from multiple lenders in two minutes.

---
About the author: Kat Tretina is a freelance writer who covers everything from student loans to personal loans to mortgages. Her work has appeared in publications like the Huffington Post, Money Magazine, MarketWatch, Business Insider, and more.