Our goal is to give you the tools and confidence you need to improve your finances. Although we receive compensation from our partner lenders, whom we will always identify, all opinions are our own. By refinancing your mortgage, total finance charges may be higher over the life of the loan.
Credible Operations, Inc. NMLS # 1681276, is referred to here as "Credible."

Credible Operations, Inc. NMLS# 1681276, "Credible." Not available in all states. www.nmlsconsumeraccess.org.
The thought of buying a house is exciting. But if you have student loan debt, you may wonder if you're able to buy a home right now, especially in today's tough housing market.
While it may be a challenge to buy a home with student loan debt, it's certainly possible. Here's what you need to know about buying a house with student loan debt.
Credible makes it easy to compare mortgage rates from various lenders.

Can you buy a house when you have student loans?
You can buy a house even if you have student loan debt. But it isn't the right choice for everyone, so take a close look at your finances to determine if it makes sense.
First, ask yourself if you're comfortable with the amount of money in your emergency fund. You should aim to have at least six months' worth of expenses saved up for emergencies — if you have no emergency savings, prioritize contributing to this fund. You'll also need to calculate whether you can afford monthly mortgage payments. For example, if fitting a mortgage payment into your budget would mean putting your 401(k) contributions on hold, it may not be worth it.
How to buy a house when you have student loan debt
While you can buy a house when you have student loans, you may face some challenges. Take these steps if you decide to go this route.
Check your credit
Before you shop for a home or apply for a mortgage, visit AnnualCreditReport.com to pull your credit reports from the three major credit bureaus, Equifax, Experian, and TransUnion. Review each report and look for errors. If you find any, be sure to dispute them with the appropriate credit bureau.
If you plan to buy a home, do your best to maintain or improve your credit. To do this, pay all your bills on time, avoid opening new accounts or taking out new loans, and pay down revolving balances.
Improve your DTI ratio
Your debt-to-income ratio, or DTI, is all your monthly debt payments divided by your gross monthly income. Ideally, your maximum DTI ratio should be 36% or less. If it's too high, you may find it difficult to get approved for a mortgage. Fortunately, you can reduce your DTI ratio if it's higher than you'd like it to be.
You can increase your income with a side hustle or part-time job to improve your DTI ratio. Alternatively, you can put more money toward your debt to reduce your monthly debt obligations. In addition, consider postponing large purchases so that you're using less credit. Recalculate your DTI ratio every month or so to determine whether you're heading in the right direction.
Get pre-approved for a mortgage
A pre-approval shows that a mortgage lender has agreed to let you borrow up to a certain amount of money for a home. A pre-approval lets sellers know that you're serious about buying a home, and it helps you figure out how much home you can afford.
Once you get pre-approved, you'll have an idea of what your monthly mortgage payment would be. When you apply for pre-approval, you'll likely need to provide the following:
Proof of income (W-2s, recent pay stubs, and tax returns)
Proof of assets (bank statements and investment account statements)
Employment verification (name and contact details of your employer)
Driver's license and Social Security number
Look into down payment assistance
If student loans are making it difficult to save for a down payment for a home, down payment assistance programs can help. Do some research and find out whether there are any available in your state. While each program has its own specific eligibility criteria, many of them require you to be a first-time homebuyer with an income below a certain threshold. You may also be required to complete an online or in-person homebuyer education course.
If you do get approved for down payment assistance, it may be a no-interest down payment grant that you won't need to repay. You may also secure a forgivable second mortgage, which will be forgiven if you live in the home for a set number of years.
Another common type of down payment assistance is a traditional second mortgage with a low interest rate. You'll need to pay this off monthly, just like your primary mortgage.
Check out first-time homebuyer loans and programs
You can also find first-time homebuyer programs that can make it easier to buy a home with student loan debt. Most of them come with low interest rates and lenient down payment requirements. FHA loans, VA loans, and USDA loans are a few examples of federal programs that may be beneficial — but you'll need to meet certain requirements to qualify.
To find first-time homebuyer programs at the state level, visit the U.S. Department of Housing and Urban Development website. These programs may also lower your interest rate and monthly payments to save you money over the life of your loan.
With Credible, you can easily compare mortgage rates from different lenders, all in one place.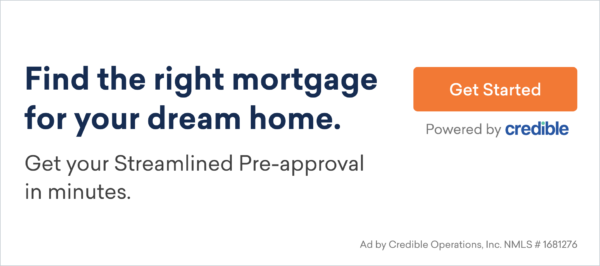 Tips for buying a house with student loan debt
Some strategies you can use to improve your chances of getting approved for a home loan with student loan debt include:
Increase your income. To boost your income, consider asking for a raise at your full-time job. You can also start a side hustle or work a part-time job during nights and weekends.
Apply for an income-driven repayment plan. An income-driven repayment plan may be an option if you have federal student loans. Your eligibility is based on your family size and income. Upon approval, you may be able to make much lower payments on your student loans.
Refinance your private student loans. If you have private student loans, consider refinancing them. You may be able to secure a lower interest rate and lower your monthly payments.
Make your monthly student loan payments on time. Late or missed student loan payments can take a toll on your credit score. Since your credit score is a major qualifying factor for a home loan, it's important to make your payments in full on or before the due dates.
Consider a co-borrower. A co-borrower is an additional borrower on your mortgage with equal ownership of the house. If your co-borrower has strong credit, you may qualify for better loan rates and terms.
When it doesn't make sense to buy a home
It may not be the right time to buy a home, and that's completely OK. If any of these circumstances apply to you, it's likely in your best interest to wait before you buy a home.
You're unsure if you'll stay in one location for long. If you don't know whether you'll stay at your current job or in your current city, it probably doesn't make financial sense to buy a home. By renting, you'll have more flexibility to relocate to another area if you choose to.
Your budget is tight. Buying a house when you don't have a lot of discretionary income each month isn't a smart move. Even if your mortgage payment is lower than what you'd pay in rent, you may be on the hook for extra costs like private mortgage insurance, homeowners insurance, and closing costs.
You can't afford maintenance costs. When you buy a home, you're responsible for its maintenance and repairs. If you don't think you can cover the cost to repair a leaky roof or maintain a furnace, for example, then you're probably not ready for homeownership.
You don't have an emergency fund. An emergency fund can be a lifesaver when you face an unexpected expense like a car repair or medical bill. If you don't have one because you've used all the cash for your home, you may end up in debt.
If you know you're ready to buy a home, start by comparing mortgage rates from multiple lenders with Credible.

---
About the author: Anna Baluch is a personal finance freelance writer with years of experience writing for well-known media outlets in the business and personal finance space. Her work can be found on media outlets like The Balance, Freedom Debt Relief, LendingTree, Credit Karma, Nav, and RateGenius. She holds a bachelor's degree in marketing from Northwood University and an MBA from Roosevelt University.