Our goal is to give you the tools and confidence you need to improve your finances. Although we receive compensation from our partner lenders, whom we will always identify, all opinions are our own. Credible Operations, Inc. NMLS # 1681276, is referred to here as "Credible."

Content provided by Credible. Although we do promote products from our partner lenders who compensate us for our services, all opinions are our own.
This article first appeared on the Credible blog.
If you need to borrow money but have little to no credit history, you might have a hard time finding a lender to work with. However, there are some personal loan lenders that offer no-credit-history loans with other qualifying criteria.
Comparison shopping can help you find the best rates available to you, and a loan deal that works for your budget. Credible makes it easy to see your prequalified personal loan rates from multiple lenders. And seeing your rates won't affect your credit.

Here's what you should know about no-credit-history loans.
5 lenders who offer loans to people with no credit history
Several lenders offer bad credit loans — however, having bad credit still means you have some sort of credit history.
If you have no credit history at all yet, you likely don't even have a credit score. In this case, you'll need to find a lender that lets you potentially qualify in a different way besides just your credit.
Here are Credible's partner lenders that offer personal loans to borrowers with no credit history:
Avant
Best for: Fast loan funding
With Avant, you can borrow $2,000 to $35,000**. Avant offers flexible credit requirements, which could make it easier to qualify if you have poor or no credit history.
LendingPoint
Best for: Streamlined approval and application process
LendingPoint specializes in working with borrowers with near-prime credit scores and might also be willing to work with borrowers who don't have a credit history.
In addition to credit, LendingPoint will also consider your employment and annual income.
OneMain Financial
Best for: Small loan amounts
Unlike some personal loan lenders, OneMain Financial offers both unsecured and secured personal loans. If you opt for a secured loan, you'll need to provide collateral — like a car, boat, or RV.
A secured loan might be easier to qualify for if you don't have a credit history. If you're approved, you'll need to visit a branch office in person to discuss your options.
Universal Credit
Best for: Free educational tools
If you borrow through Universal Credit, you'll receive access to free credit score monitoring, educational tools, and personalized recommendations that could help you build your credit. You can borrow $1,000 to $50,000 with Universal Credit.
Upstart
Best for: Borrowers with solid education and job histories
If you don't have a credit score at all, Upstart could be a good choice. Upstart uses machine learning to "price credit," meaning you could qualify if your education and job history demonstrate potential that's not reflected in your credit score.
How to get a loan with no credit history
Getting a personal loan with no credit history might be tough, but it's still possible. If you're ready to apply, follow these four steps:
Research and compare lenders. Be sure to compare as many lenders as you can to find the right loan for you. Consider not only interest rates but also repayment terms and any fees charged by the lender.
Pick your loan option. After comparing lenders, choose the loan option that best suits your needs.
Complete the loan application. Once you've found a lender, you'll need to fill out a full application and submit any required documentation, such as bank statements or pay stubs. If you're applying with no credit history, you might also need to provide your employment history or other information, depending on the lender.
Get your loan funds. If you're approved, the lender will have you sign for the loan so you can get your money. The time to fund for personal loans is typically one week or less — though some lenders, such as OneMain Financial, will fund loans on the same or next business day after approval.
Tip: It could also be a good idea to sign up for autopay so you don't miss any future payments. Making on-time payments can help you start your credit-building journey on the right foot, as payment history makes up 35% of your credit score. Plus, signing up for automatic payments might get you a rate discount — often 0.25%, depending on the lender.
What to do if you can't qualify for a personal loan
If you're still having a hard time qualifying for a personal loan with no credit history, here are a couple of other options to consider:
Find a cosigner. Having a creditworthy cosigner can improve your chances of getting approved for a loan if you don't qualify on your own. Even if you don't need a cosigner to qualify, having one could get you a lower interest rate than you'd get on your own.
Apply for a secured loan. While many personal loans are unsecured, some lenders also offer secured personal loans that require collateral, such as a car or other valuable item. These types of loans are less risky for the lender, which could make it easier to get approved even if you don't have a credit history. A secured personal loan might also come with lower interest rates compared to unsecured loans.
Before you take out a personal loan, remember to consider as many lenders as possible to find the right loan for your needs. Credible makes this easy — you can compare your prequalified rates from multiple lenders in two minutes. Just keep in mind that you won't be able to get a personal loan with a cosigner or a secured loan through Credible.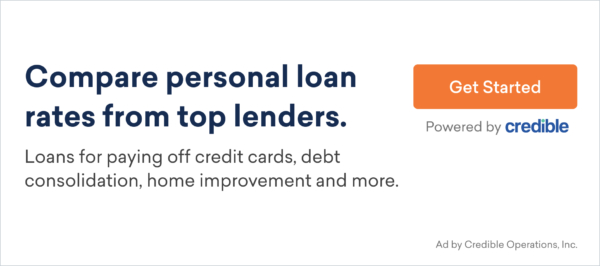 Watch out for predatory loan practices
While there are trustworthy lenders that offer no-credit-history loans, there are also predatory lenders to watch out for.
For example, if you're looking for a personal loan that doesn't require a credit history, you should generally avoid the following types of loans:
Pawn shop loans
Payday loans
Cash advance loans
These types of loans often charge astronomically high interest rates and fees — sometimes 300% to 500% APR. They also have ways of keeping you trapped in debt for even longer.
For example: Some payday lenders allow you to roll your balance over into another loan if you can't pay it off by the due date. This means your debt can continue snowballing with higher fees that could be even harder to pay off by the next due date.
Your payments on these types of loans are also generally not reported to the credit bureaus, meaning they won't even help you build credit that could help you qualify for better loans in the future.
Ultimately, these loans aren't worth it unless as an absolute last resort.
How to spot a no-credit loan scam
There are also plenty of scam artists looking to take advantage of borrowers desperate for a loan. Here are several personal loan scam warning signs to keep an eye out for:
Not requiring a credit check: Legitimate personal loan companies typically review your credit to determine your creditworthiness. While some short-term loans — such as payday or pawn shop loans — don't require a credit check, others could be a scam.
Demanding upfront payment: You should never have to pay money before you get your loan funds. Also watch out for scammers wanting you to pay through unusual methods that can't be tracked, such as with a prepaid credit card.
Using high-pressure sales tactics: Scammers might use language like "limited-time offer" or "act now" to push you into making a fast, uninformed decision.
Approaching you about the loan: While legitimate companies sometimes advertise through the mail with pre-approved loan offers, a company approaching you out of the blue with a loan offer could be a scam.
Lacking a physical location: A real, vetted loan company should be able to provide a physical address that you can verify. If not, it might be a scam.
Not feeling comfortable: Trust your gut — if something seems off, it probably is.
Tip: A lender must have licenses from state regulatory agencies before it can do business in a state, which means you can find out whether a lender is authorized to work with you by checking with your individual state's agency. You can also review the lender's Better Business Bureau (BBB) reviews — though keep in mind that the BBB isn't a definitive source for determining whether a lender is legitimate.
No matter what type of personal loan you choose, be sure to consider how much the loan will cost you over time. You can estimate how much you'll pay for a loan using a personal loan calculator.
How to build credit history
It's a good idea to focus on building your credit history so you can more easily qualify for loans in the future.
Having good credit can help you in your everyday life, too, such as if you want to rent an apartment or get competitive rates on insurance.
Here are a few ways to build credit history:
Take out a small secured loan or a credit-builder loan. Payment history makes up the biggest chunk of your credit score, which means making on-time payments over the life of a loan can help build your credit history.
Get a secured credit card. This type of card is secured by a deposit and can help diversity your credit. Be sure to make on-time payments.
Ask if you can be an authorized credit card user for a trusted friend or relative. You typically don't even have to use the card for this to improve your credit.
How to monitor your credit
As you work to build your credit, it's also a good idea to monitor your credit. This way, you can see where you might need to make improvements as well as keep an eye out for potential fraud. Here are a few ways to do this:
Review your credit reports. You're entitled to a copy of your credit report from each of the three credit bureaus — Equifax, Experian, and TransUnion — every 12 months. You can use a site like AnnualCreditReport.com to review your credit reports for free. If you'd like to review your credit throughout the year, you might consider accessing a report from one of the credit bureaus every four months.
Sign up for a credit monitoring service. There are several services available to allow you to monitor your credit — some are offered for free while others charge a fee. For example, Experian Boost provides free credit monitoring and also lets you have other bills (such as cell phone or utility bills) reported to the credit bureaus, which could boost your credit score.
Check with your bank or credit card issuer. Many banks and credit card issuers provide free updates to your credit score and credit report.
If you're ready to look for a personal loan, Credible can help. With Credible, it's 100% free to compare personal loan rates from multiple lenders, without affecting your credit.

---
About the author: Lindsay VanSomeren specializes in credit and loans. Her work has appeared on Credit Karma, Forbes Advisor, LendingTree, and more.