Our goal is to give you the tools and confidence you need to improve your finances. Although we receive compensation from our partner lenders, whom we will always identify, all opinions are our own. Credible Operations, Inc. NMLS # 1681276, is referred to here as "Credible."

Credible Operations, Inc. NMLS# 1681276, "Credible." Not available in all states. www.nmlsconsumeraccess.org.
This article first appeared on the Credible blog.
Every mortgage comes at a cost — several of them, actually. Upfront, there are your closing costs, and over the course of the loan's life, there's your monthly payments, escrow costs, and finally, interest. Understanding these costs is critical before you take out a loan.
With Credible, you can compare mortgage rates from various lenders in minutes.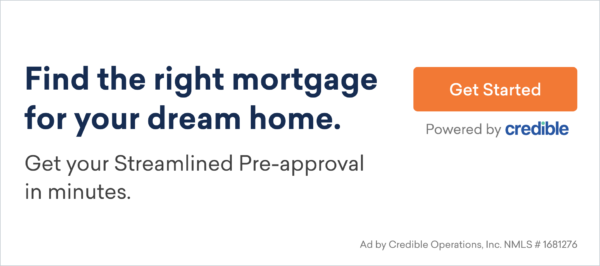 Monthly payments for a $100,000 mortgage
When you buy a house, your monthly mortgage payments go toward both your loan balance and other costs, like interest, insurance, and taxes.
Generally speaking, you can expect your monthly payment to cover:
Principal: This is part of your payment that goes straight toward your loan balance. Due to how loans are amortized, you usually pay less toward your principal at the beginning of your loan's life and more at the end of it.
Interest: Interest is what you pay the lender for borrowing the funds, and you'll pay more toward this cost at the start of your loan than at the end of it. Your interest rate will determine how much you'll pay here.
Escrow costs: Escrow accounts are often used to store funds for future home insurance premiums, property taxes, and mortgage insurance. Your servicer will then use that money later when those bills come due.
Assuming principal and interest only, the monthly payment on a $100,000 loan with an APR of 3% would come out to $421.60 on a 30-year term and $690.58 on a 15-year one.
Here's a breakdown of what the monthly payments — principal and interest only — would look like on a $100,000 mortgage with varying interest rates: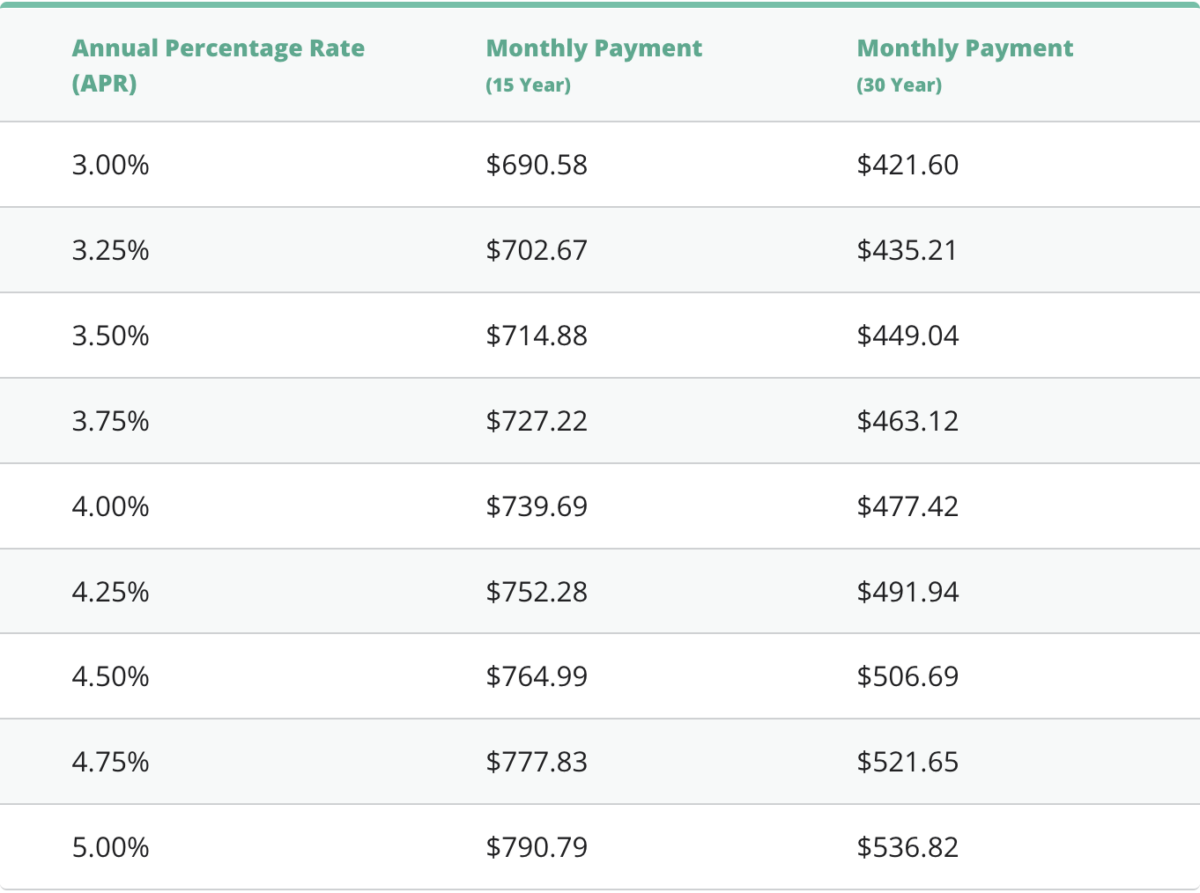 Where to get a $100,000 mortgage
To get a $100,000 mortgage loan — or any mortgage for that matter — you'll need to shop around with various lenders.
Because rates and terms can vary from one lender to the next, this will allow you to get the lowest rate and most affordable loan possible.
You can reach out to various mortgage lenders individually and request quotes, though this may take some time. Credible offers a more efficient option. With Credible, you can compare all of our partner lenders at once and receive prequalified rates in a matter of minutes.
What to consider before applying for a $100,000 mortgage
Before applying for a mortgage, you will need to flesh out the full costs of the loan to ensure it aligns with your budget and long-term financial goals.
You should know the monthly payment on the loan, the total interest you'll pay, the down payment you'll need saved up, and the total cash you'll need to cover closing costs like origination fees and discount points.
Total interest paid on a $100,000 mortgage
The amount of interest you pay on a mortgage loan depends on the interest rate your lender gives you.
Lower interest rates will mean fewer interest costs, while higher ones mean the opposite. This is why it's important to compare several loan options using a tool like Credible.
How long your loan lasts will also play a role in your interest costs. Longer loan terms charge the most interest, while shorter ones (15-year loans, for example) reduce those costs.
On a $100,000 mortgage at a 3% APR, your total interest costs would range from $24,304.70 to $51,777.45, depending on the loan term you choose.
Need a home loan? Credible makes getting a mortgage easy. It only takes 3 minutes to see if you qualify for an instant streamlined pre-approval letter.

How to get a $100,000 mortgage
Getting a $100,000 mortgage isn't as complicated as it seems.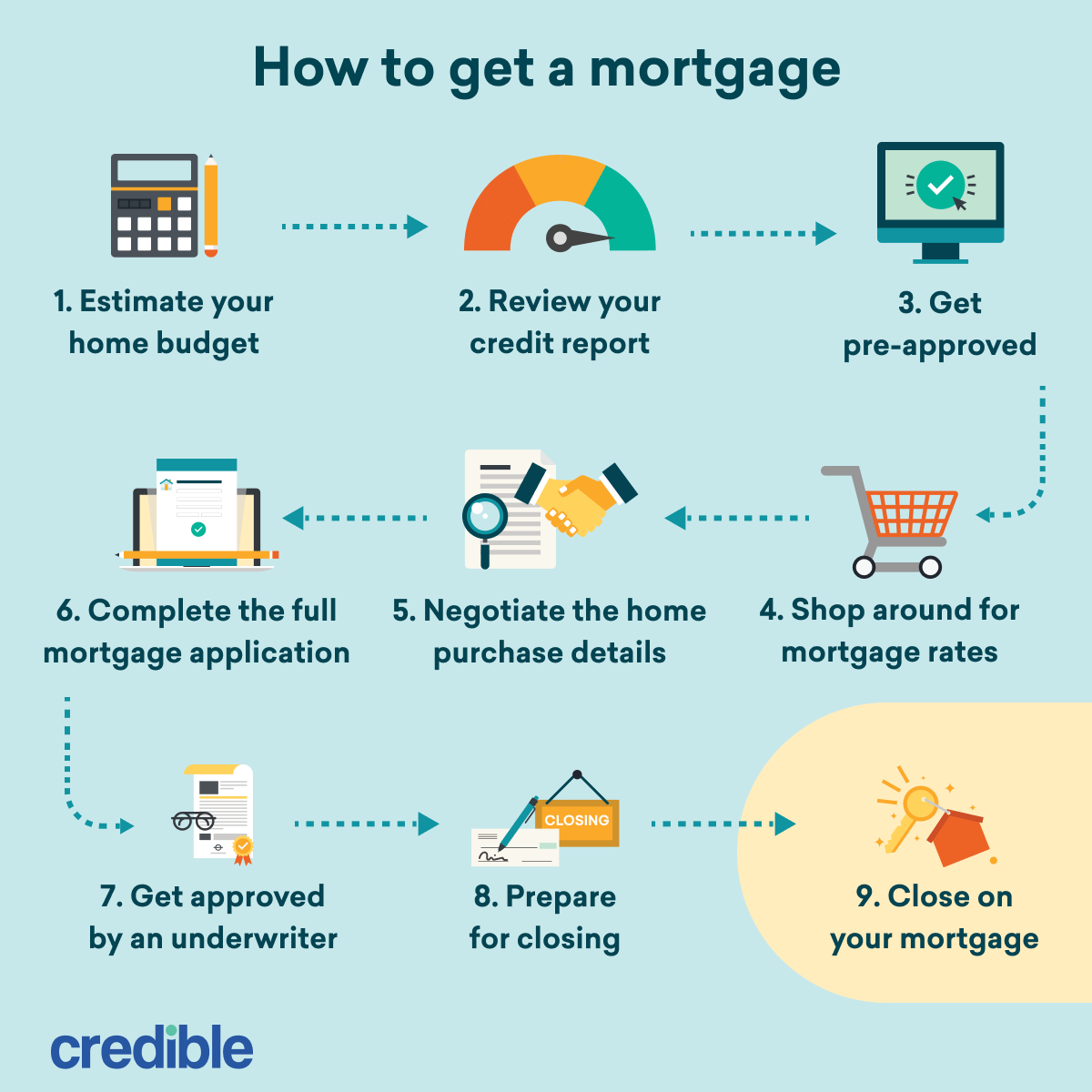 Once you're ready to apply, just follow this nine-step process, and you'll be well on your way to buying the home of your dreams:
Estimate your homebuying budget. Look at your income, debts, and expenses, and calculate how much you can afford to spend each month on a mortgage. Don't forget to factor in things like your down payment and the costs of maintaining your home as well.
Review your credit report. Pull your full credit report and review it with a critical eye. Any late payments, accounts in collection, or other negative marks could impact your ability to get a mortgage, so you'll want to address these before applying. Additionally, your credit score will play a huge role in the interest rate you're given, so if it's not great, you might want to improve it prior to applying for your loan.
Get pre-approved. Getting pre-approved for a mortgage is hugely important when buying a home — especially if your local housing market is competitive. A pre-approval letter can give sellers more confidence in your offers and, most importantly, give you a good idea of how much you may be able to borrow. You can use Credible to get pre-approved with several lenders.
Shop around for mortgage rates. When applying for pre-approval, each lender should also give you a loan estimate, which details all the costs and fees associated with the loan. Use this to compare each loan offer on rate, fees, cash-to-close, and more, and determine which one is offering the best deal for your budget.
Negotiate your home purchase details. The next step is to find a home, put in an offer, and negotiate your sales contract. Once the contract is finalized, it's time to move forward with your full mortgage application.
Complete the full mortgage application. You'll next need to complete your chosen lender's full mortgage application, which usually requires more financial details, as well as documentation — things like paystubs, bank account statements, W-2s, and tax returns.
Get approved by an underwriter. Your application will next move into the underwriting phase, which is when your lender verifies your financial information and assesses whether you're able to repay the loan you're requesting.
Prepare for closing. If your application meets the underwriter's approval, you'll be given a closing date. While you wait for that date to roll around, you'll want to secure a homeowners insurance policy, as this is required by most mortgage lenders. You should also get your down payment and closing costs ready; you'll typically pay these via cashier's check or wire transfer.
Close on your mortgage. Finally, you'll attend your closing appointment, hand over your closing cost check, and sign the sales paperwork. Once the funds are transferred, you'll receive your keys and are free to move into your new property.
If you're ready to get the ball rolling on your $100,000 mortgage, use Credible. In just a few minutes, you can get an instant streamlined pre-approval letter from one of our partner lenders — it's simple, secure, and won't affect your credit score.

---
About the author: Aly J. Yale is a mortgage and real estate authority. Her work has appeared in Forbes, Fox Business, The Motley Fool, Bankrate, The Balance, and more.