Our goal is to give you the tools and confidence you need to improve your finances. Although we receive compensation from our partner lenders, whom we will always identify, all opinions are our own. By refinancing your mortgage, total finance charges may be higher over the life of the loan.
Credible Operations, Inc. NMLS # 1681276, is referred to here as "Credible."

Content provided by Credible. Although we do promote products from our partner lenders who compensate us for our services, all opinions are our own.
This article first appeared on the Credible blog.
While many honest personal loan companies exist, you also need to keep an eye out for personal loan scams. But don't worry — there are several ways to double-check if a loan company can be trusted.
Here's how to tell if a loan company is legitimate, plus what to do if you've been scammed. You can check personal loan rates from multiple established personal loan companies through Credible.

How to check if a loan company is legitimate
If you're looking to take out a personal loan, here are a few ways to vet a lender before giving them your personal information:
Look for online reviews: Online reviews can be a great way to gauge what others' experiences with the company have been like. If a company has either no reviews or only a tiny amount of glowing reviews that all seem to be written by the same person, it could be a major red flag.
Make sure the company is registered in your state: Before a lender can do business in a state, they must first have licenses from state regulatory agencies. You can check with your individual state's agency to see if the lender is able to work with you.
Check with the Better Business Bureau: While the Better Business Bureau (BBB) isn't a definitive source for checking if a loan company is legitimate, it can help you see if the company has a history of treating other customers fairly. Watch out for companies with zero reviews — these might be loan scams.
Make sure the company's website is secure: Look for the padlock symbol in the URL bar of your browser and check that it starts with "HTTPS" as opposed to "HTTP." Both of these indicate that communications between your device and the site are encrypted and therefore secure.
Check its contact details: If the company has a phone number, call and ask verifying questions. If there's a physical address listed, look it up with Google Maps to see if the result is actually a business.
In addition to verifying the lender you're interested in, it's also a good idea to consider how much a new loan will cost you over time. You can estimate how much you'll pay for a loan using a personal loan calculator.
Are loan forgiveness companies real?
There are some companies and organizations that can help you manage your debt, such as the National Foundation for Credit Counseling.
However, none of these companies can grant you loan forgiveness, regardless of the type of loan you have.
The only type of loan forgiveness available is for federal student loans. Generally, you'll have to work in a certain field and make payments for a specific amount of time to qualify.
Keep in mind: You can pursue student loan forgiveness on your own without the help of a company. And you don't have to pay for it. If a company tries to charge you fees for loan forgiveness help, run the other way — it's a scam.
How do loan scams work?
Loan scams can show up in a variety of ways, but the basic idea is the same: They trick you into paying money and then don't come through with the loan funds.
Some common tactics of scammers include:
Not requiring a credit check
Demanding upfront payment (such as an application or credit check fee) before processing your application
Asking you to send them money in a way that's harder to trace and doesn't involve bank accounts, such as with a prepaid gift card
Pressuring you to make an instant decision
Keep in mind: Borrowers with bad credit who can't qualify for other loans could be especially at risk from scammers looking to prey on desperation. However, there are legitimate lenders who offer bad credit loans. While these loans generally come with higher interest rates, you won't have to worry about being taken advantage of.
It's important to find reliable sources of information when you're comparison shopping for a personal loan. Credible makes it easy to see your prequalified personal loan rates from multiple lenders in just minutes.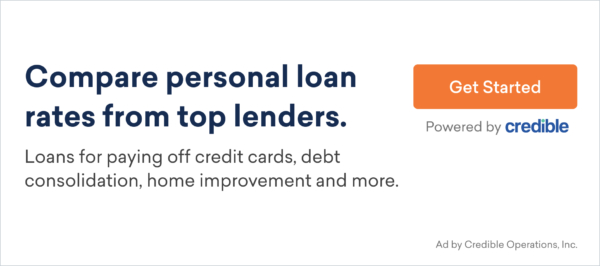 How to spot a personal loan scam
As you shop around for a personal loan, ask yourself the following questions to detect any potential scams:
Do they ask for money upfront? You should never have to pay money before you get your loan funds. A scammer might also require unusual payment methods, such as a prepaid credit card that can't be tracked. Keep in mind that many legitimate personal loans come with an origination fee, which is normal. But if the lender is demanding other fees before you get your money, it's likely a scam.
Are they using high-pressure sales tactics? Claiming that it's a "limited-time offer" and that you need to "act now" are just a couple of ways a scammer might pressure you to make a fast, uninformed decision.
Do they check your credit? Personal loan lenders typically use a credit check to determine your creditworthiness. While there are some no-credit-check personal loans (like payday loans, pawn shop loans, and car title loans), other companies promising not to check your credit are likely a scam.
Did they approach you about the loan? Some lenders do advertise by mail with preapproved loan offers. But if a company approaches you out of the blue with an offer for a loan, it could be a scam.
Do they have a physical address? A legitimate company should be able to provide a physical address that you can verify. If you can't find location information for the supposed company, it could be a front for a scam.
Do you feel comfortable with the company? Go with your gut. If something feels fishy to you, it probably is.
What to do if you have been scammed
Even after taking all of these precautions, it's still possible to fall victim to personal loan fraud. If you've been scammed, follow these steps:
Collect evidence: Document every piece of information you can about the loan, such as any agreements you signed, emails, letters, or phone calls. Also document your bank account statements, if applicable.
File a police report with your local police department: You might need this report going forward to prove to businesses and organizations that you were targeted by a loan scam.
File a report with appropriate agencies: After filing a police report, file a complaint with other relevant authorities, including the Federal Trade Commission, the Consumer Financial Protection Bureau, your State Attorney General, and the BBB. These organizations might be able to help you get your money back or at least prevent the scammers from harming other people.
Check your credit report: If you provided sensitive information (such as your Social Security number), check your credit to make sure the scammers don't also steal your identity. You can use a site like AnnualCreditReport.com to review your credit reports from each of the credit bureaus. You might also consider placing a freeze on your credit report just in case.
Can you get your money back from a scam? Unfortunately, if you sent money to a scam company through a prepaid credit card or similarly untrackable method, you likely won't get your money back. If the scammers got ahold of your credit card information, you might be protected by your card issuer. Under the Fair Credit Bill Act, you're liable for only $50 of unauthorized credit card charges. But depending on your card issuer, you might not be liable for any of the charges at all.
Credible lets you compare legitimate loan companies
If you decide to get a personal loan, it's essential to make sure that the loan companies you're considering are legitimate. One way to do this is to compare lenders through a reputable personal loan marketplace like Credible.
With Credible, you can compare your prequalified rates in two minutes from multiple lenders that have been thoroughly evaluated and vetted.

---
About the author: Lindsay VanSomeren specializes in credit and loans. Her work has appeared on Credit Karma, Forbes Advisor, LendingTree, and more.