Our goal is to give you the tools and confidence you need to improve your finances. Although we receive compensation from our partner lenders, whom we will always identify, all opinions are our own. By refinancing your mortgage, total finance charges may be higher over the life of the loan.
Credible Operations, Inc. NMLS # 1681276, is referred to here as "Credible."

Content provided by Credible. Although we do promote products from our partner lenders who compensate us for our services, all opinions are our own.
This article first appeared on the Credible blog.
Whether you're adding onto your home, undergoing costly medical procedures, or facing another substantial expense, a personal loan could help you pay for it.
If you need to borrow a large amount — such as a $75,000 personal loan — be sure to carefully consider all of your lender options to find the right loan for you. With Credible, it's easy to compare your prequalified personal loan rates from multiple lenders in just minutes.

Here's what you should know before getting a $75,000 personal loan.
Where to get a $75,000 personal loan
Here are some of your lender options when it comes to getting a $75,000 low interest personal loan:
Online lenders
Online lenders can be a good source for finding large personal loans. In many cases, they offer an easy application process and fast loan decisions.
The time to fund for online lenders is typically less than five business days — though depending on the lender, you might get your money as soon as the same or next business day if you're approved.
Here are Credible's partner lenders that offer personal loans of $75,000 or more:
LightStream offers personal loans from $5,000 to $100,000. Most LightStream loans come with terms ranging from two to seven years — but if you're using the loan for home improvements, you could have up to 12 years to repay it. Plus, if you're approved, LightStream will fund your loan as soon as the same business day.
SoFi personal loans are available for $5,000 to $100,000 with terms from two to seven years. If you take out a loan with SoFi, you'll also have access to perks like unemployment protection and free financial planning advice. If you're approved, you could have your loan funds in three business days.
You can compare personal loan rates from these and other top lenders with Credible. It's easy and 100% free to see your prequalified personal loan rates.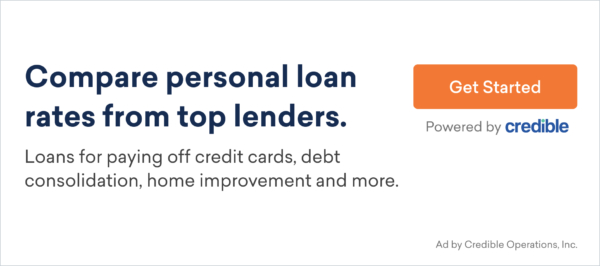 Banks
Some major banks — such as Bank of America, Capital One, and Chase — don't offer personal loans. However, others do. For example, with Wells Fargo, you might be able to borrow up to $100,000.
Also keep in mind that if you already have an account at a bank, you might qualify for a loyalty rate discount if you also take out a personal loan with them.
Do credit unions offer $75,000 personal loans? Generally, credit union personal loans aren't available for such a high amount.
However, keep in mind that because credit unions are nonprofit organizations, they sometimes offer lower rates compared to banks. So if you can get by with less than $75,000, then a credit union could still be a good option.
Alliant Credit Union, for example, offers $50,000 personal loans — the highest loan amount you'll typically see from a credit union.
What to consider when comparing $75,000 loans
To qualify for a $75,000 personal loan, you'll likely need good to excellent credit, steady income, and a relatively low debt-to-income ratio so the lender knows you can comfortably afford the payments.
If you don't meet these requirements, you might need to settle for a smaller loan amount or work on building your credit first.
Tip: If you're struggling to get approved for a personal loan, another option is adding a cosigner to your application. Not all lenders offer cosigned personal loans, but some do. Even if you don't need a cosigner to qualify, having one could get you a lower interest rate than you'd get on your own.
If you're ready to get a personal loan for $75,000, here are a few points to consider:
1. Interest rates
The interest rate on a loan indicates how much you'll pay in interest charges over the life of the loan and is usually the biggest cost associated with borrowing money.
Keep in mind: The repayment term you choose will also affect your rate. In most cases, the shorter the loan term, the lower the rate.
It's important to consider how much your loan will cost you over time and how the interest rate impacts this. You can estimate how much you'll pay for a loan using a personal loan calculator.
2. Fees
Some lenders charge fees for personal loans. For example, you might come across:
Origination fees that are deducted before the loan is disbursed to you
Late fees if you miss payments
Prepayment penalties if you pay off the loan early
Tip: As you shop for a loan, be sure to double-check which lenders charge fees. Each lender is different, so this will vary. Also keep in mind that if you take out a loan with one of Credible's partner lenders, you won't have to worry about prepayment penalties.
3. Repayment terms
Personal loan terms typically range from one to seven years, depending on the lender. The term you choose will affect your monthly payment as well as your interest rate.
Tip: While a longer repayment term will likely get you lower monthly payments, you'll also pay more interest over time. Because of this, it's usually a good idea to pick the shortest loan term you can afford.
4. Monthly payment
The monthly payment on a loan is a major indicator of whether the loan will fit in your budget — especially with a loan amount as high as $75,000.
If you need a smaller monthly payment, you could opt for a longer repayment term.
For example: A five-year term on a $75,000 loan will come with a higher payment than if you stretch the term out to seven years. Just remember that the longer the repayment term, the more you'll pay in interest charges over the life of the loan.
5. Total repayment costs
Finally, be sure to estimate the loan's total repayment costs. Before signing for a loan, review the Truth in Lending Act (TILA) disclosure that the lender will provide. This will outline your loan's interest rate, monthly payment, and fees (if any).
Pay special attention to these two numbers:
The finance charge: This is the cost of your loan, including interest and fees, assuming you make all your payments on time.
Total payments: This is the sum of all the payments you'll make to pay off your loan, including the loan principal and finance charges.
Cost to repay a $75k loan
The table below shows how different interest rates and loan terms could affect the total repayment cost for a $75,000 loan. Keep in mind that the interest rates shown are solely for illustrative purposes and are hypothetical.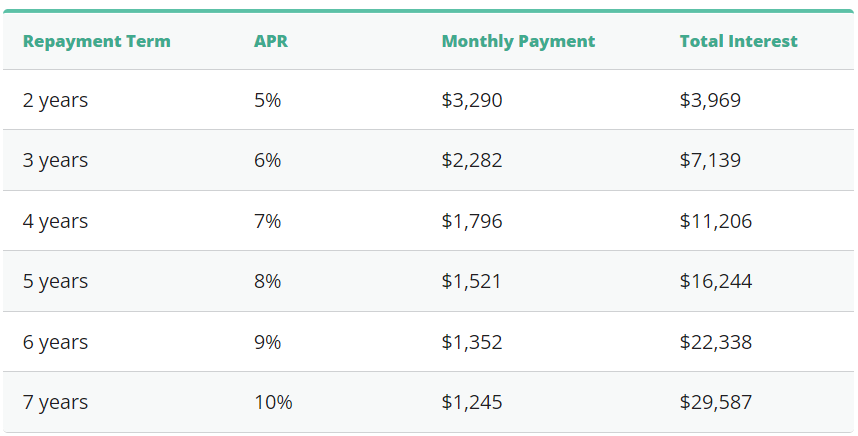 If you decide to take out a $75,000 personal loan, remember to consider as many lenders as you can to find the right loan for you. Credible makes this easy — you can compare your prequalified rates from multiple lenders in two minutes.

---
About the author: Kat Tretina is a freelance writer who covers everything from student loans to personal loans to mortgages. Her work has appeared in publications like the Huffington Post, Money Magazine, MarketWatch, Business Insider, and more.