Our goal is to give you the tools and confidence you need to improve your finances. Although we receive compensation from our partner lenders, whom we will always identify, all opinions are our own. Credible Operations, Inc. NMLS # 1681276, is referred to here as "Credible."

Credible Operations, Inc. NMLS# 1681276, "Credible." Not available in all states. www.nmlsconsumeraccess.org.
This article first appeared on the Credible blog.
Refinancing can be a smart move for any property owner, but for rental property investors, it can be particularly helpful.
With a mortgage refinance, you can reduce your interest rate, shorten your loan term, take cash out of the home, or even finance new investments. And when done right, it can ultimately mean lower costs and higher profits.
If you're considering refinancing a rental property, here's what you need to know. Credible makes it easy to compare mortgage refinance rates from multiple lenders, without affecting your credit.

How to refinance a rental property
Refinancing a rental property loan isn't difficult, but you will want to be prepared. That means having a good grasp on your finances and credit, getting your financial documentation in order, and doing your due diligence when finding a lender.
Here's the step-by-step process you should follow for a mortgage refinance:
Step 1: Know your financial situation
Lenders generally have stricter qualifying standards for investment property owners due to the higher risk of foreclosure they present. Think of it this way: If someone falls behind on their mortgage, which property are they more likely to walk away from — the home they live in or an investment property? In most cases, it'd be the latter.
Below are the general minimum requirements, though these will vary by specific lender, loan program, and other factors like how many units your rental property has.

Step 2: Get your documents in order
When applying to refinance your rental property, you'll need a number of financial documents — just as you did when you first got the loan.
You usually need:
Your last two tax returns and W-2s. You may not have a W-2 if you're a full-time investor. If that's the case, your tax returns should suffice.
Your last two pay stubs or, if you don't have a 9-to-5, copies of recent rent receipts. These show how much income you're earning and can help lenders determine your DTI, or debt-to-income ratio.
Bank statements for any savings, checking, or business accounts. Lenders need to see how much cash you have saved up for closing costs and emergency expenses.
A copy of any rental leases on the property. This can help the lender gauge the profitability of your investment property.
Proof of your homeowners insurance. Homeowners insurance is typically required by all mortgage lenders. They might also require flood insurance depending on where your property is located.
Step 3: Compare lenders and rates
The next step is to determine which lender you'll use. Since mortgage lenders vary on interest rates, terms, and qualifying requirements, you'll want to shop around and compare quotes from at least a few. Getting multiple quotes can save you money.
If you're looking for a quick and easy way to compare mortgage refinance rates, Credible can help.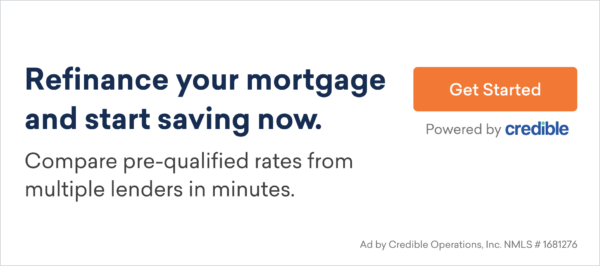 Step 4: Apply for a mortgage refinance
Once you've determined who the best fit is, you'll need to fill out the lender's full application. Having your documents on hand here can help, as the application will require detailed info about your income, debts, and finances. The lender will also pull your credit.
Generally, filling out the full application can take up to an hour, so make sure you clear some time in your schedule. You may also want your spouse or co-buyer nearby to answer any questions about their income or employment.
Tip: Credible Operations, Inc. simplifies the application process. Required documentation can be gathered electronically, instantly, and securely — without leaving our platform. You can find your mortgage refinance rate in less than three minutes, and it won't affect your credit score.
Step 5: Lock in your mortgage rate
After you've applied for your loan, you'll want to consider locking your mortgage rate, which guarantees you your quoted rate for a set period of time — usually between 30 and 60 days. Since mortgage rates fluctuate daily, this can be a good way to protect yourself from rate increases in the time it takes to process your loan.
Tip: If, for some reason, there's a delay in the loan process, you might be able to extend your lock. You'll usually pay a small percentage of your loan amount for this.
Step 6: The lender underwrites your loan
During the underwriting phase, your lender is looking to verify your financial information, ensure you meet the loan's requirements, and confirm that you can comfortably afford the new mortgage payment you'll be taking on. It's in this step that you will need to provide the documents you gathered in Step 2 to your loan officer.
Tip: Credible employs licensed loan officers if you need additional support. Our loan officers are not commissioned, so their only incentive is to give you the information and advice you need to make the best decision.
Step 7: Close
The final step is to close on your loan. Attend your assigned closing appointment, sign your papers, and pay your closing costs. On a refinance, closing costs generally average around $5,000. Once you're done, you technically have three days to change your mind. Otherwise, your refinance will be processed, and you'll be done.
Refinancing a rental property qualifications
Mortgages on rental properties typically have more stringent requirements than those for your primary residence. To qualify to refinance your rental property, you may need:
Good or excellent credit: If you're refinancing a single investment property, you may need a credit score of 680 or higher with some lenders. If you're refinancing a whole portfolio of rental properties, this requirement will be even higher — at least 720, according to Fannie Mae's guidelines.
Lower loan-to-value ratio: The loan-to-value ratio needed to refinance a rental property can't be higher than 75% in many cases. Some lenders may require a loan-to-value ratio of 70% or even 60%. You'll likely need to have built significant equity in your property to qualify for refinancing.
Higher income: You'll need to show that you can afford to make your payments on your rental property before you refinance. A key way lenders evaluate this is by examining your debt-to-income ratio. This metric compares your monthly payment obligations on all of your loans to your overall monthly income. The maximum DTI ratio on most investment properties is 45%.
Documentation needed to refinance a rental property
When you're refinancing a rental property, you may need to show an accounting of the rent you've collected from tenants. This will allow you to use that income to help qualify for your mortgage.
Usually, this will be reported in your tax return on IRS Form 1040, Schedule 3. If you lease the property through a corporation, you may need to show IRS Form 8825.
In some cases, you'll be able to use your current lease agreement to prove to your lender the income you're bringing in through your rental property. This may happen if you're refinancing a relatively new rental property or if you've had no tenants for a period of time, such as during a renovation.
Other than that, the documents you'll need to refinance your rental property are similar to those for any other mortgage. These may include your:
Social Security number
Driver's license
W-2 tax forms for the last two years
Tax returns for the last two years
Pay stubs for the last 30 days
Bank statements and investment account statements
Why you should refinance your rental property
It sounds like a lengthy process, but refinancing your mortgage is often worth the work. Here are just a few of the reasons to refinance your rental property loan:
Reduce your interest rate
If your credit has improved or market rates are below your current loan's interest rate, you might qualify for a lower-rate loan. This would mean a smaller monthly payment and fewer interest costs in the long run.
Change your loan term
You can also refinance into a shorter-term loan (say, from a 30-year mortgage to a 15-year one) to pay off the loan faster. Similarly, you can refinance into a longer-term loan to lower your monthly payments.
In some cases, you might also consider refinancing to an adjustable-rate loan. This could lower your payment as well.
Take cash out of the home
A cash-out refinance lets you take money out of your home equity. You can then use the cash to improve your property, make repairs, or even finance a new investment. It's a good alternative to a home equity line of credit.
Before you decide on a cash-out refinance, it's a good idea to compare mortgage refinance rates from multiple lenders. Credible makes it easy to compare rates in minutes.

Increase your rental property income
There are several ways a refinance can improve your profits as an investor. First, it can give you a lower rate and monthly payment, thereby increasing your monthly proceeds. A refinance can also give you cash to improve your property, which might allow you to increase your rent.
Keep in mind there is a cost to refinance, so it may be a bit before you recoup and come out on top financially.
Refinancing a rental property pros and cons
Like any financial decision, refinancing a rental property has its advantages and disadvantages. Here are a few to consider before making your final decision.
Refinancing a rental property pros
Save money on your monthly payment: Lower interest rates usually translate to lower monthly mortgage payments. If you qualify for a lower interest rate through refinancing, you may be able to save a considerable amount of money each month, and potentially thousands of dollars in interest costs over the life of the loan.
Tap equity: With a cash-out refinance, you may be able to replace your current mortgage with a larger mortgage, taking the difference as cash. You can then use that money for other purposes — like buying another investment property, perhaps.
Finance property improvements: A cash-out refinance can also be a good way to finance needed improvements to your rental property, potentially paving the way to charging higher rents after the renovation.
Refinancing a rental property cons
Stringent requirements: You may need a higher credit score, lower loan-to-value ratio, and more income to qualify for a rental property refinance than you would if you were refinancing your primary residence.
Higher interest rates: Mortgages on a rental property typically have higher interest rates than those on primary homes. This means you'll have higher payments on your investment property than you would on a place you live yourself.
Closing costs and fees: Refinancing a mortgage brings with it significant closing costs and fees, which you'll likely have to pay out of your own pocket. This means it will take longer to break even if you are saving money in your monthly payment.
---
About the authors: Aly J. Yale is a mortgage and real estate authority. Her work has appeared in Forbes, Fox Business, The Motley Fool, Bankrate, The Balance, and more. Andrew Dunn, who contributed to the reporting for this article, is an award-winning mortgage and finance writer with a decade of experience covering the industry with articles published at Fox Business, LendingTree, Credit Karma, Axios Charlotte, and more.