Our goal is to give you the tools and confidence you need to improve your finances. Although we receive compensation from our partner lenders, whom we will always identify, all opinions are our own. Credible Operations, Inc. NMLS # 1681276, is referred to here as "Credible."

Content provided by Credible. Although we do promote products from our partner lenders who compensate us for our services, all opinions are our own.
When you have an unpaid medical bill due to an emergency hospitalization or need to pay for a procedure your health insurance won't cover, a medical loan could be a possible solution. Using loans for your medical bills could help you avoid collections and protect your credit.
But medical loans come with some risks and additional costs, so they aren't the best solution for everyone. Here's what you should know about loans for medical bills.
What's a medical loan?
A medical loan is a personal loan that's used to cover the cost of all types of medical expenses, such as elective surgeries, fertility treatments, or emergency hospital visits.
How do loans for medical bills work?
When you take out a personal loan to cover medical expenses, a lender issues you a lump sum of money. The loan comes with a fixed interest rate, and you repay it in fixed monthly installments. Though most personal loans are unsecured loans, meaning they aren't secured by collateral like your car, some lenders also offer secured personal loans.
Using a personal loan to cover your medical bills can be a better option than some other financial products. For example, personal loans typically come with lower average interest rates than credit cards. The average rate for personal loans was 9.51% in 2020, and the average rate for credit cards was 16.28%, according to the Federal Reserve.
Banks, credit unions, and online lenders offer personal loans to borrowers who meet specific income and credit requirements. To apply for a personal loan, you have to fill out a loan application online or in person. If you're approved, a lender will send you a loan agreement to sign before issuing your funds.
When shopping for a personal loan, it's a good idea to compare rates and loan terms from multiple lenders to make sure you're getting the best deal for your financial situation.
Credible makes it easy to compare personal loan rates from multiple lenders.

What credit score do I need for a medical loan?
The credit score you need to qualify for a medical loan varies — different lenders have different minimum credit score requirements. That said, you typically need a fair credit score (at least 580) to get approved for a loan without a cosigner. And to qualify for the lowest interest rate, you need to have good to excellent credit (670 or above).
Where to get a medical loan
If you're looking for a medical loan, consider these personal loan lenders. Credible evaluated these lenders based on factors such as loan amounts, fees, time to fund, term lengths, and customer service.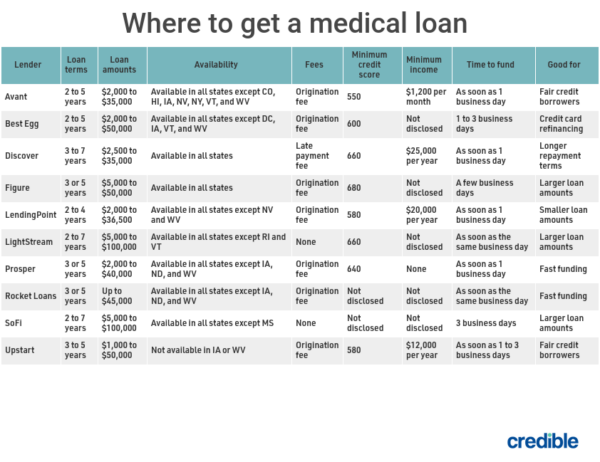 Avant, Best Egg, Discover, LendingPoint, Lightstream, Prosper, SoFi, and Upstart are Credible partner lenders.
Credible makes it easy to compare personal loan rates from these and other lenders in minutes.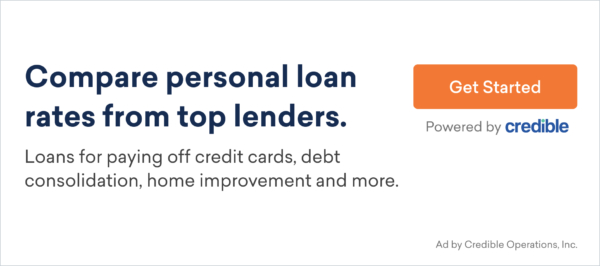 What to consider when comparing medical loan lenders
When evaluating your medical loan options, consider these five things.
Interest rate and APR: The interest rate and annual percentage rate, or APR, help you calculate the total cost of taking out a loan. Your APR is a better measurement since it also takes into account any fees the lender may charge you.
Repayment terms: Your repayment term tells you how long it'll take you to repay the loan. If you prefer a lower monthly payment amount, choose a loan with a longer repayment period. Just keep in mind that with a longer repayment term, you'll pay more in interest over the life of the loan.
Fees: Review loan offers for fees to get a better picture of how much taking out a loan will cost you. Some common fees a lender may charge include origination fees, late fees, and returned payment fees.
Prepayment penalties: Because lenders earn money on loans by charging interest, some charge you a penalty for repaying your loan early. If you plan on paying your loan off early, choose a lender that has no prepayment penalty.
When should I get a loan for medical bills?
Whether you should get a loan to cover your medical bills depends on your unique financial circumstances. If you have good credit and qualify for a competitive interest rate, taking out a loan could be a smart idea.
But if you have bad credit, the interest rate you'll receive will likely be higher than average. Unless you can find a cosigner with good credit to help you qualify for a lower interest rate, exploring alternative financing options might be the best decision.
Regardless of your credit history, only take out a medical loan if you can afford to repay it.
Pros of medical loans
Funding speed — If you need quick access to funds to cover a medical bill, you can sometimes receive your loan funds as soon as the same business day, depending on the lender.
Flexible repayment terms — You don't have to pay for your entire medical bill upfront — you can spread your payments out over multiple years.
Can boost your credit score — If you repay your medical loan on time each month, you could improve your credit score.
Cons of medical loans
Interest charges — Most lenders charge interest on medical loans. If you take one out, you'll likely have to repay an amount that's larger than your medical bill.
Fees — Some lenders charge late fees, returned payment fees, and origination fees, which can add to the total cost of your loan.
Can negatively affect your credit — If you don't repay your medical loan as agreed, a lender can report your late payment to the three main credit bureaus: Equifax, Experian, and TransUnion. Having late payments on your credit report will lower your credit score, which can make it more difficult to qualify for loans in the future.
If you're looking for a personal loan to pay your medical bills, compare personal loan rates using Credible.

Alternatives to personal loans for medical bills
Although using a medical loan to cover medical bills can be a good idea, depending on your unique financial circumstances, it might not be the best choice. Here are some other options to consider.
Home equity loan — If you have enough equity in your home, you may qualify for a home equity loan. Since the loan is secured by the equity in your home, it typically comes with lower interest rates. But if you default on the loan, the lender can foreclose on your home.
Hospital or provider assistance programs — Depending on your income, you may qualify for financial assistance programs through your hospital or medical provider. If you qualify, this could reduce your medical bill to zero or lower its price. You can also ask your provider if it offers a payment plan.
Save for an elective procedure — If you don't have to get a procedure done immediately, delay it until you can save up enough money to pay for it.
Negotiate discounts — The price your medical provider gives you is often negotiable, so don't hesitate to ask the billing department for a lower price. You can sometimes get a discount for offering to pay your medical bill in cash and choosing not to use your health insurance, according to Consumer Reports.
Medical financing companies — Some finance companies offer products designed specifically for covering medical expenses. Unlike a medical loan, some of these products come with interest-free promotional financing if you qualify. As long as you repay your balance in full, you can avoid paying interest.
You may be considering using a credit card to pay for your medical bills, but you should avoid this option if possible. Credit cards can come with high APRS, which could add significant interest costs to your medical bills.
---
About the author: Jerry Brown is a personal finance writer and owner of the Peerless Money Mentor blog. He has written for major publications such as Forbes Advisor, Business Insider, and Rocket Mortgage. Jerry was also nominated for the Plutus Award for Best Social Media for Personal Finance. He has a bachelor's in business administration and a bachelor's in business management from the University of New Orleans.