Our goal is to give you the tools and confidence you need to improve your finances. Although we receive compensation from our partner lenders, whom we will always identify, all opinions are our own. Credible Operations, Inc. NMLS # 1681276, is referred to here as "Credible."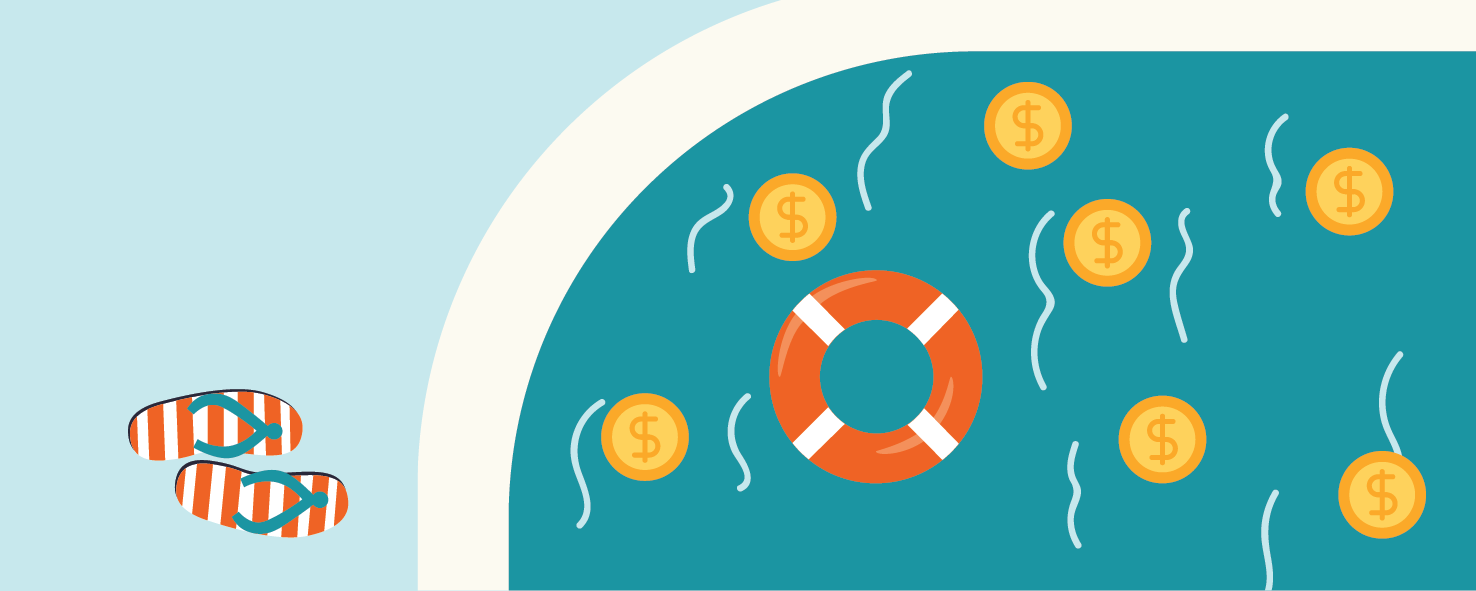 Content provided by Credible. Although we do promote products from our partner lenders who compensate us for our services, all opinions are our own.
This article first appeared on the Credible blog.
The average cost of installing a pool in the U.S. is about $35,000, according to HomeGuide. If you'd like to get a pool but don't have the cash, a personal loan could help you cover the cost.
Before you commit to a personal loan, it makes sense to comparison shop to find the best rates available to you. Credible makes it easy to see your prequalified personal loan rates from multiple lenders.

Here's what you should know about swimming pool loans.
Personal loans for swimming pools
A personal loan can be used for a wide variety of reasons — including swimming pool installation. Here are Credible's partner lenders that offer personal loans for swimming pools:
Avant
Avant offers personal loans for up to $35,000, as well as fast loan funding. If you have fair credit and would like to finance a pool installation, Avant could be a good choice.
Axos
Axos personal loans range from $10,000 to $50,000 and can be used for home improvement and more. Keep in mind that you'll likely need very good credit to qualify for an Axos loan.
Best Egg
Best Egg offers personal loans up to $50,000, with highly competitive fixed interest rates. Just remember that you'll need good credit to qualify for the lower end of these rates.
Discover
If you have good to excellent credit and are looking for a longer repayment term, a personal loan from Discover might be a good option. Discover offers loans ranging from $2,500 to $35,000, with terms from three to seven years.
LendingPoint
You don't need excellent credit to get a loan from LendingPoint. If you're looking for bad credit personal loans, LendingPoint might be a good option.
LightStream
A division of SunTrust Bank, LightStream offers loans up to $100,000, plus repayment terms ranging from two to 12 years for home improvement. This gives you more time to pay off your pool compared to other personal loan lenders.
PenFed
If you only need to borrow a small amount, PenFed could be a good choice. With PenFed, you could get anywhere from a $600 up to $50,000 personal loan with loan terms from one to five years.
Prosper
Prosper is a lending marketplace where loans are funded by individual investors. Prosper loans come with terms from two to five years and are available for up to $50,000.
SoFi
SoFi offers $5,000 up to $100,000 personal loans that come with no origination fees, closing costs, or prepayment penalties. SoFi also offers unemployment protection, free financial planning sessions, and career coaching.
Upgrade
An Upgrade personal loan could be a good choice if you're building credit or looking for fast loan approval. Upgrade offers loans up to $50,000.
Upstart
With Upstart, you could get a $1,000 up to a $50,000 personal loan. In addition to your credit, Upstart looks at over 1,000 non-traditional credit indicators to help get you approved for a personal loan — which means those with less-than-stellar credit might still qualify for a loan.
You can easily compare personal loan rates from these lenders when you use Credible. It's 100% free to see your prequalified personal loan rates, and it won't affect your credit.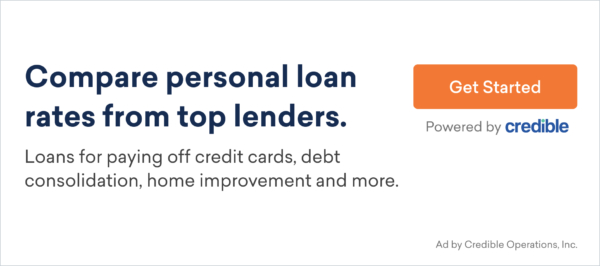 How to calculate the total cost of your swimming pool loan
How much you'll need to borrow to cover your swimming pool will depend on the type of pool you choose.
Here are some common price points to consider before estimating the overall cost of a swimming pool loan:
Above-ground swimming pool: $1,500 to $16,000 on average
In-ground swimming pool: $3,000 to $100,000
Tip: The total cost of your loan will also be driven by the interest rate and any fees charged by the lender. Having a good credit score could also help you qualify for a lower interest rate, so it's a good idea to make sure your credit is as good as it can be before applying.
Before you borrow, estimate how much you'll pay for a swimming pool loan using a personal loan calculator.
HELOCs vs. personal loans for pools
In some cases, a Home Equity Line of Credit (HELOC) might be a good choice to pay for pool installation. Here are some pros and cons of both HELOCs and personal loans to help you decide: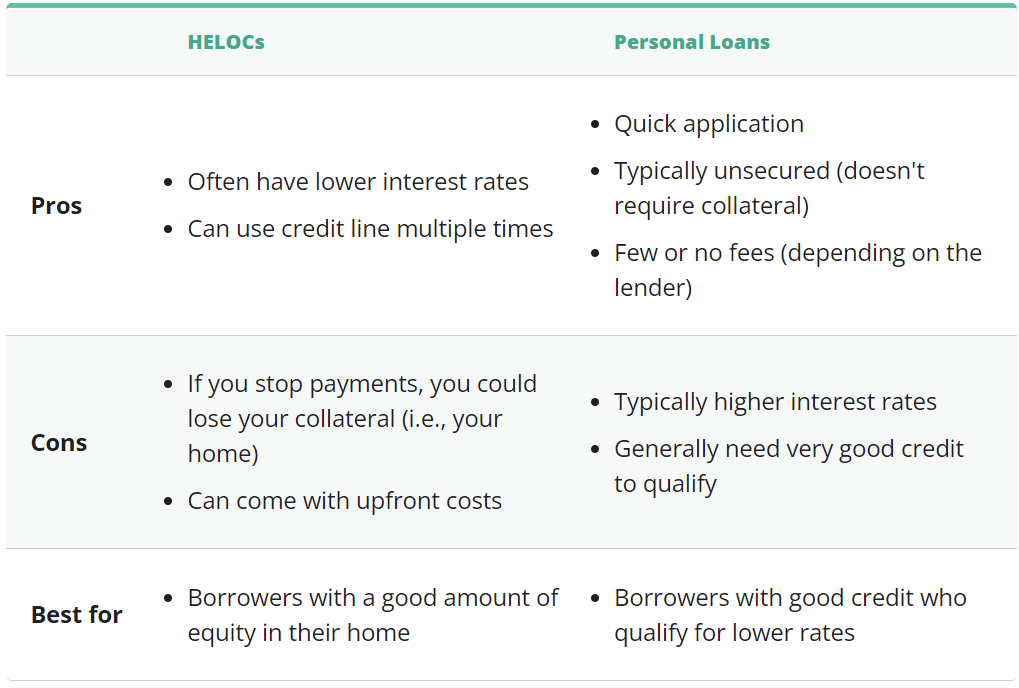 Things you should know before building a pool
On top of paying for a pool, there are a few points to keep in mind before you take the plunge. Here's what to consider first:
Pools won't necessarily boost your home value
Unlike a bathroom addition or kitchen remodel, adding a new pool won't necessarily add value to your home. If you move, you'll be leaving it behind and likely won't recoup the full cost — if any.
Also keep in mind that if you sell your home, buyers might not be thrilled with the added costs and safety risks that come with a home swimming pool.
The typical pool builder will recoup about $20,000 to $32,000 in value compared to an average $50,000 expense, according to HGTV.
In addition to paying for the pool, there may be additional monthly costs
Pool costs don't stop after building and filling it up for the first time. There are a handful of common, ongoing costs related to owning a pool. The cost is around $3,000 to $5,000 per year, according to HomeAdvisor. These costs include:
Heating-related electricity costs
Pool chemicals
Cleaning services
Ongoing maintenance
Winterizing
Filling and adding water
Additional home insurance costs
Some pool dealers may offer their own financing — but you should compare your options
Some pool-building companies offer their own financing. However, it's a good idea to compare this with other loan options you might qualify for since you might get a much lower interest rate with another lender.
If the pool dealer offers a better deal, it might be a good choice. Just remember that you're under no obligation to finance through your pool company, especially if you can get better terms elsewhere.
If you decide to take out a personal loan to pay for your swimming pool, be sure to consider as many lenders as possible to find the right loan for you. Credible makes this easy — you can compare your rates from multiple lenders in two minutes.

---
About the author: Eric Rosenberg is an expert on personal finance. His work has been featured at Business Insider, Investopedia, The Balance, The Huffington Post, MSN Money, Yahoo Finance, Mint.com and more.