Our goal is to give you the tools and confidence you need to improve your finances. Although we receive compensation from our partner lenders, whom we will always identify, all opinions are our own. Credible Operations, Inc. NMLS # 1681276, is referred to here as "Credible."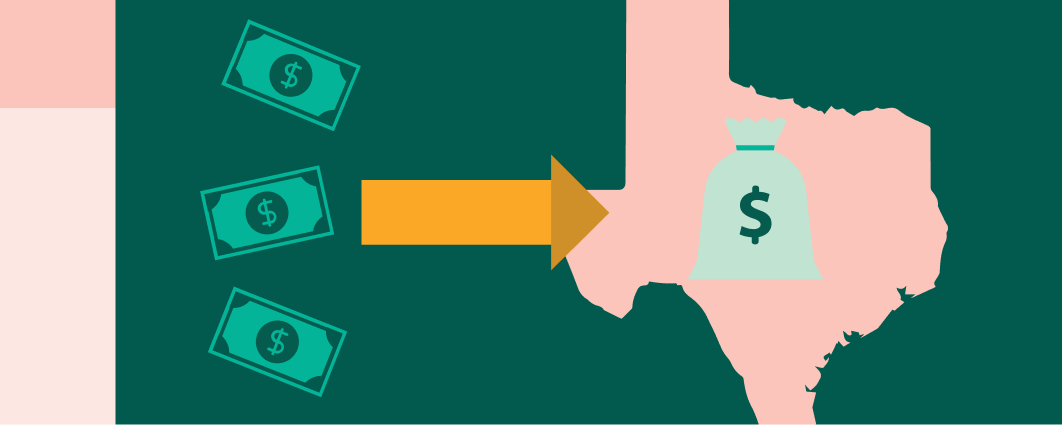 Content provided by Credible. Although we do promote products from our partner lenders who compensate us for our services, all opinions are our own.
This article first appeared on the Credible blog.
While Texas residents earn slightly less than the rest of the country, they also have a smaller amount of total debt.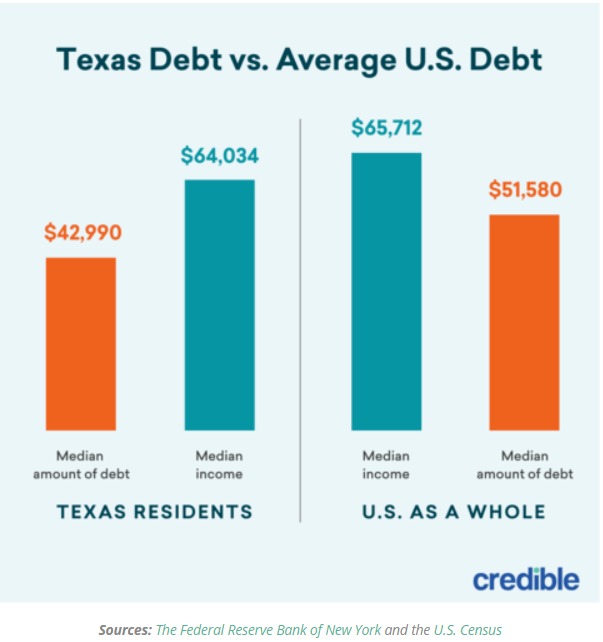 However, although Texas residents had marginally less debt than the national average, it could still be a lot to handle. One option to more easily manage your debt is to combine it with a debt consolidation loan. Credible makes it easy to compare personal loan rates for consolidating debt.

Here's what to know about debt consolidation in Texas.
Where to get a debt consolidation loan in Texas
A debt consolidation loan is a type of personal loan that lets you combine multiple types of debt and leaves you with one payment and potentially a lower interest rate.
If you're looking for debt consolidation loans in Texas, here are a few lender options to choose from:
Online lenders
Online lenders can be a convenient choice for debt consolidation loans since you can easily shop around and compare loan options with just a few clicks of your mouse.
The time to fund for online loans is typically five business days or less — though depending on the lender, you might have your loan funded as soon as the same or next business day if you're approved.
Banks
If you already have an account at a bank, it could be worth checking to see if they also offer debt consolidation loans since you might qualify for a rate discount as an existing customer.
Keep in mind: Some major national banks — such as Bank of America, Capital One, and Chase — don't offer personal loans for debt consolidation. However, many others do.
Here are a few regional banks in Texas that offer debt consolidation loans. Note that these lenders aren't Credible partners.
Frost Bank
PlainsCapital Bank
Veritex Community Bank
Credit unions
Because credit unions are nonprofit organizations, they sometimes offer lower rates than banks. They also tend to be more community-focused.
Keep in mind: You'll need to join the credit union to apply for a loan. For example, you might have to live in a certain area, work in a specific field, or join an associated charity to qualify for membership.
Here are some of the major credit unions in Texas that offer debt consolidation loans. Keep in mind that these lenders aren't Credible partners.
NavyArmy Community Credit Union
Randolph-Brooks Federal Credit Union
Security Service Federal Credit Union
No matter which type of lender you choose for your debt consolidation loan, it's important to consider how much the loan will cost you over time. You can estimate how much you'll pay for a loan using a personal loan calculator.
If you're ready to begin comparison shopping for a personal loan to consolidate debt, Credible can help you get started. With Credible, it's easy to see your prequalified personal loan rates from multiple lenders. It's 100% free to use and won't affect your credit.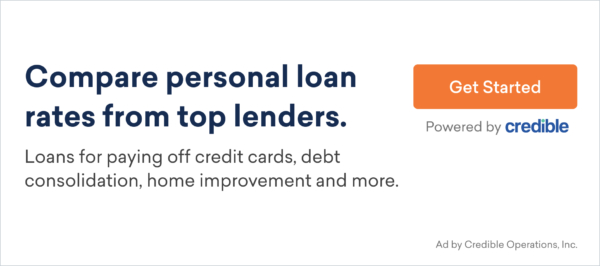 How to apply for a debt consolidation loan
If you're ready to apply for a debt consolidation loan, follow these four steps:
Check your credit history. Lenders will review your credit to determine your creditworthiness, which is why it's important to make sure your credit history has no errors that could be impacting your score. You can use a site like AnnualCreditReport.com to check your credit reports. If you find any errors, dispute them with the appropriate credit bureaus to potentially see a boost to your credit score.
Compare lenders and choose a loan option. Be sure to compare as many lenders as possible to find the right loan for you. Consider not only personal loan rates but also repayment terms and any fees charged by the lender. After you've done your research, you can pick the loan option that best suits your needs.
Fill out the application. Once you've chosen a lender, you'll need to complete a full application and submit any required documentation, such as tax returns or pay stubs.
Get your funds. If you're approved, the lender will have you sign for the loan so they can release the funds to you. The time to fund for a debt consolidation loan is typically one week or less.
You'll generally need good to excellent credit to get approved for a debt consolidation. While some lenders offer debt consolidation loans for bad credit, these typically come with higher rates compared to good credit loans.
If you're struggling to get approved for a personal loan for debt consolidation, another option is applying with a cosigner. Not all lenders allow cosigners on personal loans, but some do.
Even if you don't need a cosigner to qualify, having one could get you a lower interest rate than you'd get on your own — which could help you save money on interest charges over time and potentially pay off your loan faster.
Will a debt consolidation loan affect your credit score?
While a debt consolidation loan could temporarily hurt your credit score, the positive impact will usually outweigh this over time.
Here are a few ways that a debt consolidation loan could impact your credit score:
Could lower your credit utilization ratio: Your credit utilization — which is the amount of credit you've used compared to the total amount of credit you have available — makes up 30% of your FICO score. Consolidating your debt might help reduce this ratio and improve your credit.
Might help payment history: Your payment history makes up the biggest part of your credit score. If you want to build your credit, consistently making on-time payments on your debt consolidation loan could help.
Could add to your credit mix: Lenders like to see that you can handle multiple types of debt, so adding a consolidation loan to your credit mix might have a positive impact.
Might temporarily lower your score: Because the lender will perform a hard credit pull when you apply for a debt consolidation loan, you could see your score drop by a few points. However, this effect is usually short-lived, and you'll likely see your score bounce back within a few months.
Could damage your credit if you miss payments: If you can't keep up with your payments, you could see your score drop significantly.
Alternatives to debt consolidation loans:
If a debt consolidation loan doesn't seem right for you, here are a few other options to consider:
Balance transfer credit card: If you want to pay off credit card debt, a balance transfer card could be a good choice. Some cards offer a 0% APR introductory offer, during which you won't have to worry about interest charges on the card. If you can repay your balance before this period ends, you could avoid paying any interest. However, keep in mind that if you can't pay off the card in time, you could be stuck with some hefty interest charges.
Home equity loan: Homeowners might be able to access the equity in their homes with a home equity loan. If you're considering a home equity loan vs. personal loan, note that you might get a lower interest rate on a home equity loan since it's secured by your house. However, keep in mind that if you can't make your payments, your home could be at risk.
Debt management plan: These plans are offered by nonprofit credit counseling agencies — such as the National Foundation for Credit Counseling — that help you get your payments back on track with your creditors. You'll typically make one monthly payment over three to five years, which the agency pays out to your creditors.
Debt settlement: This service is offered by third-party companies and could help you reduce your debt, typically by negotiating a smaller lump-sum payment with your creditors. Keep in mind that debt settlement companies sometimes ask you to simply stop paying your debts as a way to gain leverage in the negotiations, which could hurt your credit. There's also no guarantee it will work — so if you decide to go this route, be sure to consult with an attorney or the appropriate financial advisors first. Your local credit unions might also have advisors available to help you make an informed decision.
Bankruptcy: If you can't pay your bills, declaring bankruptcy might be an option. Note that bankruptcy can come with costly fees and could severely damage your credit for up to 10 years, so it should be a last resort after exploring all of your other alternatives.
If you decide to take out a personal loan to consolidate your debt, remember to consider as many lenders as you can to find the right loan for you. Credible makes this easy — you can compare your prequalified rates from multiple lenders that work with Texas residents in two minutes.

---
About the author: Lindsay VanSomeren specializes in credit and loans. Her work has appeared on Credit Karma, Forbes Advisor, LendingTree, and more.