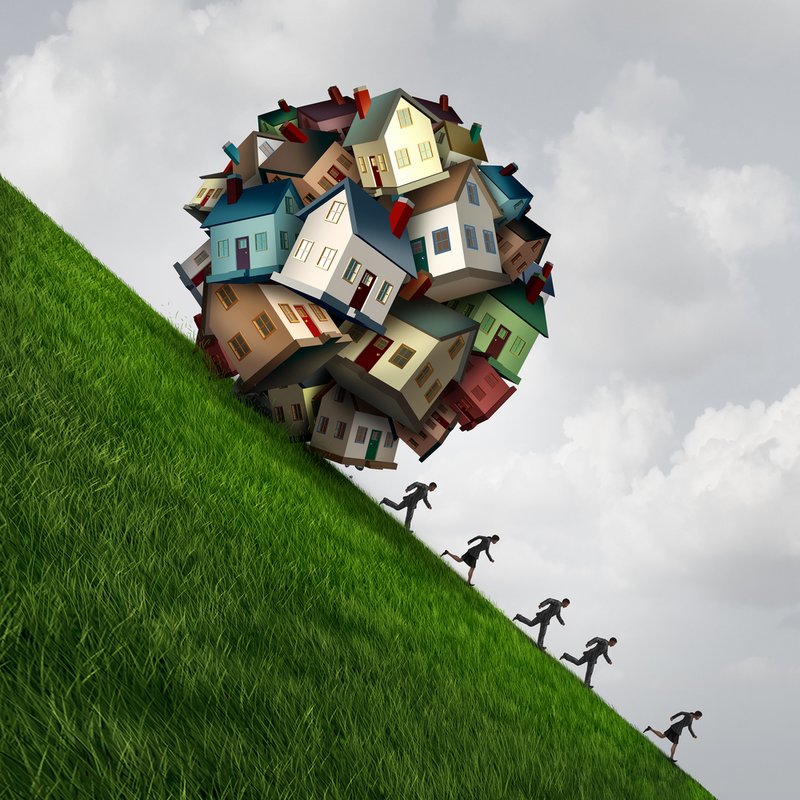 Just as it's getting easier for many millennials paying down student loans to get a mortgage, home prices in many markets continue to surge past all-time highs.
That could leave many would-be homebuyers remembering the last time home prices came screaming down from the stratosphere, and muttering to themselves, "Just because I can, doesn't mean I should."
Home prices prices continue to outpace inflation, with the latest S&P CoreLogic Case-Shiller U.S. National Home Price Index showing 5.5 percent annual growth in April and setting a new record for the fifth month in a row.
Home prices last peaked in 2006
In a little more than five years, the National Home Price Index has rebounded 41 percent from post-housing crash lows, surpassing the previous high set in July, 2006, by 2 percent.
David Blitzer, who chairs the Index Committee at S&P Dow Jones Indices, says home prices can't keep going up forever. The question is whether they'll cool down gradually, or crash and burn — taking the economy down with them.
"Since demand is exceeding supply and financing is available, there is nothing right now to keep prices from going up," Blitzer said.
The CoreLogic Home Price Index Forecast also predicts that home prices still have room to run, and will go up another 5.1 percent during the year ahead.
Conditions in local housing markets can vary greatly. Frank Nothaft, chief economist for CoreLogic, noted that, "In some metro areas, there has been a bidding frenzy as multiple contracts are placed on a single home."
Fannie Mae to loosen lending standards
Homebuyers who find themselves in such bidding wars will soon get some leeway to make more generous offers, with the nation's main source of funding for mortgages set to relax a key lending requirement next month.
Starting July 29, Fannie Mae will consider loan applications from borrowers with debt-to-income (DTI) ratios of up to 50 percent, up from 45 percent today. That means a homebuyer with $8,000 in monthly income could have $4,000 in monthly bills and still qualify for a Fannie Mae mortgage — $400 more than under the current limit.
Once the change goes into effect, a homebuyer who can qualify today for a $350,000 mortgage with a $1,655 monthly payment could be eligible for a $435,000 loan with a $2,055 monthly payment. That's an additional $85,000 to throw at the seller in a bidding war.
New rules for student loan borrowers
On top of that, Fannie Mae recently implemented another change to the rules for calculating DTI that can help homebuyers with student loan debt qualify for bigger loans.
The monthly payments that would-be homebuyers make on everything from student loans to credit cards and car payments can push DTIs past the maximum limits set by Fannie Mae, Freddie Mac and FHA.
But borrowers paying back student loans in income-driven repayment (IDR) plans like PAYE and REPAYE are often making monthly payments equal to as little as 10 percent or 15 percent of their monthly discretionary income. For some borrowers, the monthly payments in an IDR plan are so small they don't even cover the interest they owe.
When calculating DTI in such situations, Fannie Mae used to require lenders to substitute a monthly student loan payment that was equal to 1 percent of the outstanding loan balance, or an amount that would pay off the loan within 25 years.
New guidelines rolled out April 25 permit lenders to use the actual monthly student loan payment that shows up on the borrower's credit report to calculate DTI.
Also, if a benefactor is paying down the homebuyer's student loans, credit cards, or auto loans, mortgage lenders can ignore those bills when calculating their DTI.
"We understand the significant role that a monthly student loan payment plays in a potential home buyer's consideration to take on a mortgage, and we want to be a part of the solution," Fannie Mae's Jonathan Lawless said in announcing the change.
---