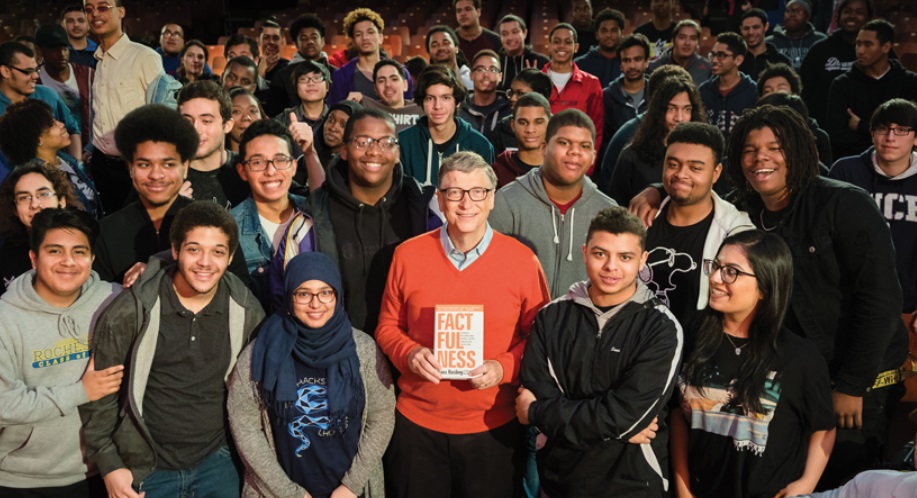 Bill Gates really really really wants recent college grads to read one of his favorite books, "Factfulness: Ten Reasons We're Wrong About the World — and Why Things Are Better Than You Think."
So he's offering every member of the class of 2018 a free copy as a digital download in the .epub format.
If you earned an associate's, bachelor's, or post-graduate degree this spring, all you have to do to claim your free copy of "Factfulness" is sign up as an "Insider" member of the Microsoft founder's blog, Gates Notes. The offer is good for at least the rest of the week, a spokesman for Gates says.
Written by the late Swedish statistician Hans Rosling, "Factfulness" makes a case that, "the world, for all its imperfections, is in a much better state than we might think. That doesn't mean there aren't real concerns. But when we worry about everything all the time instead of embracing a worldview based on facts, we can lose our ability to focus on the things that threaten us most."
Gates isn't the only one who appreciates the book — it's an "instant New York Times bestseller" that's generated rave reviews from The Financial Times, Booklist and Nature.
"I hope you enjoy Factfulness as much as I did," Gates tells students he's offering the book to. "And I hope you take Hans's advice to heart. 'When we have a fact-based worldview,' he writes, 'we can see that the world is not as bad as it seems — and we can see what we have to do to keep making it better.' I agree. My wish for you at this special time is to learn to think, and act, factfully."
In an era where truth and meaning can be hard to discern, it's a message that should resonate not only with recent graduates, but anyone trying to make sense of the world.
---