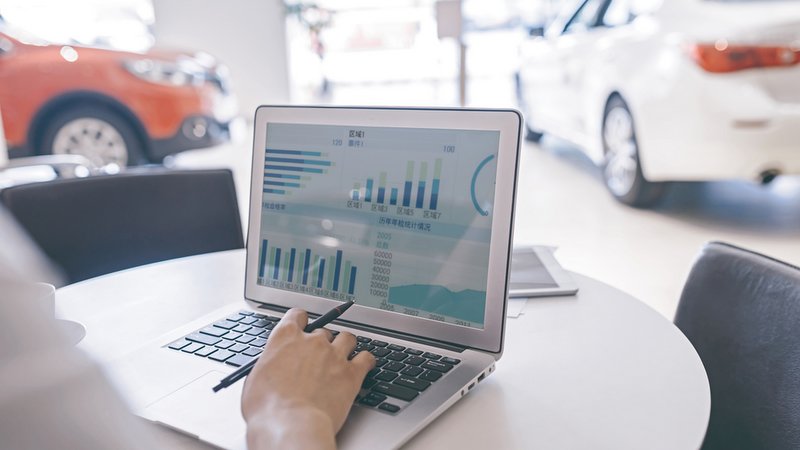 If you've ever taken out a loan to buy a car, you might have had some nagging doubts as you signed the paperwork about whether you were paying too much.
As it turns out, if you didn't check rates with more than one lender, chances are that you could have done better — and that extra money going to your lender could have gone toward buying a newer or nicer car.
That's according to a recent analysis of millions of auto loans and loan applications by researchers at Brigham Young University and MIT's Sloan School of Management, who concluded that most borrowers could get better terms if they simply checked rates with two additional lenders.
One reason it pays to shop around is that lenders aren't always consistent about the way they segment borrowers into credit score "buckets," researchers Bronson Argyle, Taylor Nadauld, and Christopher Palmer said in reporting their findings.
A lender on one side of town might only consider borrowers as "prime" if they have a credit score of at least 680, for example. The threshold for being classified as prime might be 670 at another lender on the other side of town.
"On average, borrowers to the right of an institution's FICO threshold are offered loans with 1.46 percentage point lower interest rates as compared to otherwise similar borrowers just below a FICO threshold," Argyle, Nadauld and Palmer found.
Borrowers who get better loans are able to spend about $715 more on the car itself, driving off the lot in a vehicle that's 3.4 months newer than cars purchased by otherwise similar buyers who get stuck with higher rates, the study found.
More than eight out of 10 new car purchases are financed, and half of people who buy used cars borrow the money. If there are usually better deals to be had, why don't more borrowers shop around for a car loan?
One explanation offered by the study is that getting rates from more than one lender involves some time, effort and stress. The study found that the more lenders offering auto loans within a 20-minute drive of the buyer, the less likely they were to accept a loan on inferior terms.
Not only that, but there was less variation in the rates paid by similar borrowers in areas where lenders were plentiful, suggesting that the companies providing the loans were more motivated to compete on price.
Discrimination allegations
Just because a dealer shows you rates offered by more than one lender, that doesn't always mean you're getting a true picture of what's available to you.
That's because when car dealers offer indirect financing from third-party lenders, they'll often bump up the rate to increase their profits. The increase in the interest rate is called the "dealer markup."
A loan that's made available to you through a dealership may turn out to be your best option. But you'll never know if you don't also check rates with direct lenders who don't have relationships to the dealer, such as banks, credit unions and online lenders.
The practice of allowing dealers to add their own discretionary markup to indirect loans has led to allegations that some dealers discriminate, offering better rates to whites than African-American, Hispanic and Asian borrowers.
In a recent sting, the National Fair Housing Alliance sent pairs of "secret shoppers" to eight franchised car dealerships in Virginia. A white tester and a better qualified non-white tester each asked about buying the same car within a 24-hour time period.
At six out of eight dealership, the white testers were offered more financing choices. Five of the dealerships offered the more qualified non-white testers more expensive loans. On average, the non-white testers who were offered more expensive loans would have paid an extra $2,662 over the life of the loan, the National Fair Housing Alliance said in a lengthy report.
Government crackdown
Five years ago, the Consumer Financial Protection Bureau issued guidance to indirect auto lenders warning them to pay more attention to the way dealers marked up their loans.
In legal terms, the bureau let lenders know that they could be liable not just for "disparate treatment" of borrowers — intentional discrimination — but "disparate impact."
In other words, if a lender has a policy that allows dealer interest rate markups, and minorities end up in higher-priced loans than comparable white borrowers, that lender can be held responsible for "disparate impact" — even if it was the dealer that engaged in "disparate treatment" of minorities.
When the Consumer Financial Protection Bureau let it be known in March, 2013 that it intended to hold auto lenders accountable for "illegal discriminatory markups," by dealers, it wasn't kidding.
Nine months later, the bureau announced a $98 million settlement with Detroit-based Ally Financial Inc. and Ally Bank, over allegations that Ally had "engaged in an ongoing nationwide pattern or practice of discrimination against African-American, Hispanic and Asian/Pacific Islander borrowers."
It was the largest auto loan discrimination settlement in history, requiring Ally to pay $80 million in compensation to about 235,000 victims and an $18 million fine. Settlements with American Honda Finance Corp. ($25 million), Fifth Third Bank ($18 million), and Toyota Motor Credit Corp. ($22 million) followed.
As part of the settlements, several indirect auto lenders also agreed to limit dealer's interest rate markups to 1 to 1.25 percentage points, and improve their monitoring of loans made through dealers to ensure compliance with the Equal Credit Opportunity Act.
The lending industry fights back
Even as some lenders agreed to settlements, many car dealers and lenders saw the Consumer Financial Protection's 2013 guidance as an unjustified expansion of the bureau's authority. They've been making that case to Congressional lawmakers for several years.
In 2015, 332 members of the House of Representatives, including 88 Democrats, passed legislation that would have nullified the bureau's guidance to indirect auto lenders. That bill stalled in the Senate, where Republicans have a slimmer majority. But a recent finding by the Government Accountability Office (GAO) opens the door for Congress to override the bureau's 2013 guidance by a simple majority vote.
In March, 2017, Republican Sen. Pat Toomey of Pennsylvania asked the GAO whether the bureau's guidance to indirect auto lenders amounted to a new interpretation of the law. If the guidance was actually a policy or rule, the Congressional Review Act gives lawmakers the ability to pass a joint resolution overturning it.
On Dec. 5, the GAO responded to Toomey, saying the 2013 guidance did in fact amount to "a general statement of policy and a rule."
Claiming the bureau's "back-door effort to regulate auto loans" had been put forward with "dubious legal justification," Toomey vowed "to do everything in my power to repeal this ill-conceived rule using the Congressional Review Act."
On March 22, Sen. Jerry Moran, R-Kansas, introduced a resolution to overturn the Consumer Financial Protection Bureau's 2013 guidance to indirect auto lenders, with Toomey and 14 other Republicans signing on as cosponsors.
The Center for Responsible Lending was quick to condemn the move, complaining that "car dealer and lenders, and their allies in Congress, have consistently attacked the auto lending guidance despite clear evidence showing that, for decades, car dealer markups have led to discriminatory lending."
Tips and tools for car buyers
To help consumers look out for themselves, the Consumer Financial Protection Bureau and the Federal Trade Commission offer the following tips and tools for car buyers who plan to finance their purchases:
Loans with longer repayment terms typically have lower monthly payments, but higher total repayment costs. While most car buyers still take no more than 5 years to repay their loans, loans with 6- or 7-year terms are becoming increasingly popular. If you make a small down payment and stretch out your loan over a long period of time, you'll not only pay more in interest charges, you'll be "upside down" for some time, owing more money your car is worth.
---