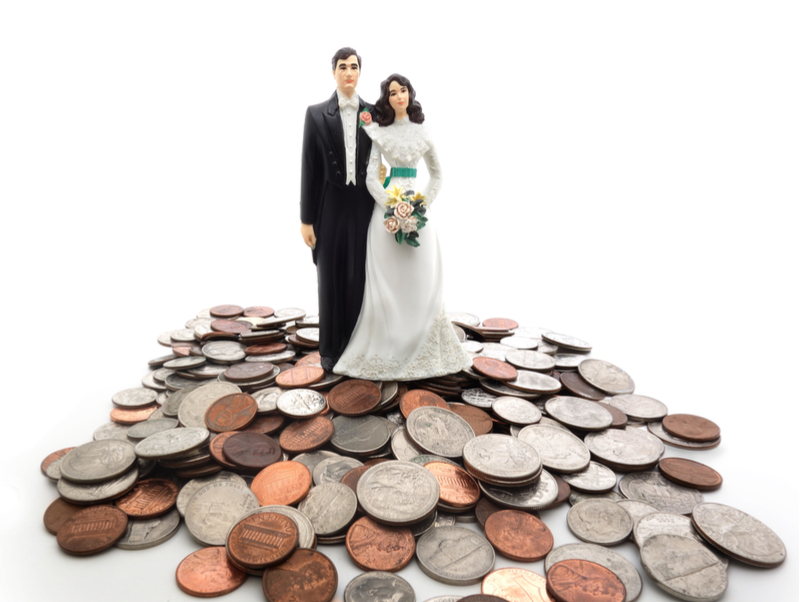 Did student loans reduce your spending budget for your big day? According to a new study, a record number of adults over the age of 25 gave up tying the knot partially because of their student loan burden.
Don't give up just yet! Here are some ways to reduce wedding costs and still plan the most fabulous day of your life.
1) Don't waste time and plan ahead
Trying to plan any event at the last minute is never the best idea.  Yes, many say last minute weddings can be very cost effective, but there is no point to adding unneeded stress. Give yourself time to shop for the best deals and never pay full price on an item. Take advantage of season sales: if you are having a fall wedding, plan the year ahead and save on all the fall themed merchandise that goes on sale.  Periodically check on prices to make sure you're taking advantage of sales and getting the lowest price possible.
 2) Keep the wedding personal
One of the largest costs for a wedding is the price per head.  If you don't want to make compromises, keep the invitation list limited to close friends and family.  Not only will the wedding be much easier to plan, but it will also remain very personal.  There will be plenty of opportunities to celebrate with other friends as a couple post-wedding, especially since you will have saved by keeping your wedding smaller.
3) Be conservative and resourceful
Simplicity is the new classy: keep it minimalistic. Keep your tables at the reception clutter free with just a few fresh flowers. Have your food service be buffet style or limit your reception to just a desert and drinks after party.  Even if you have always dreamed of a summer wedding, planning a wedding in off-peak times such as in November can save you as much 30% on the same dream venue.  Never be afraid to ask your family or friends for help—they will be flattered that you thought of them. After all, it is your big day!
4) Do It Yourself (DIY)
Impress everyone at your big day with handmade decorations.  Search Pinterest for elegant and affordable ways to make place card holders, table decorations and other accessories for your wedding.  Instead of buying your bridal party gifts, make them. This will show how truly thankful you are: it's hard not to be touched when someone gives you a handmade gift. Being crafty will also add a unique touch and give you a sense of ownership and pride on your big day.
5) Honeymoon with a weekend retreat
Instead of setting sail in the Grecian Islands, plan a small weekend getaway.  Escape to the nearest mountains or to your favorite spot together.  The best memories will be of being together. By keeping your honeymoon short and sweet you won't be worrying about over spending and you'll still have some money to put towards your next loan payment.  If you have always dreamed of that unforgettable getaway, consider a honeymoon registry and have your loved ones help make the trip a reality.
6) Ask for cash
Your friends and family will understand your financial hardships.  Not only will asking for cash help cover the cost of your wedding, but it will also make it easy on your guests.  Registries can be complicated and the chances are you won't even use half of the items you think you really need.  Forego the china for some financial stability.
7) Refinance your student loans
Refinancing your loans can reduce your monthly payment so you have a little extra money each month to start putting away for your wedding day.  Your savings will add up significantly and you wont have to stress as much come your big day.
---