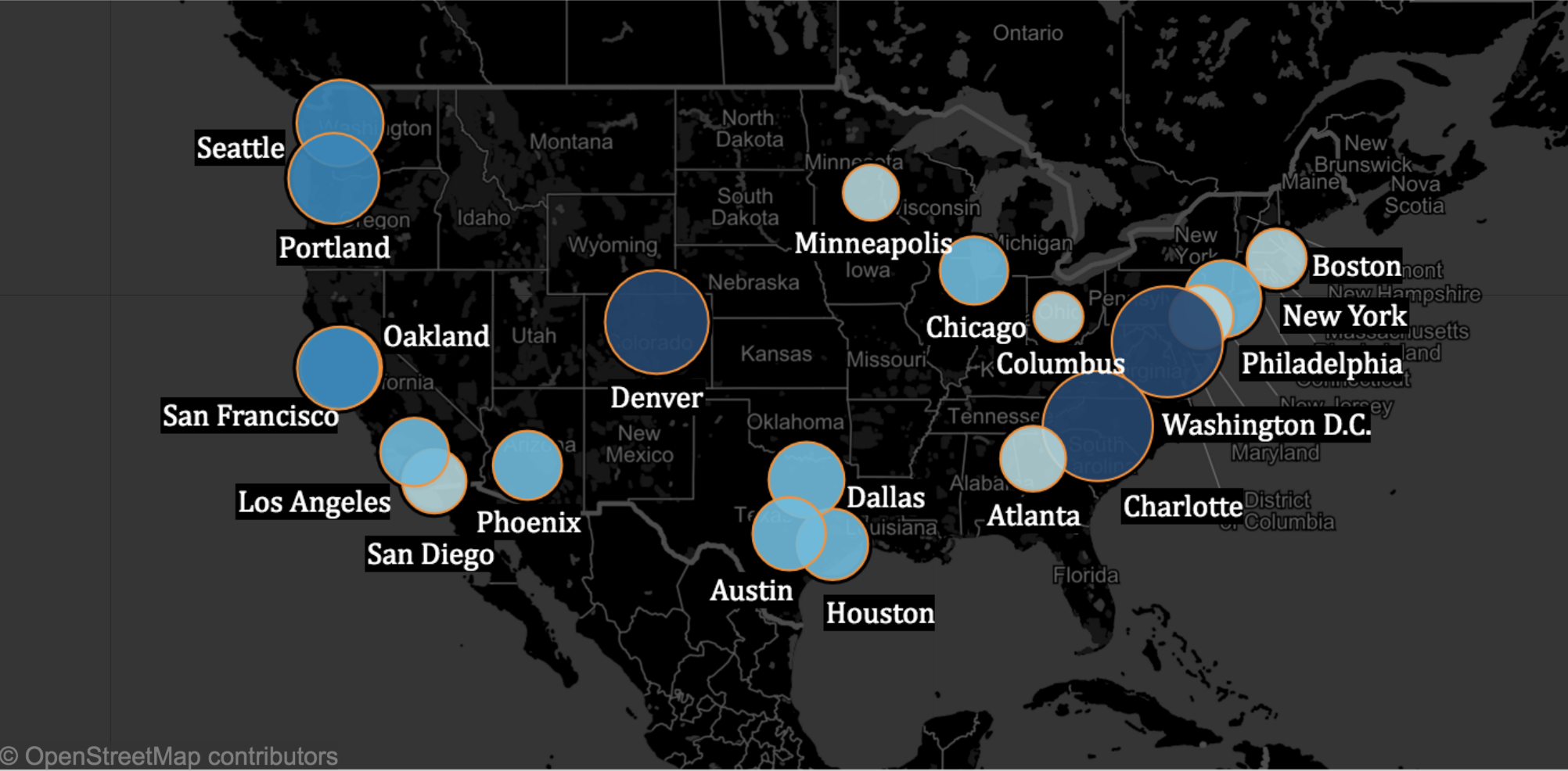 As the U.S. economy gains momentum and companies find themselves once again competing for top graduates, some cities are proving to be more attractive to job seekers than others.
In order to gain insight into which cities are proving to be magnets for out-of-state college graduates, in this edition of Credible Insights, we analyzed a sample of 4,448 requests to refinance student loan debt with lenders on the Credible platform, submitted by residents of 20 large U.S. cities where Credible had the deepest data.
Key Takeaways:
While affordability might be one reason cities attract out-of-state graduates, a lack of affordability does not appear to be an issue preventing job centers like San Francisco, Seattle, Dallas, and Washington D.C. from attracting out-of-state grads.

However, affordability becomes more of an issue in recruiting out-of-state grads if they have large amounts of student loan debt.

College graduates who aren't immediately looking to buy a home, or are satisfied with renting, may have fewer reservations about moving to cities like Washington D.C., San Francisco and Dallas, where homes are more expensive.
Our analysis identified nine cities where the number of requests from borrowers who went to college in another state exceeded the number of requests from graduates of colleges located in the same state.
The nine cities where out-of-state graduates outnumbered in-state grads were: Washington D.C. (2.20 out-of-state graduates for every in-state graduate), Charlotte (2.17), Denver (1.92 ), Portland (1.48), Seattle (1.35), San Francisco (1.22), Oakland (1.19), New York City (1.06) and Dallas (1.03).
At the other end of the scale, Credible's data revealed 11 cities where the number of out-of-state graduates applying to refinance was less than or equal to the number of in-state graduates. The five cities with the lowest ratios of out-of-state students were Columbus (0.44), Minneapolis (0.56), Boston (0.64), Philadelphia (0.73) and San Diego (0.74).
The interactive map below shows the ratio of out-of-state to in-state graduates in the 20 cities analyzed, according to anonymized Credible user data.
Clicking on any city displays a breakdown showing the top five states supplying graduates to that city, and the percentage of graduates supplied by each state. For instance, the interactive map shows that, among Credible users, Charlotte attracts the most graduates from South Carolina, New York, and Florida.
Hover over any city to see the ratio of out-of-state students to in-state students. Click on any city to see a list of the top five states  that contributed the greatest percentage of out-of-state grads for that city.
What makes one city more attractive than another to college grads? Some likely considerations are affordability, employment prospects, cultural amenities, and quality-of-life issues like climate and crime rates.
One measure of affordability is monthly rent-to-income ratio — the lower the ratio, the better. Among all cities analyzed, median rent-to-income averaged 18.53 percent.
Looking at this measure, affordability doesn't appear to be stopping job centers with higher rent-to-income ratios — like Seattle (21.56 percent rent-to-income ratio), New York City (20.77 percent), Washington D.C. (19.87 percent), Dallas (19.03 percent), and San Francisco (18.85 percent) — from attracting out-of-state talent.
Among the 11 cities that did not exert a strong pull on out-of-state grads, eight had favorable rent-to-income ratios that were below the average for the group: Atlanta (15.57), Columbus (16.59) Minneapolis (17.02), Houston (17.59), San Diego (18.46), Philadelphia (18.47), Boston(18.18), and Chicago (18.18).
Out-of-state graduates applying to refinance their student loan debt in these eight cities tended to have higher average debt balances ($56,634) than out-of-state grads in the 20-city group as a whole ($53,761). That suggests that the greater the level of student loan debt, the more important the issue of affordability may become.
At $47,285, the average debt balance among out-of-state applicants in the 9 cities that attracted a higher proportion of out-of-state grads was lower than for the group as a whole.
So while cities with high-rent-to-income ratios can still attract graduates from other states, affordability issues may be a deterrent to recruiting out-of-state students with high student loan balances.
Between 2014 and 2015 alone, the Census Bureau estimates more than 300,000 people moved from one place to another within the United States, in search of better housing, a new job, or to experience a new lifestyle.
The most common motive cited by recent movers was the desire for a new or better home or apartment. While many were in search of cheaper housing, others were looking for better neighborhoods with less crime. The desire to own rather than rent, or be closer to work, were also big motivators (A recent Credible Insights analysis showed how student loan debt can make it harder for millennials to realize long-term goals like becoming homeowners).
When it comes to pulling up stakes, grads who are satisfied with renting may have fewer reservations about moving to a city in another state where homes may be out of reach. In three of the nine cities attracting a high proportion of out-of-state grads — Washington D.C., San Francisco, and Dallas — homeownership rates among all Credible users was less than 10 percent.
Conversely, the ability to become a homeowner may be motivation to stay put. The three cities with the highest homeownership rates among Credible applicants — Chicago, Atlanta and Phoenix — also had more in-state than out-of-state grads.
Following the desire for better housing, family changes like getting married or wanting to start a new household, were the second-biggest motivation for moves tracked by the Census Bureau. Finally, many were moving to take a new job or because of a job transfer, while others were looking for work. Less significant drivers included retirement, health concerns, and the desire for a change of climate.
In addition to housing cost, another factor recent graduates who are considering relocating are likely to consider is population size. Small- and medium-sized cities may be less likely to be hotbeds of industries like technology or finance, which means that they may be less attractive to job seekers. Smaller cities may also not offer all of the cultural attractions provided by big cities.
Among cities with a higher ratio of refinance requests from out-of-state grads, only Oakland had less than 500,000 residents. Two of the 11 cities with fewer out-of-state than in-state applicants  —  Minneapolis and Atlanta — have less than 500,000 citizens.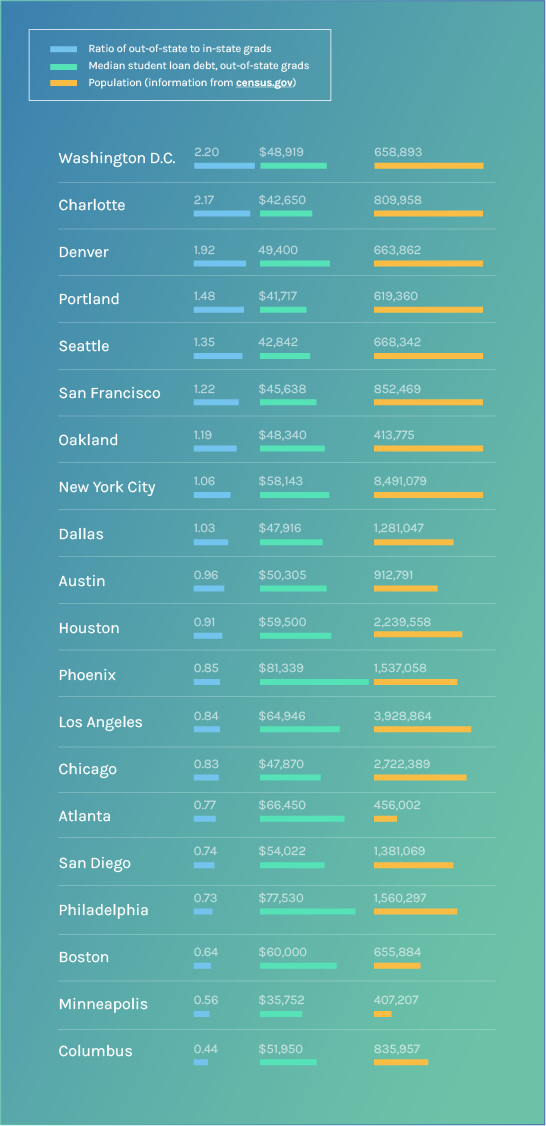 There's no doubt that cities like Columbus see themselves in competition with destinations like Washington, D.C. In 2014, the Columbus Convention and Visitors Bureau bought ads in Washington D.C. and Chicago aimed at convincing young professionals to make Ohio their home. The ads were part of an ongoing "LifeInCbus" campaign highlighting the city's arts, entertainment and nightlife.
Other states, like Ohio, Maryland and Rhode Island, offer homebuyer assistance for student loan borrowers or recent graduates. Maryland's "You've Earned It" program, for example, offers discounted mortgages and up to $5,000 in down-payment assistance to recent grads with at least $25,000 in student loan debt who are willing to purchase homes in targeted communities.
The state of New York will pick up student loan payments for recent graduates for up to two years when they remain in the state. Niagara Falls, New York is seeking to attract college graduates with a program that picks up about $3,500 a year in living expenses for two years. The program launched in 2013 with funding for just 20 recruits, The Guardian reports.
Five employers in Michigan — Compuware, DTE Energy, Marketing Associates, Quicken Loans and Strategic Staffing Solutions — are promoting downtown Detroit by providing forgivable loans of up to $20,000 to employees looking to become first-time homeowners, or $3,500 in rental assistance over two years.
Chattanooga, Tennessee's "GeekMove" program provides a $10,000 forgivable second mortgage and $1,250 in moving expenses to developers and system administrators who are willing to relocate.
The size of a city's home state, and its proximity to other states, may also play a role in determining  the proportion of residents with out-of-state degrees. Washington D.C. is is a short car trip from parts of Delaware, Maryland, Virginia, Pennsylvania and Delaware, and many of Credible's applicants now living in the capital went to schools in those states. Similarly, New York City is practically next door to Connecticut, New Jersey and Pennsylvania.
Los Angeles and San Diego, on the other hand, can count on California's more than 300 colleges to provide graduates who will fill a good proportion of their job openings.
Climate extremes may also be a factor in whether students are willing to relocate, or return to their home city after graduating from a college in another state. Cities like Atlanta and Minneapolis may have favorable rent-to-income ratios, but residents of those cities can attest to the fact that there are times of year when it's more comfortable to just stay inside.
Methodology
To build the interactive map above, we used actual (but anonymized) data submitted by 4,448 applicants seeking to refinance student loan debt through the Credible platform. On average, the applicants considered were 4.6 years out of school. Data for New York City includes not only Manhattan but Brooklyn, Queens, the Bronx, and Staten Island.
To evaluate which cities might provide the most bang for the buck, we calculated monthly rent-to-income ratios for each city using median rent and income data submitted by Credible users. The percentage of renters and homebuyers per city may not add up to 100 percent, since some Credible users may live with their parents, or have other living arrangements.
If a loan applicant held a degree from a school outside of the state of their current residence, they were considered an "out-of-state" graduate. Some "out-of-state" graduates may have been returning to the state that they lived in before attending college. Some "in-state" applicants may have lived in another state before attending college, and continued living in that state after graduation.
Credible is a multi-lender marketplace that allows borrowers to request competitive loan offers from vetted lenders, without affecting their credit scores..
---