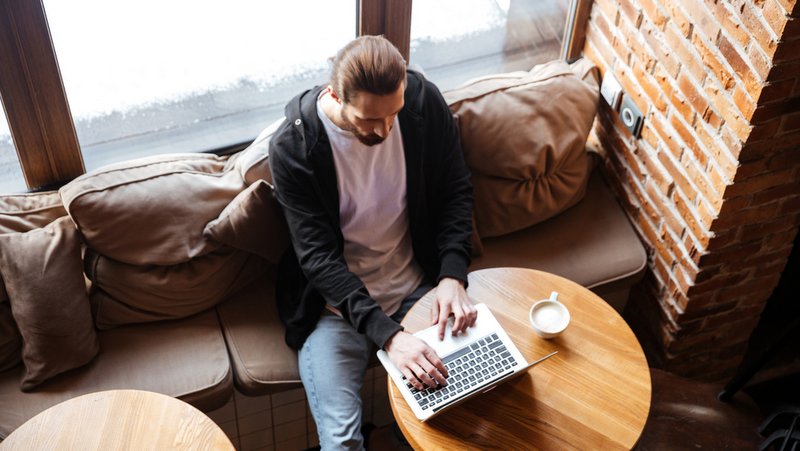 Colleges and universities around the nation that loan $1.2 billion each year to students with exceptional financial need through the Perkins Loan program no longer have the authority to make new loans.
A majority of lawmakers in the House of Representatives supported the program, but weren't allowed to vote on legislation that would have extended the program for another two years.
There's still a chance Congress will change its mind. But with the program officially expiring on Sept. 30, the Department of Education today issued guidance to participating schools on winding the program down.
Although schools no longer have the authority to make new loans, any students who were approved for a Perkins Loan and received part of the money before Oct. 1 can receive any remaining disbursements through June 30, 2018, said Kathleen A. Smith, acting assistant secretary for the Office of Postsecondary Education.
Borrowers who are still repaying Perkins Loans may find that they soon need to send those payments to someone else. Smith said it will be up to schools to decide whether they want to collect the money themselves, contract with a third-party loan servicer to take the payments, or assign their Perkins Loans to the Department of Education.
Although they only account for about 1 percent of student loan borrowing, Perkins loans are an important source of funding for thousands of students of limited means. According to an analysis by the National Association of Student Financial Aid Administrators, about 528,000 students relied on Perkins Loans in the 2014-15 academic year, with an average award of $2,198.
Students pay 5 percent interest on the loans, but there are no up-front fees, and the interest is subsidized — it doesn't start accruing until after nine months after graduation.
U.S. student loan borrowing, 1995-2016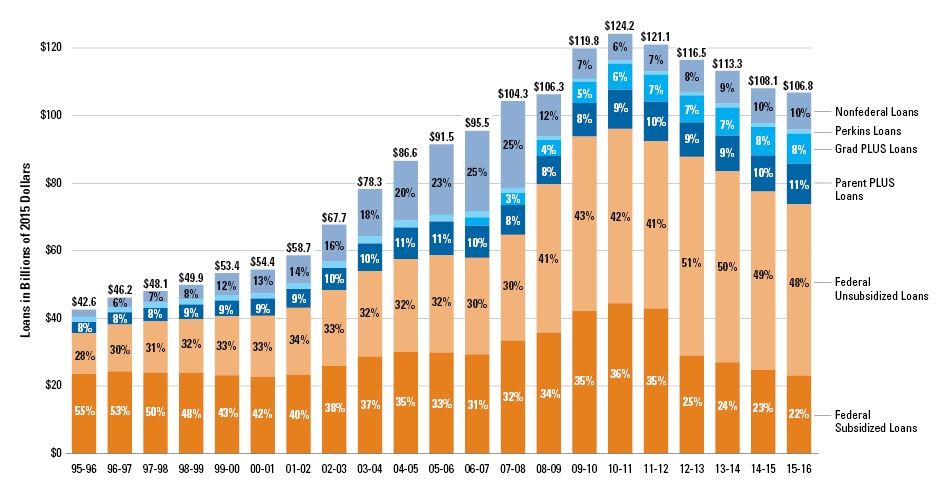 Total student loan borrowing in inflation-adjusted 2015 dollars. Source: "Trends in Student Aid 2016," College Board.
Congress hasn't provided new funding for the Perkins Loan program in more than a decade. But schools have kept the program going by making new loans from revolving funds that are replenished by payments made by existing borrowers. Smith said schools won't have to return any federal money that remains in those funds until Oct. 1, 2018.
That would simplify the process of restoring the program if Congress changes its mind. The program was allowed to expire for three months 2015, but was granted a two-year reprieve so that alternatives could be put in place. Critics of the program say there are too many federal loans and repayment plans.
Since then, Congress has made little headway in plans to overhaul the entire federal student loan system. In May, as it became increasingly obvious that the Perkins Loan program would expire without an alternative in place, six House lawmakers proposed granting the program another two-year reprieve.
As this year's Sept. 30 deadline approached, the Federal Perkins Loan Program Extension Act of 2017 picked up many cosponsors from both parties. The bill currently has 234 cosponsors, including 191 Democrats and 43 Republicans — enough to pass the bill by a simple majority vote and move it on to the Senate.
But bill is still sitting in the House Committee on Education and the Workforce. House education chairwoman Virginia Foxx is not a supporter — she's focused on implementing a "one grant, one loan" program through reauthorization of the Higher Education Act.
The Senate version of the bill is also stuck in committee, with just 19 cosponsors — all but four of whom are Democrats.
---