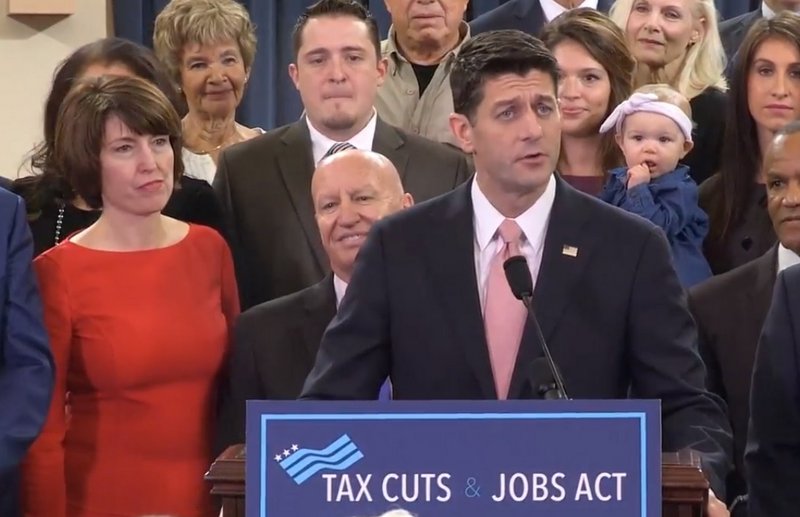 A proposal unveiled by House Republicans today to cut taxes by $5.5 trillion over the next decade would pay for much of that relief by eliminating deductions and tax credits for individuals and businesses — including many longstanding programs for college students and recent graduates repaying student loans.
Republicans say the Tax Cuts and Jobs Act would generate $67.8 billion in new tax revenue over the next decade by eliminating education-related tax deductions, credits and benefits.
Some of the biggest tax breaks on the chopping block, representing $47.5 billion in additional tax revenue over 10 years, include:
Another $17.3 billion in taxes would be collected over the next decade by streamlining three existing higher education tax credits — the American Opportunity Tax Credit, the Hope Scholarship Credit, and the Lifetime Learning Credit — into one program, reducing their value for graduate students.
Taxing private colleges and universities with large endowments would generate an additional $3 billion in additional revenue over 10 years (a "rough estimate" by the think tank New America is that about 150 schools would be affected, ranging from  Ivy League schools to giants like the University of Southern California).
There are a few education-related tax breaks, such as lifting the tax on student loan debt that's forgiven in the event of the borrower's death or disability — a move that will provide an estimated $100 million in tax relief over 10 years.
You may win, or you may lose
By doubling the standard deduction and getting rid of many itemized deductions and credits, backers of the Tax Cuts and Jobs Act say it will the simplify the tax system, and lower many families' tax bills.
"The point of tax reform is to make the code simpler and to lower people's tax rates and increase people's take home pay," Speaker of the House Paul Ryan, R-Wisconsin, said. A typical family of four will save $1,182 a year on their taxes, he said. "It's all about getting bigger paychecks, it's all about fairness and simplicity."
As introduced, the legislation would recoup all but $1.5 trillion of the $5.5 trillion in cuts claimed by Republicans, through the elimination of deductions, credits and other benefits, according to an analysis by the Washington Post.
"Most Americans are likely to see a small reduction in taxes under the plan," the Post reports. "At the same time, many Americans will pay more, particularly those who do not take the standard deduction. People who make in the high hundreds of thousands of dollars a year or just over $1 million a year could see the biggest benefits."
Some of the education-related deductions and tax credits are modest. The student loan interest deduction — an "above-the-line deduction" that can be used even if you're claiming the standard deduction — allows borrowers to reduce the amount of income subject to taxation by up to $2,500. Although it's claimed by about 12 million student loan borrowers, the maximum benefit is $625, and typically amounts to less than half of that.
Many of the deductions targeted for elimination could up being restored — or even expanded — during the debate that will take place in weeks and months ahead. The House Ways and Means Committee will being making changes to the bill next week, and the Senate is working on its own tax overhaul legislation. The goal is for the House and Senate to work out the differences by the end of the year.
Now that the bill is public, it will be unpopular, predicted Senate Minority Leader Sen. Chuck Schumer. "There's going to be huge pressure on Republicans not to vote for it," the New York Democrat said.
For workers going back to college with help from their employer, the Tax Cuts and Jobs Act would get rid of the tax break on that assistance. Today, employers can provide up to $5,250 in tuition tax-free reimbursement a year.
But with a growing number of companies providing student loan repayment assistance to employees, there's been bipartisan support from lawmakers for extending the tax break for tuition assistance to apply to student loan repayment programs. A bill reintroduced in February, The Employer Participation in Student Loan Assistance Act, currently has 104 cosponsors, including 45 Republicans.
---