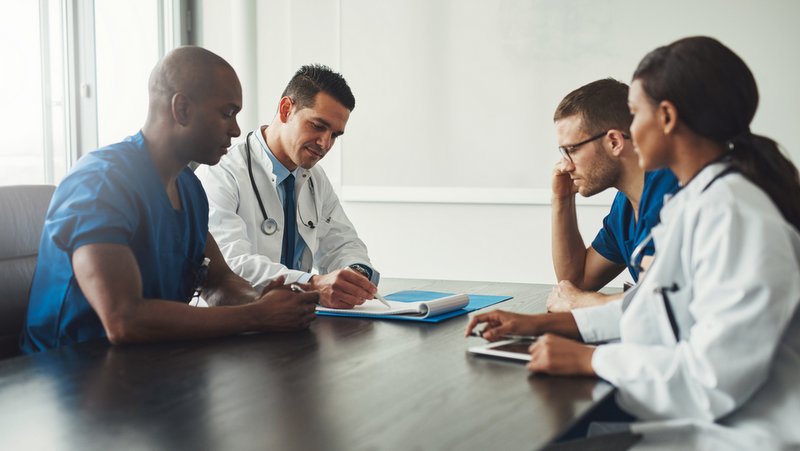 A growing proportion of doctors are getting their medical school degrees without having to borrow, and those who are able to pull off that remarkable feat are relying less on scholarships.
That suggests that newly-minted doctors are more likely to come from wealthy families who can pick up the six-figure tab for a medical school degree, according to a new study in JAMA Internal Medicine, a publication of the American Medical Association.
About 27 percent of doctors earning their degrees in 2016 said they did so without taking on medical school debt (a few had student loans taken out as undergraduates). That's up from the 16 percent of doctors graduating in 2010 who said they got their degrees without taking on new loans for medical school.
"Although this finding seems positive, when paired with a decline in scholarship funding within this debt-free cohort, the finding suggests a concentration of medical students with wealthy backgrounds," the study's authors noted.
Doctors graduating without medical school debt used to rely more heavily on scholarships than they do today. In 2010, the median level of scholarships funding for those graduating without medical school debt was $135,186. By 2016, mean scholarship funding for those graduating without medical school debt had declined to $52,718.
The study could also have implications for which medical specialties doctors gravitate to. The specialties that saw the biggest increases in the proportion of students graduating without medical school debt were radiology, dermatology, neurology, obstetrics and gynecology, opthalmology and pathology.
Bigger student loan burdens for those who do borrow
The rise in the percentage of medical students who graduate without taking on student loan debt has another troubling implication, the study's authors noted: the total amount of borrowing for medical school is shouldered by fewer individuals.
After adjusting for inflation, the average medical school debt taken on among those who needed to borrow increased by 11 percent from 2010 to 2016, to $179,068, the study found.
The study was based on surveys of medical school graduates conducted annually by the Association of American Medical Colleges (AAMC).
According to the latest AAMC survey, one in three (33 percent) of medical school graduates in the class of 2017 took on more than $200,000 in medical school debt. Factor in loans taken out as undergraduates, and 37 percent had $200,000 or more in total educational debt.
Diversity already a known issue
AAMC has conducted extensive research on medical school diversity, which shows that African Americans and Hispanics or Latinos are underrepresented at both the student and faculty level. Among the class of 2015, more than three out of four graduates were whites or Asian, with African Americans representing less than 6 percent of graduates and Hispanics or Latinos less than 5 percent.
The data collected by AAMC also shows that African Americans are the least likely to graduate with no educational debt, and the most likely to be burdened with more than $200,000 in student loans.
Among all members of the class of 2015, one in five (19.2 percent) graduated with no educational debt. The typical debt level among those who borrowed — the median — was $185,000, and 37 percent had $200,000 or more.
But among African Americans, only 6.6 percent graduated with no educational debt, median debt was $200,000 and 50 percent had $200,000 or more in student loans to repay. Nearly one in five (17 percent) owed more than $300,000.
Just under 13 percent of Hispanic or Latino medical school graduates reported earning their degree without taking out loans, with median debt totaling $174,167, and 36 percent owing $200,000 or more.
More whites (18.5 percent) were able to graduate debt-free, but at $190,000 median debt among those who did borrow exceeded the level for the class of 2015 as a whole. A slightly greater proportion of whites — 38.5 percent — took on more than $200,000 in debt than the class as a whole.
Among Asian Americans, close to 26 percent reported graduating with no educational debt. Median debt among Asian Americans who borrowed was $160,000, and the percentage who owed $200,000 or more was much smaller — 28 percent.
Earnings boost can make loans more manageable
Although it may be small consolation to those medical school graduates who are forced to take on more debt than their peers, many doctors get an earnings boost after they complete their residencies that makes paying down six-figure student loan debt more manageable.
A recent analysis of doctors and others who have refinanced more than $100,000 in educational debt to get a lower interest rate found that most are on track to pay back their loans in 10 years or less.
But a growing number of borrowers are enrolling in government repayment plans that stretch payments out over a longer period of time. Some of these borrowers may qualify to have their remaining debt forgiven after 10, 20, or 25 years of payments.
AAMC's 2017 graduation questionnaire shows a growing number of medical school graduates — 46 percent — expect to apply for loan forgiveness, up from 38 percent in 2013.
Those programs may be scaled back or eliminated for future borrowers, however, with the Trump administration proposing to shut the Public Service Loan Forgiveness program to new borrowers, and require borrowers with graduate school debt to make 30 years of payments before qualifying for loan forgiveness.
---