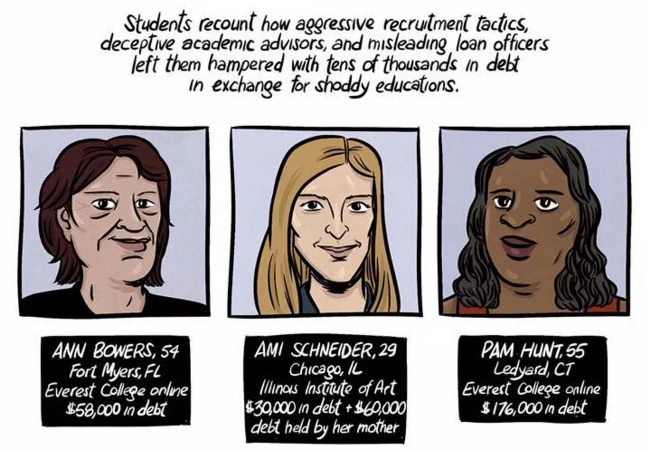 The Department of Education is hiring more attorneys to evaluate claims filed by thousands of students who say they were defrauded by for-profit schools that allegedly misled them about their job prospects and pushed costly loans to cover exorbitant tuition.
To date, the government has approved $27.8 million in student loan relief to 1,312 students who filed claims based on a previously little-known legal strategy — "borrower defense to repayment" — that allows student debtors to apply for forgiveness of federal direct loans if the school they attended committed fraud or violated state laws related to loans or educational services.
The first batch of borrower defense claims to be approved — notices are going out today — were filed by former Heald College students who attended schools operated by Corinthian College in California that allegedly misrepresented job placement rates.
But the Department of Education is gearing up to process thousands more borrower defense claims after determining that Corinthian's Everest and WyoTech campuses in California, and Everest University online programs based in Florida, also misrepresented job placement rates.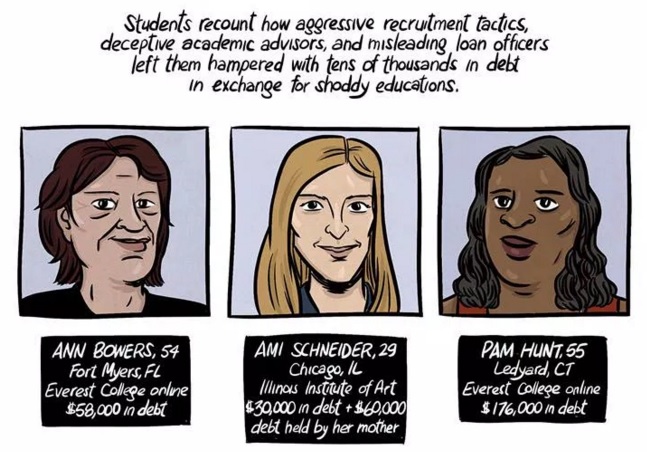 Oakland, California-based artist Susie Cagle has explored problems connected with for-profit colleges by illustrating the experiences of four students. 
That finding — announced on Nov. 17, in the wake of a joint investigation with the California attorney general's office — applies to Corinthian campuses that served about 85,000 WyoTech and Everest students.
Corinthian has denied the allegations. But if every former Heald, Everest and WyoTech student nationwide were to file a successful borrower defense claim, that could add up to $3.2 billion in forgiveness of government student loans.
To handle the expected influx of borrower defense claims, the Department of Education in June appointed a "Special Master for Borrower Defense," Joseph Smith. In his latest report, Smith said that as of Nov. 18, the Department of Education had received 6,691 borrower defense claims, including 5,379 that were still being evaluated.
Since Smith's first report in September, he said his team has hired "four talented lawyers" who "have hit the ground running and … have made a very good start at analyzing claims."
As work ramps up, Smith said it "has also become apparent that additional attorneys will be necessary to swiftly analyze claims," which the department has agreed to hire.
Smith said that while his team is still reviewing the Department of Education's findings that some Everest and Wyotech campuses misrepresented job placement rates, "I expect that (the findings) will allow the Department to provide borrower defense relief to additional students."
In addition to processing claims from students who attended schools that have been determined to have misrepresented job placement rates, Smith's team is developing rules for deciding borrower defense claims where "no explicit findings have been made about the programs involved," he said. "This work will also inform our development of a general application form for borrower defense to be used in such cases."
While most of the borrower defense claims received to date have been from students attending Corinthian schools, more than 1,300 students attending other for-profit schools, including the Art Institutes, ITT, and University of Phoenix have also filed claims.
'Borrower defense' claims, by school
| | |
| --- | --- |
|  School | Claims |
|  Heald |  3,356 |
|  Everest | 1,701 |
|  WyoTech | 283 |
|  Art Institutes |  931 |
|  ITT | 159 |
| University of Phoenix | 22 |
| Other | 239 |
| Total | 6,691 |
Source: U.S. Department of Education, "Second Report of the Special Master for Borrower Defense."
Last month, Education Management Corp., which operates post-secondary schools under four "brands" — the Art Institutes, Argosy University, Brown Mackie Colleges, and South University — agreed to pay $95.5 million to settle lawsuits alleging it violated prohibitions against incentive-based compensation of recruiters.
ITT Educational Services Inc., which operates about 150 schools in nearly 40 states, is battling the Consumer Financial Protection Bureau and the Securities and Exchange Commission in separate lawsuits over its student loan programs.
The Department of Education has taken the position that borrower defense claims "must be based on the showing of an act or omission by a school that would support a state law cause of action," Smith said — a position he agrees with.
Students in California are the first to see borrower defense claims approved because of the findings of the joint investigation conducted by the Department of Education and the California Attorney General's office.
Smith said the department has also received evidence regarding Corinthian schools from attorneys general in Illinois and Massachusetts.
"We continue to invite all state attorneys general to provide evidence of institutions' wrongdoing to me and the Department so that I can make determinations about the implications of the evidence on potential borrower defense claims," Smith said.
"In determining the availability of (borrower defense) relief to additional student loan debtors that have submitted claims, my colleagues and I will especially look for evidence of patterns and practices that show a concerted effort to mislead students or otherwise engage in conduct that violates applicable state law," Smith said.
One way to make those determinations is to determine claims filed against a school show "common patterns of misconduct with regard to a particular program, campus, or both."
Smith said it's important that those filing claims describe how they were treated "in their own words," and that his team "will not expect or require certain words or phrases to trigger relief," an apparent allusion to advice being offered by student advocacy groups on how to file borrower defense claims.
Consumer advocates are concerned that students who may have been defrauded by for-profit schools may be unaware that they can request relief by filing borrower defense claims.
In his previous report, Smith said the office of Federal Student Aid had emailed more than 50,000 borrowers who attended Heald College since 2010 "to notify them that they may be eligible for debt relief based on borrower defense."
But the number of applications received to date suggests more outreach is needed, groups like Americans for Financial Reform have said.
Better yet, consumer groups like AFR and the debtcollective.org say, the government should use its legal authority to discharge the debt of affected students without requiring them to file individual applications.
Closed school discharges
About 15,000 students who were attending Corinthian schools that closed before they could finish their courses are also eligible to have their federal loans forgiven through a "closed school discharge." Students who transferred credits from a closed school to a new school where they are completing their education are not eligible.
Smith said that as of Nov. 18, the office of Federal Student Aid had approved 5,814 closed school discharge applications forgiving $75.5 million in loan debt. Most of that debt ($53 million) was associated with Heald students, followed by Everest ($19.2 million) and WyoTech ($3.2 million).
---