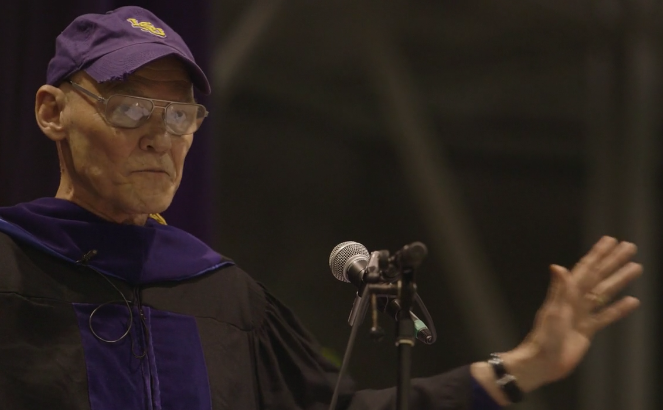 Many recent cuts in state funding for higher education — cuts often blamed for tuition hikes and increased student debt loads — were driven by the 2008 housing bust and recession, which squeezed tax revenue and left states scrambling for money.
But there's also an ideological debate raging over public funding for higher education, with some arguing that colleges would better serve their "customers" — students — if they were run more like businesses.
Attempts to apply the theory of disruption (as put forward in Clayton Christensen's influential book, "The Innovator's Dilemma") to higher education are the subject of a new documentary, "Starving the Beast: The Battle to Disrupt and Reform America's Public Universities."
Texas became ground zero of the battle in 2008, when Gov. Rick Perry embraced a plan for education reform, "seven breakthrough solutions," put forward by the conservative Texas Public Policy Foundation.
In a guest piece for the New Republic looking back at the controversy the plan generated, higher education writer and analyst Kevin Carey concluded that, "Taken together, the seven solutions are remarkably student-friendly."
As summarized by Carey, the seven solutions proposed:
Developing new methods of evaluating teaching performance.
Tying tenure to success in the classroom.
Separating teaching and research functions within university budgets.
Using teaching budgets to reward professors who excel at helping students learn.
Giving students more information about class size, graduation rates, and their future earnings prospects.
Making state higher education subsidies more student-focused.
Shifting university accreditation toward measures of academic outcomes.
Controversy erupted after the Texas A&M  and University of Texas systems published reports comparing the salaries of individual professors to their teaching loads and their success in bringing in research money.
At the University of Texas at Austin, Carey noted, "one group of 1,748 mostly-tenured professors, representing 44 percent of the faculty, generated 54 percent of institutional costs, taught only 27 percent of students, and brought in no external research funding whatsoever."
Texas A&M professors and alumni, backed by the Association of American Universities, mounted a counteroffensive, pointing out inaccuracies in the analyses of faculty productivity, and calling into question the logic of some of the performance measures used.
Carey acknowledged that were they to be implemented, faculty productivity measures should "account for factors like small graduate school class sizes, and the way academic disciplines differ in their connection to sources of external funding." Conservatives, he said, did not help their cause by "mounting David Horowitz-style campaigns against alleged radicals and communists in the professoriate."
But Carey — currently director of the Education Policy Program at the New America Foundation — was generally mystified by the hostile reception to the "seven solutions" from left-leaning liberals.
"The problems that Perry is trying to solve — bad teaching, unaccountable public institutions, soaring college costs — disproportionately hurt the first generation, low-income, and minority students that liberals should be most interested in helping," Carey said at the time.
"Starving the Beast" director Steve Mims is an adjunct professor at the University of Texas at Austin, but the film looks at similar "dramas" at the University of Wisconsin, University of Virginia, University of North Carolina, and Louisiana State University.
Official trailer for "Starving the Beast."
Mims tells Inside Higher Ed that his goal was to present all points of view. "If you understand the philosophy of the people on both sides of this argument, then everything else flows from that," he says.
The film opens with Democratic strategist James Carville denouncing attempts to turn education into a "commodity," and includes interviews with "seven solutions" author Jeff Sandefer and Texas A&M Regent Wallace Hall, who calls tenure "almost universally reviled."
The 95-minute documentary, which premiered March 13 at the South by Southwest Film Festival, will also be screened in Madison, Wisconsin, on April 20th and 21st.
Reviewing the film for The Hollywood Reporter, John DeFore says Starving the Beast will "play best on the small screen." While the film may "sometimes challenge an unwonky viewer's attention span," it also "contains big insights for those who wade in."
---