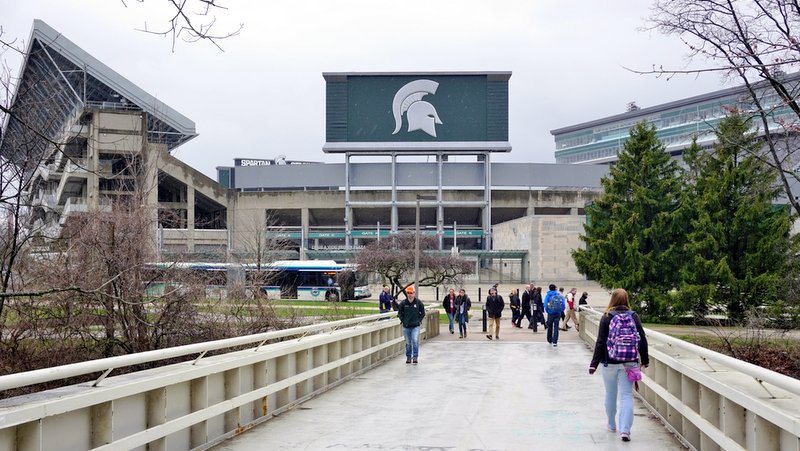 Wondering how the Trump administration's proposal to cut nearly $150 billion in funding for federal student aid programs over the next 10 years could affect students at your school?
A group that represents financial aid administrators at U.S. colleges, universities and career schools has launched a tool that estimates the anticipated impact of student aid cuts for more than 5,800 schools, breaking down the numbers for individual programs like Pell Grants and Federal Work Study.
Enter your school, and the "Budget Effect Estimator" will spit out numbers showing how many students would be affected by cuts to various programs, and how much each affected student stands to lose.
At Michigan State University, for example, the calculator estimates that 13,779 undergraduates rely on federal direct subsidized loans. Those students would have to shell out an additional $1,538 to pay back them back if Trump's proposal to eliminate the interest subsidy the federal government provides on the need-based loans becomes reality.
All told, the budget estimator tallies $8.27 million in student aid at stake for MSU students under Trump's budget, including:
Cuts to federal work-study totalling $932,143 affecting 1,667 students
The elimination of $2.38 million in federal Supplemental Educational Opportunity Grants provided to 3,812 students.
The loss of $4.96 million in federal Perkins Loans to 4,022 students
For some students, those cuts could be particularly painful, since MSU just raised tuition for the eighth year in a row.
It's important to note that Congress typically gives short shrift to budget proposals put forward by the White House, so some of the hypothetical cuts analyzed by the budget estimator may never materialize, and others may turn out to be less drastic. The budget proposal "is basically a messaging document," Inside Higher Ed's Andrew Kreighbaum pointed out when it was published in May. But the budget can provide insights into how policy debates will play out.
The big student loan debate is yet to come
Although it can't predict the future, the budget estimator could get more students interested in the policy debate around higher education financing, and help them understand the complexities.
The group behind the tool, the National Association of Student Financial Aid Administrators, points out that because of the complicated allocation formula for federal work-study, the Trump administration's proposed 50 percent cutback in funding for the program would result in some schools losing as little as 25 percent of their funds, while others would lose as much as 95 percent.
In releasing the budget estimator, NASFAA President and CEO Justin Draeger characterized the cuts proposed by the Trump administration as "draconian," saying they "would pull the rug out from under millions of students hoping to improve their lives through education."
He said NASFAA "remains committed to advocating on behalf of students who count on the federal student aid programs to pay for college, particularly students from the lowest income brackets."
NASFAA has compiled a wish list of changes it would like to see lawmakers make to the financial aid system, including strengthening need-based aid like Pell Grants, eliminating origination fees on government student loans, and restoring access to subsidized loans for graduate and professional students.
But some experts say that taken as a whole, the proposals put forward in the Trump administration's proposed budget could actually benefit middle- and low-income borrowers.
That's because a new income-driven repayment plan proposed by Trump would allow borrowers to qualify for loan forgiveness after making 15 years of monthly payments equal to 12.5 percent of the borrower's discretionary income. That compares to 20 years of monthly payments at 10 or 15 percent of discretionary income under most existing ID programs.
Under Trump's plan, however, borrowers with any student debt taken out to attend graduate school would not qualify for loan forgiveness until they'd made 30 years of payments. A program that provides loan forgiveness to workers in public service occupations after 10 years would also be eliminated.
Because borrowers with modest earnings would make relatively small monthly payments after graduation — and qualify for loan forgiveness in just 15 years — many would come out ahead, researchers Jason Delisle and Alexander Holt said in an opinion piece for the American Enterprise Institute.
"The Trump budget is a clear win for the vast majority of middle- and low-income borrowers who take out loans for any type of education except a master's or professional degree," Delisle and Holt conclude. "It's also more progressive than the current design, phasing out benefits for undergraduates who go on to earn higher incomes."
The changes proposed by the Trump administration would only apply to future borrowers — existing borrowers would be grandfathered in. But the White House Office of Management and Budget estimates that the proposed changes to IDR programs and Public Service Loan Forgiveness would save taxpayers $104 billion over the next decade, and that eliminating federal direct subsidized loans would save another $38.9 billion.
Congress is not expected to tackle many of these issues until it turns to reauthorization of the Higher Education Act later this year or next. That process may not go any more smoothly than other major initiatives that Congress has tried to tackle since Trump's election. Trump's Education Secretary, Betsy DeVos, has suggested doing away with the legislation altogether and starting over from scratch. Tennessee Republican Lamar Alexander, who chairs the Senate education committee, is on record saying reauthorization of the act is a top priority, The Chronicle of Education's Adam Harris reports.
Congress could also address some issues on a case-by-case basis. The Perkins Loan program, which serves more than 500,000 students nationwide, is currently set to expire in September. A bill to extend the program for two more years currently has 56 cosponsors. All but 14 are Democrats, so the odds could be stacked against the bill coming to a vote in the Republican-dominated house.
---