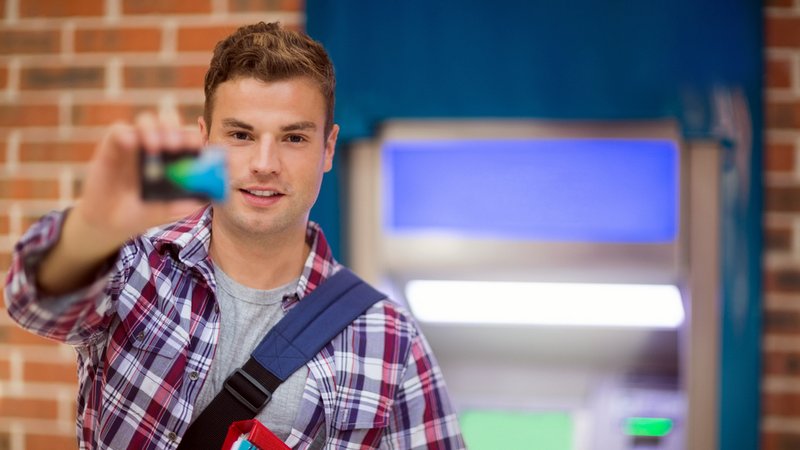 If you were issued a debit or prepaid card with your school's logo on it to take care of expenses like textbooks, you may soon be getting a refund or credit for fees that you might not have realized you could have avoided.
Federal regulators have reached settlements with one of the giants of the "college card" business — Higher One Inc. — that will result in the company refunding tens of millions in fees to hundreds of thousands of students that the government says were improperly assessed.
If you're eligible for a refund, you're not required to take any action to be compensated. If you've got a "OneAccount," you should see a credit to your account. If you've closed your OneAccount, keep an eye out for a check in the mail.
Even if you've never had a OneAccount, it's worth taking a few minutes to educate yourself about college cards and how they're used. Chances are good you'll be offered one if you've applied for financial aid or student loans.
Touted as a convenient way for students to access student aid funds earmarked for books, supplies and living expenses, "college cards" have also proved to be a cash cow for card providers and the schools they partner with.
Schools have embraced college cards in part because they help them shift the cost of administering Title IV student aid programs from themselves to students.
In a 2012 report, the U.S. Public Interest Research Group detailed an agreement between Ohio State University and Huntington Bank that provided $25 million in payments to the school over 15 years.
U.S. PIRG estimated that more than 9 million students nationwide attend schools that have similar debit or prepaid card agreements. According to the U.S. Department of Education, about $25 billion in Pell grants and federal direct loans are disbursed to undergraduates at those schools every year.
The Department of Education issued new rules in October that are intended to curb college card fees and improve transparency by requiring better disclosures.
The new rules, which won't start being phased in until July 1, 2016, are also aimed at making sure students aren't led to believe that they have to open an account with any particular provider in order to receive their federal student aid.
In announcing a settlement with Higher One and a partner, WEX Bank, the Federal Deposit Insurance Corporation (FDIC) said the Higher One website and other marketing material omitted "details about other disbursement methods available to students, a full and complete fee schedule, and the availability of fee-free ATMs."
In a separate settlement, the Federal Reserve Board alleged that Higher One employed deceptive marketing practices including the "prominent display of the school logo, suggesting that the school endorsed the OneAccount product."
The Federal Reserve settlement calls for $24 million in refunds to 570,000 students who opened a OneAccount with Higher One at Cole Taylor Bank of Chicago, Illinois or Customers Bank of Phoenixville, Pennsylvania, between May 4, 2012 and Dec. 19, 2013.
The FDIC settlement requires Higher One to refund $31 million in fees collected from about 900,000 students from May 4, 2012 to July 15, 2014. Higher One also agreed to pay a $2.23 million civil penalty, and WEX Bank agreed to pay $1.75 million.
Higher One, which has said it discontinued most of the contested practices in 2013, is getting out of the college card business. According to a 2014 GAO report, Higher One was the dominant industry player, with 57 percent market share.
Customers Bank, a Higher One partner bank since 2013, says it's ready to pay Higher One $42 million in cash for its OneAccount student financial aid disbursement business.
In announcing the deal — which is subject to approval by Higher One's shareholders — Customers Bank said Higher One provides disbursement services to about 800 college campuses around the U.S.
About 2 million students currently have deposit accounts with Higher One's partner banks, and more than 500,000 new student accounts are opened with partner banks each year.
The acquisition is expected to generate $65-$75 million in annual revenue for Customers Bank, most of it in interchange fees paid by merchants to issuing banks.
Customers Bank touts its BankMobile division, launched in January 2015, as "the first no-fee digital bank in the United States." BankMobile charges no overdraft fees and offers lines of credit to qualified customers and free access to 55,000 ATMs.
Jay Sidhu, chairman and CEO of Customers Bank and BankMobile, said in a statement that the company is "very enthusiastic" about combining Higher One's disbursements business with the BankMobile platform.
"We hope to bring all or most of these banking services to students across America in a favorable and supportive manner with absolute compliance with banking regulations and Department of Education rules regarding banking services for students," Sidhu said.
Matt Carter <mcarter@credible.com> is editor of Credible News. Follow us on twitter @Credible.
---