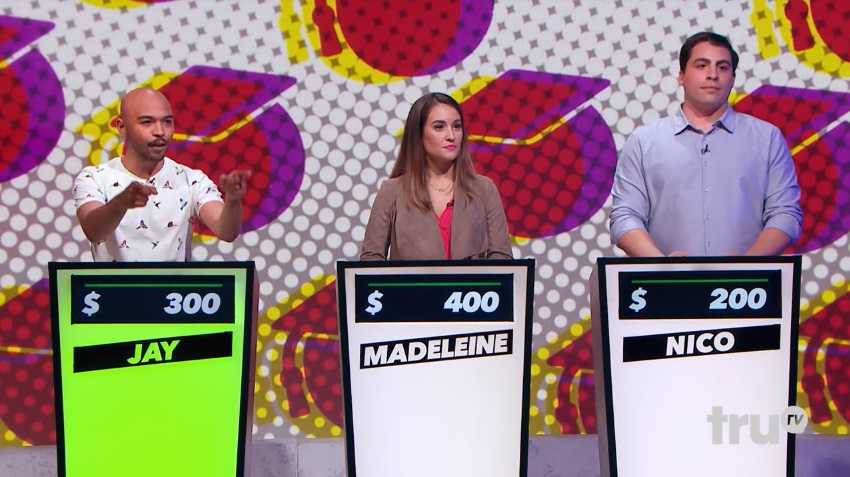 With more than 40 million people paying them down, a game show that pays off contestants' student loan debt has a huge built-in audience.
TruTV's "Paid Off," which premieres Tuesday, July 10, is also the latest sign that student loan debt has not only entered America's collective consciousness, but is being fully integrated into popular culture.
Hosted by "Orange is the New Black" veteran Michael Torpey, "Paid Off" is "Family Feud meets Jeopardy" for the student loan set.
In the first round, contestants guess what the most popular answers will be to questions about campus life: "What's the best job you could have in college?" Survey says … food or drink server!
Then contestants are invited to show off all that arcane knowledge they picked up earning their degree, by answering questions that are related to their major (liberal arts majors can opt for questions that test their general knowledge).
The winner of the first two rounds goes up against the clock and, if they answer enough questions correctly, can wipe out all of their student loan debt.
Contestants can have up to $80,000 in student loan debt wiped out, and the 16-episode game show has already given away $500,000, Yahoo Finance's Jeanie Ahn reports.
Unfortunately, the IRS considers those winnings to be taxable income — which will also be an issue for many borrowers whose remaining student loan debt is forgiven after 20 or 25 years in an income-driven repayment plan (student loan forgiveness granted to the disabled, or to borrowers who have made 120 monthly payments and qualify for Public Service Loan Forgiveness, is not taxable).
Torpey tells Ahn that although he didn't have to borrow for his own education, he fully appreciates how having to take on loans could have limited his options — and drastically changed his life.
"If I knew I was facing $80,000 of debt on the other side of my college education, I wouldn't have majored in theater, I would've felt pressured to do something else."
When Torpey met his wife, she was struggling to pay off $40,000 in student loan debt. After he landed his first big break (a Hanes underwear commercial with Michael Jordan), the fledgling actor paid his future wife's debt off — a grand gesture that moved her to tears.
"I didn't understand what she had been carrying with her, the invisible burden of debt, and how it affects every decision you make," Torpey recalled.
Like playing the lottery, counting on a windfall from a game show might not be the best strategy for paying off student loan debt.
For student loan borrowers who don't get invited to compete on "Paid Off," strategies for tackling student loan debt include accelerated repayment, income-driven repayment plans with the potential for loan forgiveness, and refinancing student loan debt at lower interest rates.
---