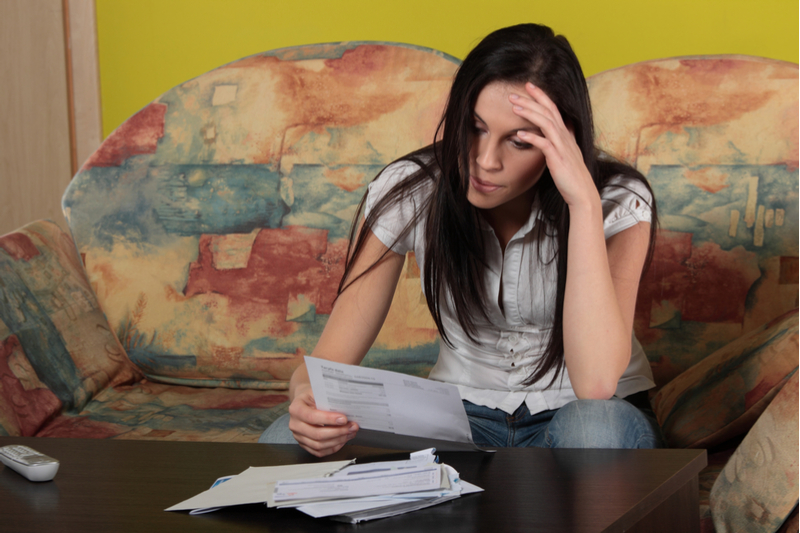 Given the growing strength in job markets and the government's eagerness to get those who are having trouble making payments on their federal student loans into income-based repayment plans, it's something of a mystery: Why does the total dollar volume of federal loans in default continue to grow — by nearly 25 percent in the last 24 months, to more than $175 billion?
Increasingly, the finger of blame gets pointed at student loan servicers. Today federal regulators officially called for consistent industry-wide standards across the student loan servicing business that would hold companies that collect payments on loans accountable for their mistakes and violations.
More than 41 million Americans are paying of student loan debt — nearly $30,000 each, on average — and 10 million have been handed off from one loan servicer to another in the last five years.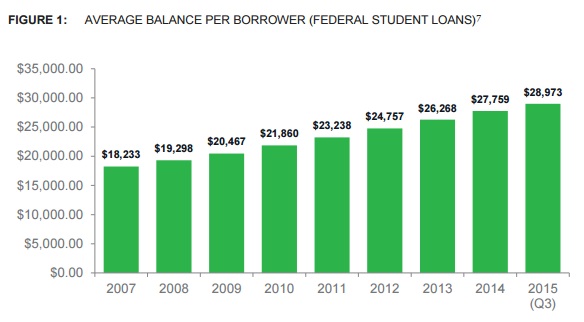 Average student loan debt is approaching $30,000 per borrower. Source: Consumer Financial Protection Bureau.
When borrowers are transferred from one servicer to another, all sorts of unexpected problems can arise, according to a report issued today by the Consumer Financial Protection Bureau.
If payments get lost or aren't processed in a timely fashion, you might get hit with late fees and see your credit score dented. If you've set up automatic payments to your loan servicer, for example, your new servicer may not get your bank account information. Your old servicer may even keep taking money out of your account, but your new servicer won't credit you for the payments.
Your interest rate may go up if your new servicer doesn't honor incentives offered by your previous loan servicer for making on-time payments or auto payments (If those incentives are part of your student loan contract or found in federal regulations, your servicer is required to honor them).
When problems or disputes arise, borrowers may have trouble obtaining documents or information from their new servicer.
But loan servicers do more than simply collect payments on student loans. They also administer borrower benefits like income-based repayment plans that are supposed to help prevent defaults.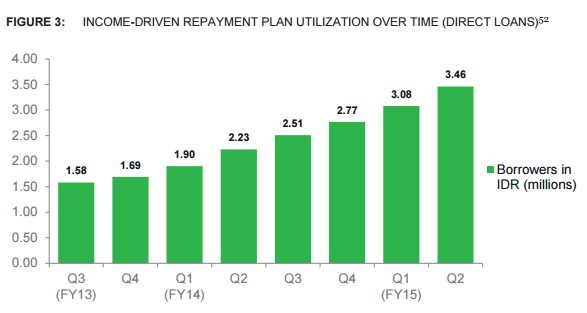 Nearly 3.5 million federal direct student loan borrowers have enrolled in income-driven repayment plans. Source: Consumer Financial Protection Bureau. 
The way servicers are compensated — they typically receive a flat monthly fee for each account they service — may not provide incentives for them to act in your best interest, or even the lender's.
If you're making student loan payments and lose your job, it's up to you to contact your servicer to enroll in an alternative repayment plan, obtain a deferment or forbearance, or ask for a modification of your loan terms.
Borrowers who have negotiated alternative payment arrangements with their loan servicer may experience disruptions or changes in repayment terms if their account is handed off to another loan servicer.
To get an idea for the kinds of problems borrowers face, in May the Consumer Financial Protection Bureau put out a call for public comment, and received more than 30,000 responses that served as the basis of the 151-page report published today.
Regulators are doing more than just writing reports. In July, the CFPB ordered Discover Bank and its student loan affiliates – The Student Loan Corp. and Discover Products Inc. — to refund $16 million to consumers, pay a $2.5 million penalty, and improve student loan billing and collection practices (Discover had acquired more than 800,000 student loan accounts from Citibank in 2010).
In conjunction with the release of today's report, the CFPB issued a joint statement of principles on student loan servicing with the Department of Education and Department of the Treasury calling for greater consistency, accuracy, accountability and transparency in loan servicing.
The lack of transparency around the performance of student loans is a well known problem.
"Public reporting of servicer-level data is critical to ensure that stakeholders have a more complete understanding of borrower behavior in order to effectively address the underlying factors driving elevated levels of student loan delinquency," the report said. "Improved public access to data on student loan performance will also allow stakeholders to anticipate future problems for borrowers."
As if to emphasize that point, another report out this week from the Association of Community College Trustees (ACCT) crunched student loan data pooled by all 16 community colleges in Iowa in order to examine the characteristics of borrowers and defaulters.
Some of the results were surprising, the report's authors said, including:
Students who borrowed the least were the most likely to default.
Many who defaulted took no action — suggesting they either lacked information or that the repayment system was too complex.
Many community college borrowers earned just a few credits and did not receive a degree or credential.
Difficulty accessing and analyzing loan data make default management unnecessarily difficult.
In what may be a taste of what's to come, the ACCT report, "A Closer Look at the Trillion," even attempted to analyze default rates by servicer, finding considerable variation.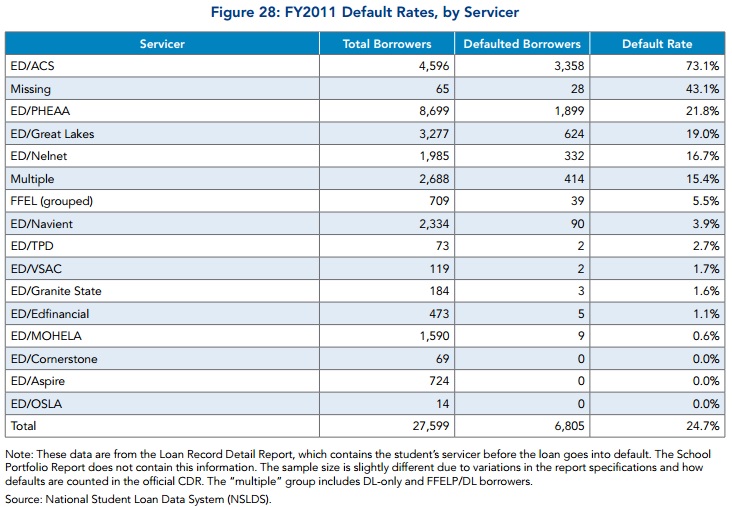 Default rates among Iowa community college students by servicer. Source: National Student Loan Data System (NSLDS) analysis by the Association of Community College Trustees.
Although one servicer had a markedly higher default rate than the others, the report could only speculate on the reasons. 
---