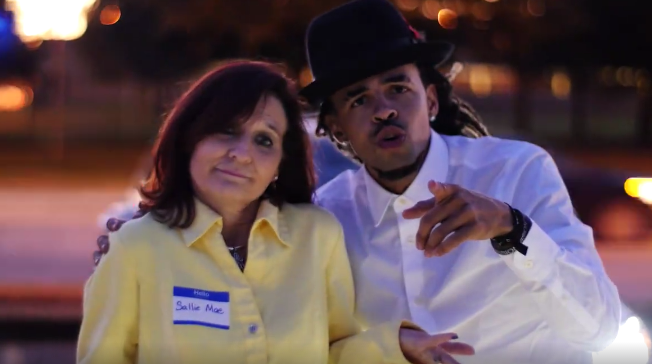 A former middle school math teacher has struck a chord with a rap video relating how he became one of the millions of Americans with student loan debt — and the joy he felt when he was finally able to pay off his loan servicer, Sallie Mae, after he landed a record deal.
The fact that so many Americans are in the same boat has undoubtedly helped New Orleans rapper Dee-1's "Sallie Mae Back" catch fire — Buzzfeed, CNN, and the The Washington Post are among those taking notice.
"Sallie Mae Back" by Dee-1 — former middle school math teacher David Augustine. 
But another reason CNN and others are lauding Dee-1's "relatable ode" might be that he's packed so many details of a story that he lived into a 4-minute, 36-second video that also puts his personal experiences in the context of the big picture.
Dee-1 — who after graduating from Louisiana State University in 2009, was better known to his students as Mr. (David) Augustine — "tells a story that is all too familiar to the millions of Americans saddled with student loans," The Washington Post's Danielle Douglas-Gabriel says.
The video's depiction of the "fearsome financial aid office," where "sad-eyed students" are hit with a list of tax documents needed to fill out the FAFSA, "nail(s) the frustration of the process," Douglas-Gabriel writes.
In "Sallie Mae Back," Augustine recalls the first steps down the road to student debt, and what happened next:
Needed tuition, needed room & board
Had to pay for books, so I took out loans to feed the boy
Graduated wasn't making quite enough to pay them back
Went into default, messed my credit up, check my Equifax
I ain't proud of that…ain't drownin' that…
When he couldn't make his minimum monthly payments, the calls from the loan servicer, Sallie Mae, start rolling in.
Let me tell you what I been through when it comes to Sallie
She call me at least twice a day she want her money badly
Calling me from different numbers, ooh she think she slick
But I got them all memorized, I hit ignore quick.
This part of the story will resonate with many. In 2012, Sallie Mae agreed to pay $24.15 million to settle a class action lawsuit alleging that it violated consumer protection provisions of the Communications Act by making automated calls or text messages to as many as 8 million borrowers.
But there's more to this type of "robocalling" than meets the eye. Last year, the Obama administration persuaded Congress to exempt student loan servicers from prohibitions on the use of autodialers, saying a cell phone is often the only way to get in touch with a student loan borrower who's no longer living at their last known address.
The Department of Education wants loan servicers to be able to reestablish contact with borrowers to let them know about income-driven repayment plans that can make their monthly payments more manageable.
(Regulations implementing the change, which will include limits on the number and duration of calls that will be allowed, are still being finalized by the FCC. Borrowers who have taken out student loans since the summer of 2009 have already consented to being autodialed.)
But Douglas-Gabriel says the "most sobering" scene in the video is a "debt roll call" depicting student loan burdens carried by a police officer, barber, nurse and doctor. The point, she notes, is that it's not just millennials who are struggling with student loan debt, "but people of all ages."
"Everyone's journey to repaying their loans is different," Dee-1 tells Douglas-Gabriel. "Some people just ride it out and make the minimum payments the whole time. Some people can't make the payments at all and struggle. Some can knock it out in chunks. But we all have the same destination to reach, which is when we can say: I finished paying Sallie Mae back."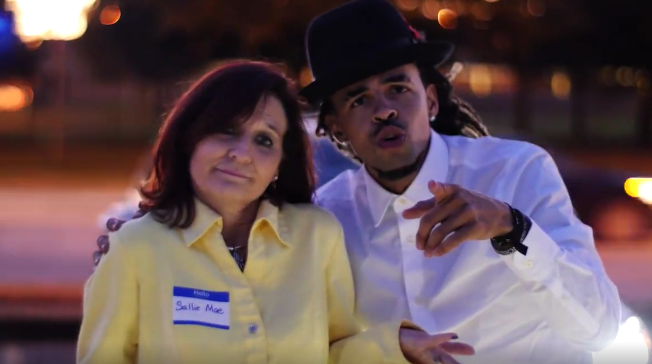 A scene from Dee-1's "Sallie Mae Back."
Sallie Mae — depicted in the video by an actress wearing a "Hello, my name is Sallie Mae" nametag — is putting a positive spin on the video, commenting on Dee-1's Facebook page that, "We're all in the office singing along with you! Love, love, love the hook. Congratulations on your success!"
If you have to have one of your borrowers rapping about struggling to pay you back, you could probably do a lot worse than Augustine/Dee-1.
Augustine tells the New Orleans Times Picayune, "I am a Christian and my music is clean. You'll not find any negative messages in my music, so it allows it to appeal to a faith-based audience." Ultimately, he says, "I do songs about hope, hope to get out of depression, hope to get out of the 'hood, or hope to get out of the system."
---