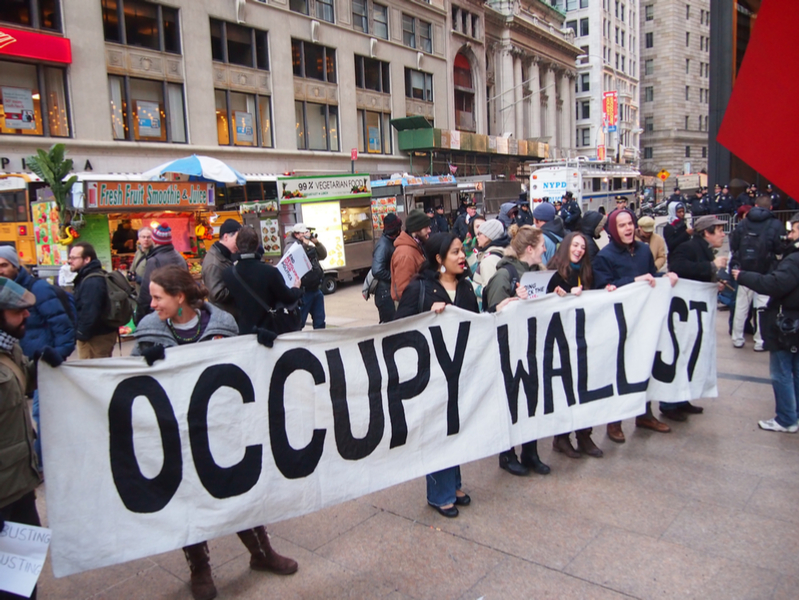 "If you owe the bank $100, that's your problem. If you owe the bank $100 million, that's the bank's problem."
That nugget of wisdom from the world of high finance sums up the philosophy of the Debt Collective, a group that grew out of the Occupy Wall Street movement to organize debtors and harness their collective bargaining power.
So says Bloomberg Businessweek's Natalie Kitroeff, in a sympathetic profile of the group exploring its origins, history and goals.
The Debt Collective began as an attempt to help borrowers burdened with student loan debt, and is looking to build on some early successes in that arena and help other types of borrowers "work together to renegotiate our payments or even demand the cancellation of illegitimate debts."
"Only by organizing together, through the pursuit of collective bargaining and debt strikes, can debtors build power against the creditor class," the group says of its strategy. "Debt collectives can also serve as platforms for creating a positive vision of a sustainable economy: free public education, national healthcare, and affordable housing for all."
If those goals seem ambitious or even radical, the Debt Collective has already made a splash in the world of student lending, helping publicize a little-used provision of federal law — "borrower defense to repayment" — that allows student debtors to apply for loan forgiveness of federal direct loans if the school they attended committed fraud or violated state laws related to loans or educational services.
That's an argument that's now being made by some students who attended for-profit schools operated by Corinthian Colleges, which this year sold most of its schools and closed the rest after filing for bankruptcy protection. Those moves came in the wake of a string of enforcement actions by state and federal authorities alleging, among other things, that the schools misled students about their job prospects, and "set them up to fail" by arranging costly loans to cover exorbitant tuition.
Corinthian has denied the allegations. But if every student who attended the schools it operated —Everest, WyoTech, and Heald — was granted a loan discharge through "borrower defense to repayment" applications, that would add up to $3.2 billion in government student loan debt, Kitroeff reports. (Students who were attending one of the schools Corinthian closed on April 27 may be eligible for closed school debt relief.)
Although the Debt Collective is credited with helping get the Department of Education moving on debt relief for Corinthian students — the government launched an initiative in June that Kitroeff says has generated more than 4,000 requests for loan cancellations — the group's leaders have far more ambitious goals.
According to the Consumer Financial Protection Bureau, about 74,000 students were enrolled at more than 100 Heald, Everest, and WyoTech campuses around the country in 2014. The Debt Collective is hoping they'll join a "debt strike" started by 15 Corinthian students, and that millions of other Americans who are in default on their student loans will consider getting on board, too.
As Kitroeff notes, rebranding debtors already in default as "debt strikers" is a shrewd political and marketing move. But in its attempts to empower debtors, the Debt Coalition has also helped tell the stories of some of the people behind the numbers.
A recent example is a comic by Oakland, Calif.-based artist Susie Cagle that draws on the experiences of four students to tell the larger story of the rise of for-profit colleges and problems that have arisen.

Two frames from Susie Cagle's "Students ruined by for-profit colleges fight back."
As candidates in the 2016 presidential race continue to stake out positions on student lending and higher education, the Corinthian story will undoubtedly be part of the debate over how to encourage innovation by low-cost, technology-enabled providers without leaving students — and taxpayers — in the lurch.
In the meantime, students are gaining new insights into the return on investment they can expect from thousands of schools, thanks to new apps and tools that crunch data on school costs and performance.
---