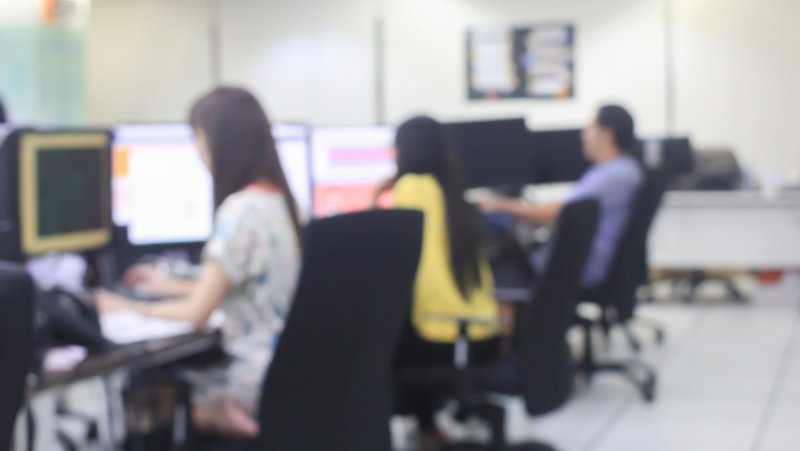 Like the foreclosure rescue scams that sprang up during the housing bust, student loan debt relief companies that charge desperate borrowers for help enrolling them in free government programs seem to be a fact of life these days.
While state and federal authorities have launched numerous crackdowns against such companies, new ones always seem to be popping up (for tips on spotting these schemes, see "4 ways to spot student loan debt relief scams").
Just how do they find their victims? Lawsuits filed by the Federal Trade Commission and the State of Florida against two operations accused of fleecing millions of dollars from student loan borrowers around the U.S. shed some light on the marketing techniques employed by these companies.
Promising relief that most borrowers won't qualify for, the two companies being sued by the FTC and the Florida Attorney General used a number of online channels to reach borrowers, including Facebook, Instagram, Google Adwords, and text blasts. Offline marketing included radio advertisements and an aerial banner.
One of the companies regulators moved to shut down, Consumer Assistance LLC, promised consumers on its website that it could help them "GET RID OF YOUR DEBT TODAY!" and that its programs "can eliminate as much as 90 percent of your outstanding balance."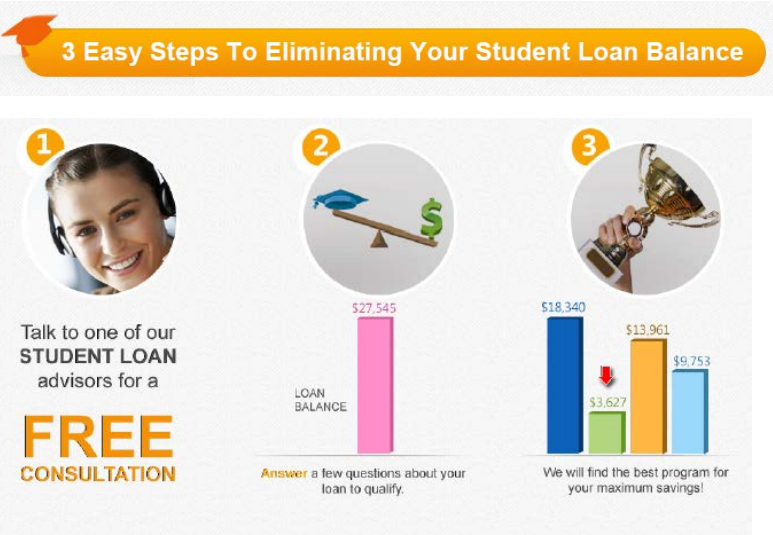 Screenshot of a Consumer Assistance website, ConsumerAssistanceProject.org, illustrating the government's complaint against the company in U.S. District Court for the Southern District of Florida. 
When borrowers called for more information, the company's representatives "pretended to evaluate them for eligibility" for government programs, "and then told them that they qualify for balance reductions of 50 to 70 percent" at a minimum, authorities alleged in their complaint.
While the government does offer a number of student loan forgiveness, discharge and income-driven repayment programs, borrowers can apply to them on their own, for free. In most cases, it takes 10, 20 or 25 years of payments to qualify for outright loan forgiveness — few borrowers will have most of their balance forgiven.
In most cases, authorities say Consumer Assistance failed to obtain loan balance reductions through loan forgiveness programs or perform "audits" with lenders that the company promised could result in "huge savings."
Instead of reviewing their loans for "errors," as promised, Consumer Assistance would "send form letters to lenders that do not result in invalidated loans or reduced balances in most instances," prosecutors said.
The company would then pitch credit repair services, for which borrowers were charged advance fee — typically $250 — and recurring monthly fees of up to $303 for as long as 36 months, prosecutors allege.
The FTC is singling out what it called Consumer Assistance's "deceptive social media endorsements," alleging that some 5-star reviews on the company's Facebook page supposedly written by satisfied consumers were actually authored by the company's CEO and "employees and known business associates."
Consumer Assistance is charged with violating the FTC Act, the Telemarketing Sales Rule, the Florida Deceptive and Unfair Trade Practices Act, and the Credit Repair Organizations Act.
The other company authorities have filed suit against, Student Aid Center Inc., allegedly promised to help borrowers "Get Your Student Loans Forgiven Now!" suggesting they might qualify for "$17,500 in Up Front Forgiveness?"
When borrowers called for more information, they were told they were "approved" or "pre-approved" for student loan forgiveness or reduced monthly payments — but only if they paid Student Aid Center's upfront fees, typically three to five monthly installments of $199 or more, prosecutors alleged in their complaint.
Leading borrowers to believe that the company was involved in the student loan forgiveness or modification approval process, Student Aid Center "in numerous instances" told borrowers not to contact their lenders or the Department of Education, claiming "they would handle all communications."
In some instances, Student Aid Center advised consumers to stop paying their lenders and to instead make monthly payments to the company, prosecutors said. Some of those making payments to the company allegedly had their loans placed in forbearance without their knowledge or consent — with interest continuing to accrue on their loans and increasing their debt burden.
All in all, prosecutors allege, Student Aid Center "deprived thousands of consumers nationwide of millions of dollars."
To bring borrowers through the door, the company sent out text blasts offering "instant approval" for student loan forgiveness programs, and bought radio ads offering to help borrowers "kiss your student loan debt goodbye."
The complaint against the company includes a photo posted to Instagram showing an airplane towing a banner with the company's phone number.
"It's a bird!!! it's a plane!! No it's @studentaidcenter in the sky. We advertise on the ground and the sky!!!" the Instagram post declared.
Using Google Adwords, Student Aid Center was able to land its websites — including studentaidcenter.org and studentloanforgiveness plans.org — at the top of search results for terms like "student loan forgiveness," prosecutors said.
The complaint depicts a July, 2015 sponsored search result (above) that sent users who clicked on "Obama Loan Forgiveness" to studentloanforgivenessplans.org, with a promise of "Quick Qualification" and "Fast Easy Approval."
No longer in business, Student Aid Center is charged with violating the FTC Act, the Telemarketing Sales Rule, and the Florida Deceptive and Unfair Trade Practices Act.
Separately, the FTC this week announced that a settlement permanently banning the owners of Good EBusiness, Select Student Loan Help LLC, and Select Document Preparation Inc. from the debt relief business. The FTC said those companies charged up-front fees of $500 to $800 claiming they could renegotiate, settle, or alter payment terms on student loan debt.
The FTC alleged Good EBusiness also "deceptively marketed home loan and student modification services" using the name "AAP Firm," charging illegal advance fees ranging from $1,000 to $5,000. The settlement imposes a $2.3 million judgment that will be suspended when the owners of the businesses have surrendered any remaining business assets.
---