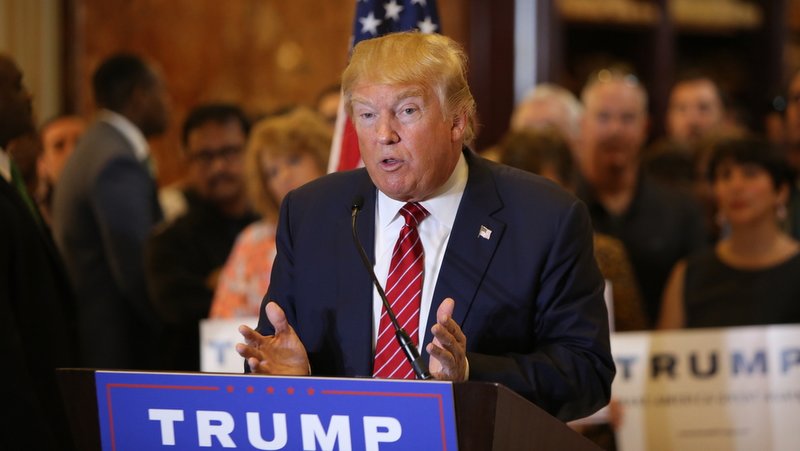 Donald Trump doesn't think the government should be making money off of student loans, and recently has said he'd support helping the most desperate borrowers refinance their debt.
But even though the 69-year-old Queens native has emerged as the front-runner for the Republican Party nomination, he has yet to put forward a detailed plan for fixing the student loan crisis or detailed what his higher education policy would be if elected.
A business magnate, real estate tycoon, investor, author, and reality television star, Trump has an interesting resume. But behind the controversy and entertainment value generated by his unorthodox rhetoric, where does 'The Donald' stand on the issues?
Trump's official campaign website doesn't stake out positions on student loans or higher education.
Rivals for the Republican nomination like Ted Cruz, Jeb Bush, and Marco Rubio, are focused on curbing big government and education costs. But in interviews, debates, and town hall meetings, what Trump has said on the record is surprisingly liberal, sympathetic to debtors, and not incompatible with views expressed by Democrats like Massachusetts Sen. Elizabeth Warren.
In an interview with The Hill last summer, Trump echoed Warren in declaring that student loans are "probably one of the only things the government shouldn't make money off — I think it's terrible that one of the only profit centers we have is student loans."
In a 2013 speech on the Senate floor, Warren claimed that the federal government stood to make a $51 billion profit on student loans that year. But that claim, and more recent statements by Warren, are subject to debate.
A 2014 Congressional Budget Office analysis using "fair-market" accounting principles, which take into account costs like the risk of defaults, estimated that the government stands to lose $88 billion on student lending over a 10-year period.
Warren's belief that rates on student loans are too high led her to introduce legislation, the Bank on Students Emergency Loan Refinancing Act, which would have allowed millions of borrowers to refinance their student loans at lower rates, and paid for it by raising taxes on people earning between $1 million and $2 million. Senate Republicans blocked a vote on the bill in 2014, and although Warren reintroduced it last year, it's gone nowhere.
While Republicans have taken a dim view of a Warren-style federal refinancing program, Trump sees such a move as an option for helping at least some debtors.
During a Nov. 19 forum in Iowa, Trump told WHO-HD Channel 13 moderator Dave Price that too many graduates are "borrowed up, and they can't breathe, and they get through college and the worst thing is, they go through that whole process and they don't have any job."
If elected, Trump said he planned "do something very big" with student loans" — including providing refinancing "for people who have loans who literally can't do anything."
---