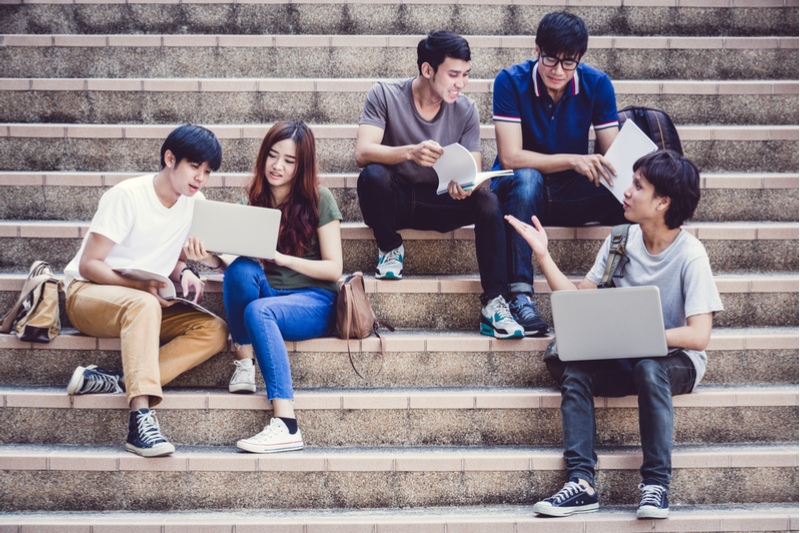 Since Princeton University pioneered the idea at the turn of the century, "no-loan" college aid programs have flourished, in pursuit of a noble goal: boost enrollment of lower-income students by helping those who need financial aid graduate without taking out loans.
More than 70 schools have such programs, Kiplinger's Sandra Block notes, including the top 10 schools on the publication's combined list of public and private colleges and universities.
Trouble is, many students enrolled in "no-loan" aid programs — particularly those who opt out of work-study components — end up taking out loans to pay for costs that aren't covered by their aid packages.
Now that the Department of Education is unleashing powerful tools that help students see how much debt students at any given school typically graduate with, it may be time to think about rebranding "no-loan" aid programs.
That's the thinking at the University of Pennsylvania, at least, where administrators are now calling their "no-loan" aid program an "all-grant program." That's in the aftermath of a student demonstration where protesters wore placards around their necks declaring how much money each had borrowed.
According to the Department of Education's College Scorecard, 23 percent of Penn students take out federal loans, and typically graduate with $21,500 in debt, which translates into a $239 monthly loan payment.
When the school's student newspaper investigated, Penn officials protested that the latest numbers show that the school's students have the third-highest level of indebtedness among Ivy League schools — not the highest, as College Scorecard stats implied.
More to the point, perhaps, Penn administrators noted that 16 percent of students recieve Pell Grants — meaning that in the Ivy League, the school is second only to Columbia in the number of low-income students enrolled.
According to a database query tool built by ProPublica, the lowest-income Penn students pay just $3,847 a year to attend the school — a 94 percent discount from full-freight costs paid by their wealthier classmates. That ranks the school second out of 100 analyzed by ProPublica.
But that doesn't change the fact that many students taking advantage of the school's "no-loan" program do actually take out loans. So, without making any changes to the program, Penn has rebranded it an "all-grant" program.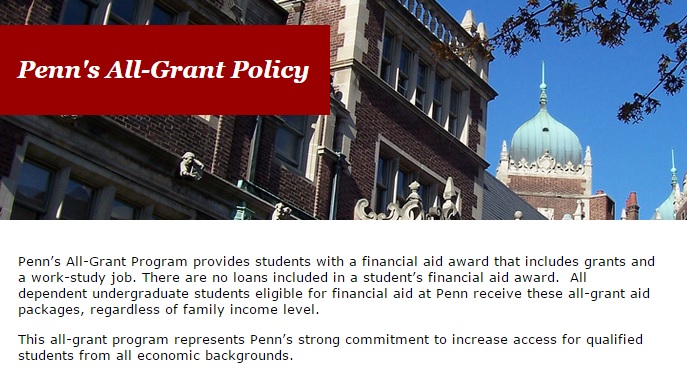 Screenshot showing detail of website landing page describing Penn's "all-grant program." Image via sfs.upenn.edu.
Ivy League rival Harvard has no plans to follow suit.
"We have found that talking about 'no loan required' is a key element of how we reach out to students," William Fitzsimmons, Harvard's Dean of Admissions, tells The Crimson. "The words 'free' and 'no loan' really resonate."
---