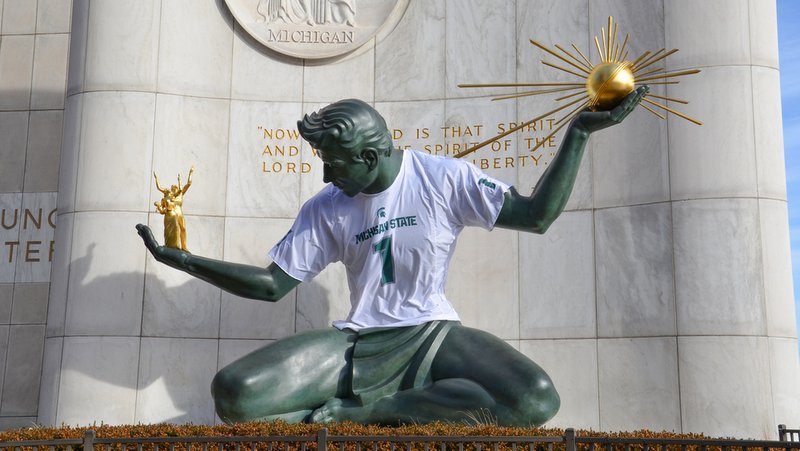 An analysis by the online magazine Bridge lauds Michigan colleges that are "social mobility factories, offering big tuition breaks for the poor, along with academic tutoring, financial literacy and mentors to ease the adjustment to college life."
Bridge — which is staffed by veteran journalists and backed by an Ann Arbor-based nonprofit, the Center for Michigan — analyzed College Scorecard data, applying its own "social mobility index."
Bridge's social mobility index looks at five factors:
Average earnings 10 years after enrollment.
The salary gap 10 years after enrollment between students from the poorest families and richest families.
The graduation rate of students eligible to receive Pell Grants within six years.
The percentage of students eligible to receive need-based Pell Grants.
Average net cost for students with family income under $30,000.
After applying the social mobility index to 35 schools, Bridge ranked these schools in the top 10:
1. Michigan State University, East Lansing
2. University of Michigan, Dearborn
3. University of Michigan, Ann Arbor
4. Wayne State University, Detroit
5. Adrian College
6. Grand Valley State University, Allendale
7. Central Michigan University, Mt. Pleasant
8. Western Michigan University, Kalamazoo (tie)
8. Madonna University, Livonia (tie)
10. Ferris State University, Big Rapids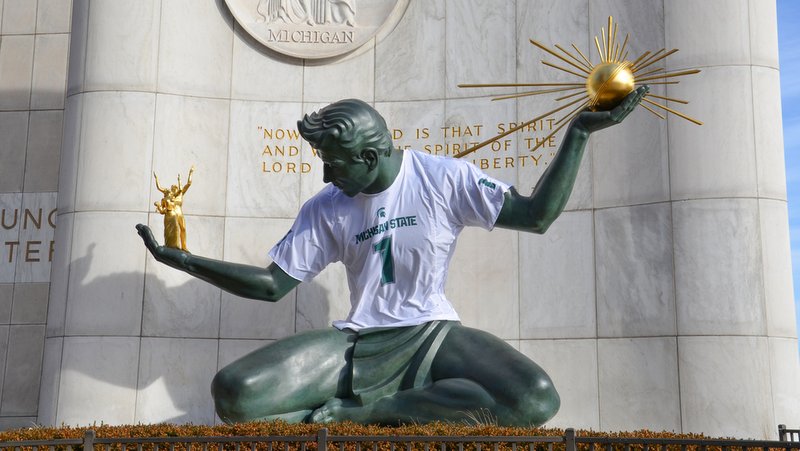 The "Spirit of Detroit" monument in Detroit, Michigan, draped in a Michigan State University jersey. Susan Montgomery / Shutterstock.com.
While Michigan may have some colleges that are "social mobility factories," the state's cutbacks in funding for higher education during the recession helped it earn a failing grade in another recent analysis.
That analysis, by Young Invincibles, looked at the "family share" of total college costs by state. Michigan, which has cut funding for higher education by 23 percent since 2008, had the seventh-highest family share of college costs in the nation.
When families take on a greater share of college costs, that can leave graduates with more student loan debt. A recent study by liberal think tank Demos found that while higher education is touted as a way to level the playing field between students from different backgrounds, student loan debt can exacerbate the wealth gap between black and white students.
Michigan did earn a B+ from Young Invincibles on one measure — racial attainment equity — which looks at the gap between the proportion of whites, African Americans and Latinos earning college degrees.
Although College Scorecard has been criticized for its limitations in tracking students through college and into the workplace, it's arguably the best currently available tool for the job.
And it's probably fair to say that the kind of analysis performed by the Bridge is exactly what the Obama administration had in mind when it published College Scorecard data through an open application programming interface (API), enabling others to build tools that can help prospective college students make decisions about their futures.
---