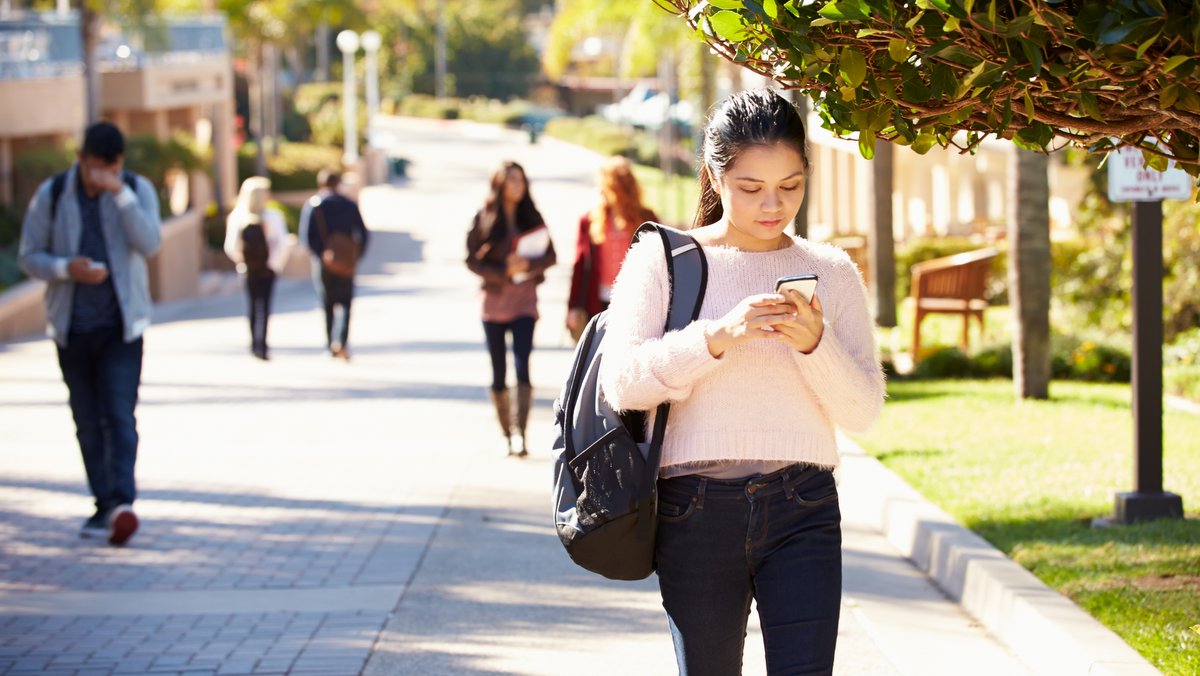 A new mobile app that today allows students and their families to apply for federal student aid could eventually become the gateway for accessing those funds and managing loan payments.
The myStudentAid mobile app, which became available this summer, allows students and parents to complete the Free Application for Federal Student Aid (FAFSA) wherever and whenever is convenient.
But the Trump administration's Department of Education has big plans to expand the mobile app's capabilities, according to a Federal Register notice published today.
As envisioned by the office of Federal Student Aid, the myStudentAid app will evolve into a "Super Portal Mobile App," and eventually supporting at least six functions, or "tiles":
myFAFSA — currently active, allows students and parents to complete the Free Application for Federal Student Aid (FAFSA) wherever and whenever is convenient
myLoans — will provides access to a single web portal where all students will be able to manage their federal student loans, regardless of who the servicer is
my Checklist — will allow users to create personalized checklist of tasks and milestones based on their current status
myMoney — will allow users to access an account where schools can disburse loan funds to students
myRewards — will provide rewards to students who enroll in program promiting savings and financial literacy
mySchools — will allow schools to provide school-specific information about financial aid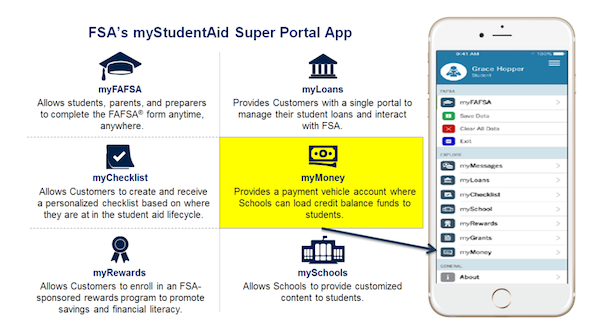 Artist's conception detailing the Department of Education's plans to expand the capabilities of the myStudentAid mobile app. Source: Oct. 17, 2018 Federal Register notice.
The office of Federal Student Aid is currently seeking private companies to build out the "myMoney" tile, which will allow students at schools participating in a pilot program to manage the accounts to which their loans and other aid will be disbursed.
Student loan disbursements: a $125 billion headache
The distribution of student loans and other aid can create headaches for schools and students alike. The government originates more than 17 million student loans each year, and because money is distributed each semester, processes 50 million disbursements totaling more than $125 billion a year.
Currently, colleges and universities receive fund directly from the government. After they've taken out what students owe for tuition, room and board, schools distribute whatever money is left over to students, which they can use to cover additional expenses like textbooks and living expenses.
Schools have used a number of methods to disburse student loan proceeds, including paper checks, prepaid debit cards, or electronic funds transfer to the students' bank accounts.
Critics say that in the past, students were often taken advantage of by providers of "college cards" and schools they partnered with, who reaped millions in fees. New rules issued by the Obama administration in 2015 curbed college card fees and improved disclosures. Students are now informed that that don't have to open an account with any particular provider in order to receive their federal student aid.
So when the Trump administration in January proposed creating a new prepaid card for federal student loans, some consumer advocates and Democrats in Congress had their doubts, Inside Higher Ed reported at the time.
Five Democratic senators including Dick Durbin and Elizabeth Warren outlined a litany of concerns in a letter to Wayne Johnson, appointed by Secretary of Education Betsy DeVos as a top official in the office of Federal Student Aid.
Lawmakers wanted assurances that students would not be "steered or pushed" into accepting prepaid cards, and that merchants like school bookstores would not find interchange and other card transactions fees "unreasonable."
With today's announcement that the Department of Education wants to experiment with allowing students to create and manage accounts through the mobile app, the January proposal for prepaid student aid cards has been withdrawn.
New accounts could become 'primary payment vehicle'
But consumer groups and lawmakers will undoubtedly have similar questions about the new approach, and whether the "myMoney" tile could open up other avenues to profit from the distribution of student loans, or market services to federal student loan borrowers.
In its Federal Register notice, the office of Federal Student Aid said the pilot "payment vehicle account" program will offer an "optional" and "no-fee" method of distributing student loan proceeds.
When participating students click on the myMoney tile, they'll launch a "vendor mobile app" through which they'll be able to communicate with the financial institution where their "payment vehicle account" is located.
The Department of Education says it won't pay companies that build the app or provide accounts to students, and during the pilot period they won't be allowed to charge fees to students or merchants.
The program would provide accounts to low-income students who might otherwise find it difficult to establish one, and students would have to "opt-in" to any attempts to cross-market them other services.
Once the pilot program ends in December, 2020, the payment vehicle account "could become the primary payment utility vehicle for [students] to receive both [federal] funds and [non-federal] funds, which may originate from schools, grant providers, employers, family members, or other third-party sources," the office of Federal Student Aid said.
---