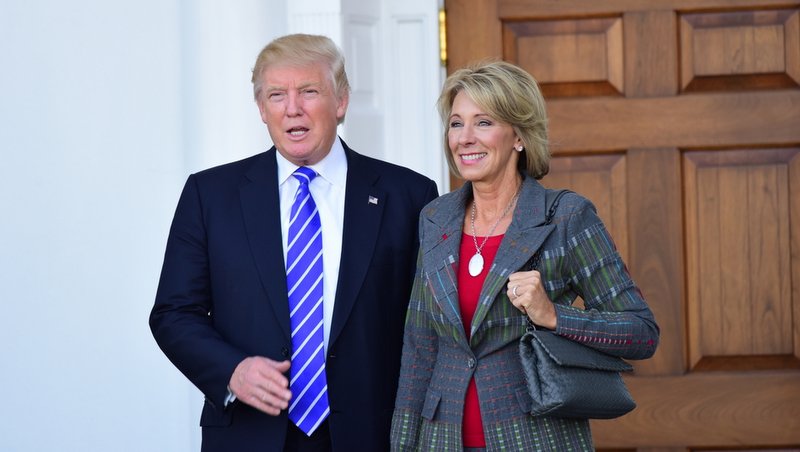 The devil is often found in the details, as the saying goes, and that appears to be the case with a student loan repayment plan that President Donald Trump floated on the campaign trail to put borrowers on a faster track to loan forgiveness.
At an Oct. 13, 2016 campaign stop in Columbus Ohio, Trump proposed a new income-driven repayment (IDR) plan that would let anyone paying 12.5 percent of their monthly income off the hook after 15 years of payments. Any unpaid federal student loan debt would be forgiven at that time.
Borrowers enrolled in existing IDR plans currently pay as little as 10 percent of their monthly discretionary income. But it takes 20 years to qualify for loan forgiveness in the most accessible IDR plan, REPAYE, or 25 years for those repaying graduate school loans.
There's been not a peep out of the Trump administration about his plans for student loans since the election, but documents obtained by The Washington Post outlining the administration's proposed education budget shed new light on what the plan floated by the president last year might end up looking like.
The big catch is that under Trump's streamlined IDR plan — which would replace the existing ICR, IBR, PAYE and REPAYE plans — borrowers with graduate school debt would not qualify for loan forgiveness until they'd made 30 years of payments.
That compares to 20 years under IBR and PAYE, and 25 years under ICR and REPAYE. Those five or 10 years of additional payments could drastically reduce or eliminate the amount of loan forgiveness that borrowers with grad school debt ultimately qualify for.
More than 6.5 million Americans with $333 billion in student loan debt are enrolled in IDR programs, and some influential Republicans have taken notice of projections that the government could end up forgiving more than $100 billion in loan debt. When Trump was elected president and Republicans retained control of the House and Senate in the November elections, many observers expected that the benefits provided by these programs might be scaled back or eliminated.
Because there is concern about the fairness of providing loan forgiveness to well-compensated professionals with graduate degrees, this aspect of Trump's education budget could be less controversial than another proposal that's grabbing considerably more attention.
Public Service Loan Forgiveness also on chopping block
According to the draft budget documents obtained by the Washington Post, the Trump administration's budget would also eliminate Public Service Loan Forgiveness that's granted to government workers and employees of qualified non-profits after 10 years of payments.
This is a cause for concern to the more than 500,000 people who have registered for Public Service Loan Forgiveness, and the one in four workers that the Government Accountability Office estimates could conceivably qualify. But it's unclear if the Trump proposal would grandfather in existing borrowers, while shutting the door on the program as an option for new borrowers [Update: the proposal is to eliminate Public Service Loan Forgiveness for new borrowers].
Adam Minsky, a Boston-based lawyer who specializes in student loan issues, notes that since 2007, when the Public Service Loan Forgiveness Program was created, it's been written into the contracts that set the terms of conditions of federal direct student loans. So Minsky says, "it might be a contractual violation for the federal government to eliminate a program that is expressly made available by contract."
Although the Obama administration had also proposed to cap Public Service Loan Forgiveness at $57,500, it would only have applied that cap to borrowers who chose to enroll in a new (at the time) IDR program, PAYE.
This week, Minsky noted that even if the Trump education budget were adopted and the Public Service Loan Forgiveness program was defunded, it "is a statutory program, and can only be repealed by Congress."
"There would certainly be legal challenges if eligible borrowers are denied PSLF, since borrowers could still be legally entitled to the benefit regardless of funding, as long as the program remained intact in statute," Minsky said.
Some questions about the Trump administration's intentions could be addressed when the proposed education budget is officially released on May 23. The outcome of the negotiations that it will set off are harder to predict.
The Post reports that the budget proposal, which would boost spending for school choice measures like charter schools and vouchers by trimming spending in other programs, "is likely to meet resistance on Capitol Hill because of strong constituencies seeking to protect current funding, ideological opposition to vouchers and fierce criticism of [Secretary of Education Betsy] DeVos, a longtime Republican donor who became a household name during a bruising Senate confirmation battle."
---