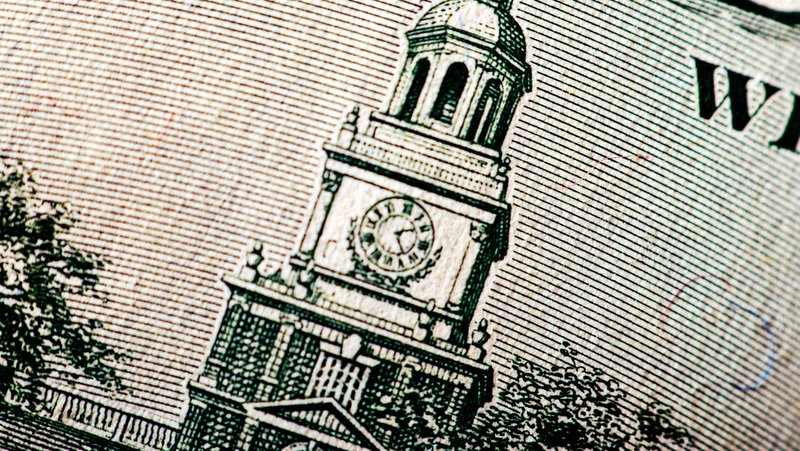 It's a dramatic illustration of just how high the stakes are for borrowers and taxpayers alike: The Trump administration says its plan to scale back student loan forgiveness for public servants and other borrowers paying back their loans in income-driven repayment plans would save the government $174.2 billion over the next 10 years.

Details from the White House's proposed fiscal year 2019 budget, above, and 2018 budget, below.

That's a 68 percent increase from the $103.9 billion savings estimate for the same changes that the administration published a year ago in its 2018 budget. The latest estimate is found in the Trump administration's 2019 budget proposal.
Since the changes to repayment and loan forgiveness are the same as what the administration had proposed last year, the increased savings may reflect the fact that borrowers are flocking to these programs.
Although budgets put forward by the executive branch are typically given short shrift by legislators, Congress is also considering less drastic changes to income-driven student loan repayment programs and loan forgiveness.
Here's a quick overview of the changes proposed by the Trump administration, and a different — and surprisingly more generous — approach that's working its way through the House of Representatives.
Trump's repayment and loan forgiveness plans
Existing income-driven repayment plans — PAYE, REPAYE, IBR, and ICR — are popular with borrowers who are having trouble making their monthly student loan payments.
Once they've verified their income, borrowers don't have to devote more than 10 or 20 percent of what's left of their monthly paycheck (after paying for necessities like food and rent) to their student loans.
Crucially, borrowers with big debt balances, modest income, or a combination of the two, are granted loan forgiveness if they're still making payments after 20 or 25 years in an income-driven repayment plan.
If you work for the federal government or at a qualifying nonprofit, you can qualify for loan forgiveness even faster — in 10 years, through the Public Service Loan Forgiveness program.
Enrollment in these programs has been growing fast — and so have projections of how much they'll cost taxpayers. In 2016, the Government Accountability Office (GAO) looked at $352 billion in loans enrolled in income-driven repayment plans, and concluded that the government was on track to write off $108 billion in loan principal.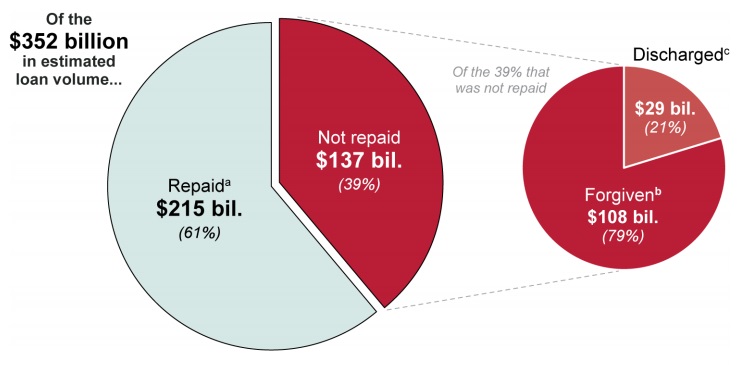 Source: "Education Needs to Improve Its Income-Driven Repayment Plan Budget Estimates," U.S. Government Accountability Office, November 2016.
If Republican lawmakers have been making more noise about the issue, the Obama administration had also proposed reworking income-driven repayment to provide less generous relief to borrowers — particularly those who took out six-figure loan debt to attend graduate school.
Borrowers with grad school degrees are also in the crosshairs of the Trump administration. Trump's income-driven repayment plan would require that borrowers earmark at least 12.5 percent of their discretionary income for their student loan payments.
While most borrowers would qualify for loan forgiveness after 15 years of payments under Trump's plan, those with graduate school debt wouldn't be off the hook unless they still owed after making 30 years of payments.
And even though grad students constitute only 17 percent of student loan borrowers, they take out 38 percent of federal loans.
The Obama administration's streamlined income-driven repayment program would have clawed back $49 billion from student loan borrowers over 10 years — mostly grad students. The latest estimate is that Trump's plan would shake $128.4 billion out of their pockets over the same period of time.
The Trump administration also wants to do away with Public Service Loan Forgiveness, which it estimates in its 2019 budget proposal would save taxpayers $45.9 billion over the next decade.
Both of those changes would apply only to future borrowers — anyone enrolled in one of the existing income-driven repayment plans would be allowed to stay in it.
Another change to the provision of federal student loans proposed by the Trump administration — eliminating the interest rate subsidy granted to students of modest means — would generate an estimated $28.5 billion in revenue over the next 10 years.
What Congress might do
Although Congress ignored the Obama administration's calls for a streamlined income-driven repayment plan, there are signs that change is in the air.
House Republicans have put forward a sweeping bill, The Promoting Real Opportunity, Success, and Prosperity through Education Reform (PROSPER) Act, that would do away with "time-based" loan forgiveness for new borrowers.
The PROSPER Act would create a single income-driven repayment program for new borrowers that would allow them to pay no more than 15 percent of their discretionary income. Instead of forgiving any unpaid principal after 10, 20 or 25 years of payments, the PROSPER Act would provide a different form of forgiveness.
Total principal and interest payments would never exceed what a borrower would have owed if they'd enrolled in the standard 10-year repayment plan. The PROSPER Act's cap on interest charges would save many borrowers more than "time-based" loan forgiveness, since stretching out your payments over many years can add considerably to repayment costs.
PROSPER Act vs. REPAYE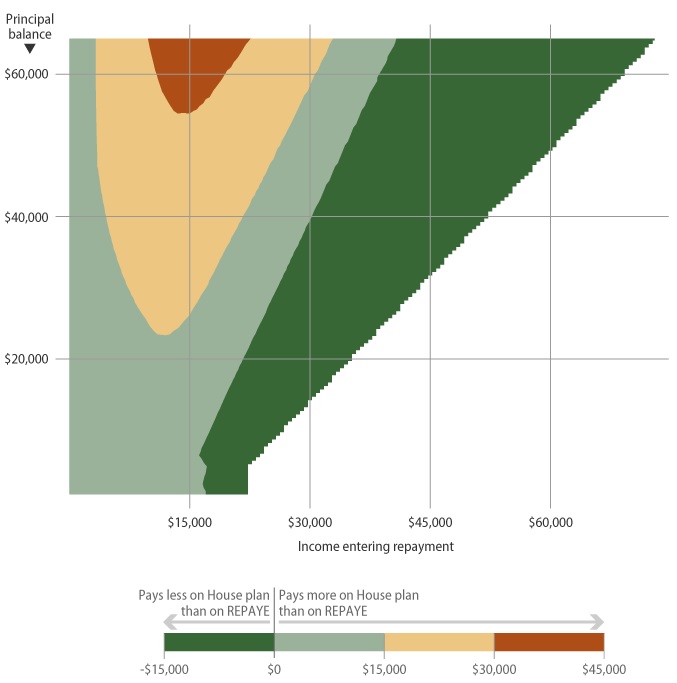 Source: "Pay Long and Don't PROSPER," Center for American Progress.
Although this form of loan forgiveness is a little harder to grasp than "time-based" loan forgiveness, the Congressional Budget Office estimates the PROSPER Act's changes to student loan repayment (which would also include closing the doors to Public Service Loan Forgiveness for future borrowers) would only save $40 billion from 2019 through 2027.
In other words, the PROSPER Act's income-driven repayment program would be more generous to borrowers than the streamlined plans put forward by both Obama and Trump.
---