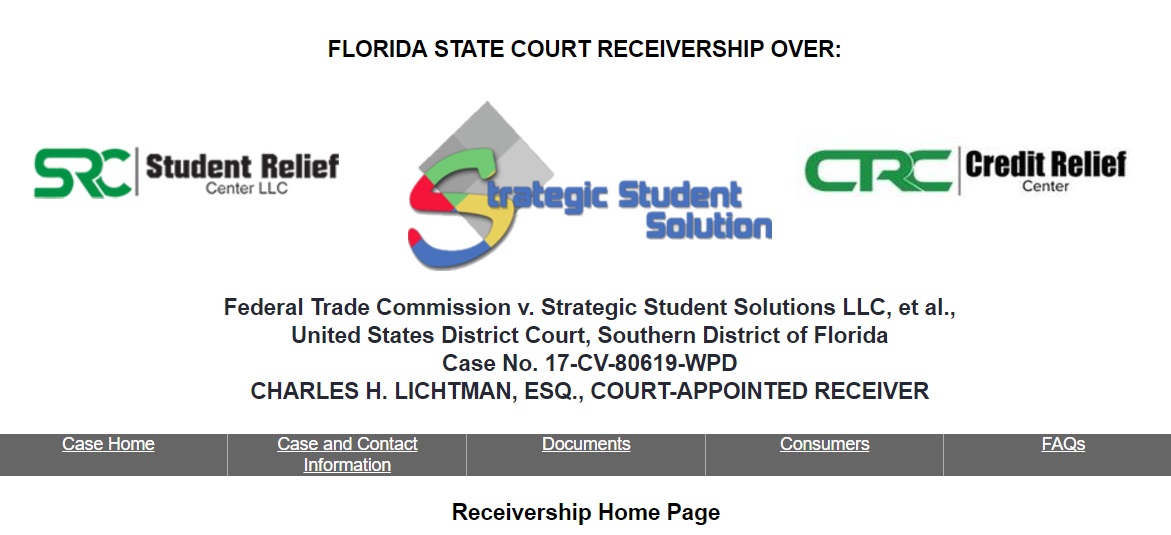 Three websites that were allegedly used to bilk millions of dollars from consumers struggling to repay their student loans have been shut down, and the operations and assets of the companies that operated them have been taken over by a court-appointed receiver.
Authorities say the websites — StrategicStudentSolution.com, StrategicCreditSolution.com, and CreditReliefCenter.com — were part of an illegal scheme to lure borrowers into paying upfront fees of up to $1,200 and monthly payments of $49.99 for what they characterized as phony student loan debt relief services.
In many cases, the Federal Trade Commission said, consumers who paid for help with their student loans "watched their situations go from bad to worse," as the defendants failed to enroll them in any loan forgiveness programs, or apply their monthly payments to their student loan debt.
Attorneys general in Ohio, Florida and Washington helped bring the case against Strategic Student Solutions LLC, Strategic Credit Solutions LLC, Strategic Debt Solutions LLC, Strategic Doc Prep Solutions LLC, Student Relief Center LLC, and Credit Relief Center LLC.
In its complaint, the FTC alleged the companies violated the Federal Trade Commission Act, the Telemarketing Sales Rule, and the Credit Repair Organizations Act.
On May 15, the FTC obtained a temporary restraining order against the businesses in the U.S. District Court for the Southern District of Florida. Two days later, court-appointed receiver Charles H. Lichtman shut down the companies and took control of their business operations and assets.
Lichtman's job is to preserve all of the defendants' computer data, documents, and other records related to their business practices. He has the power to bring lawsuits against the defendants and recover money for borrowers who paid for their services.
"This process is just getting underway, and we encourage all consumers to periodically check this website for information," a notice posted on the homepage of a website established to provide information to potential victims. Anyone trying to visit StrategicStudentSolution.com, one of the websites shut down by the FTC, is redirected to the receiver's website, SRCreceivership.com.
Consumers who believe they were victimized by the companies can reach Lichtman at an e-mail address dedicated to the case, [email protected], or leave a voicemail at (561) 893-8746.
The federal government offers a number of student loan forgiveness, discharge and income-driven repayment programs, but borrowers can apply to them on their own, for free. In most cases, it takes 10, 20 or 25 years of payments to qualify for outright loan forgiveness, and few borrowers will have most of their balance forgiven.
The bottom line, said Tom Pahl, acting director of the FTC's Bureau of Consumer Protection, is "never pay an up-front fee to a company promising to deliver debt relief."
In addition to charging up-front fees, the Consumer Financial Protection Bureau advises borrowers to be wary if debt relief companies:
Promise immediate loan forgiveness or debt cancellation
Demand that you sign a "third party authorization" or "power of attorney"
Request your Federal Student Aid Pin
The FTC publishes a list of every company and person that has been banned from selling debt relief services as a result of legal action taken by the commission.
Last year, the FTC and the Florida Attorney General shut down two companies that employed sophisticated Internet marketing strategies to reach borrowers through Facebook, Instagram, Google Adwords, and text message blasts.
One of the companies, Student Aid Center Inc., allegedly hired a plane to tow a banner advertising the company's phone number.
"It's a bird!!! it's a plane!! No it's @studentaidcenter in the sky," an Instagram post displaying a photo of the plane declared.
---