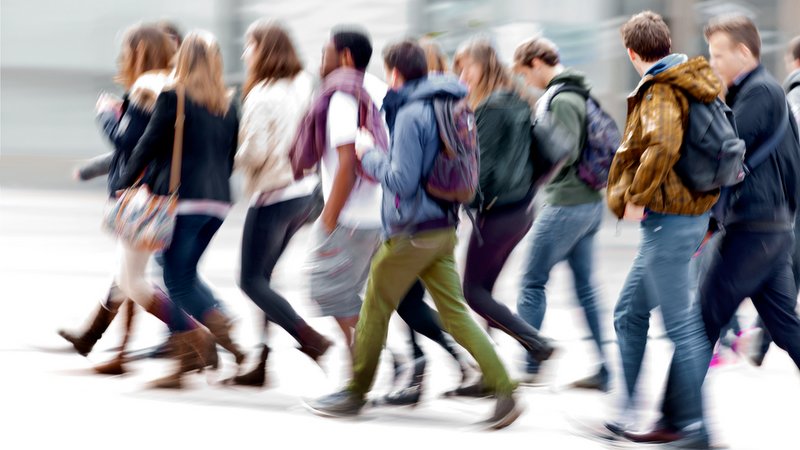 College grads are looking at "the strongest job market in nearly a decade" with unemployment nearly back to pre-recession levels and wages for younger workers posting strong gains over the past two years, Federal Reserve Chair Janet Yellen told University of Baltimore students receiving their degrees today at the school's midyear commencement.
In congratulating the students, Yellen pointed out that with automation and globalization taking a toll on jobs for unskilled laborers, getting a college degree is a bigger deal than ever.
In 1980, college grads made about 20 percent more than workers who only had a high school diploma. Nowadays, college grads make 70 percent more, on average.
"Economists are not certain about many things," Yellen said. "But we are quite certain that a college diploma or an advanced degree is a key to economic success. Those with a college degree are more likely to find a job, keep a job, have higher job satisfaction, and earn a higher salary."

Unemployment rates for college graduates are significantly lower than for workers who have a high school degree but no college. Source: U.S. Bureau of Labor Statistics via FRED, Federal Reserve Bank of St. Louis.
In "Game of Loans: The Rhetoric and Reality of Student Debt," economist Beth Akers and policy expert Matthew Chingos argue that there is no "widespread, systemic student loan crisis, in which the typical borrower is buried in debt for a college education that did not pay off."
To the authors of "Game of Loans" and other economists, borrowing to go to college represents an investment in the future. Students who complete their degrees are in a strong position to repay their student loans because they get an earnings boost.
Last year, a Georgetown University study concluded that U.S. had created 11.6 million jobs since the 2007 housing crash and recession, and that workers with a bachelor's degree or higher have claimed three out of four of them.
The report also identified skills that are in the greatest demand, including management, healthcare professional and technical, computer and mathematical science, and business services and financial operations.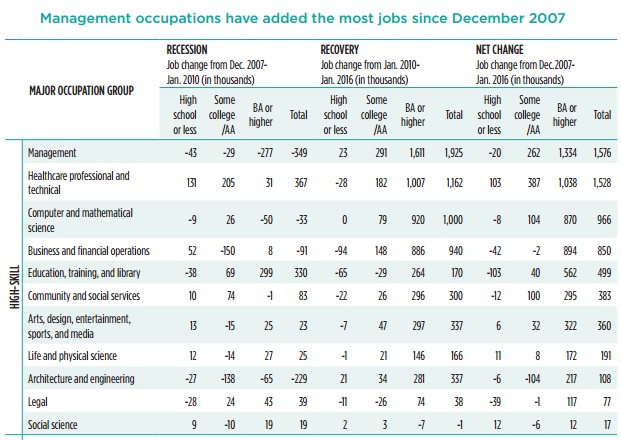 Source: "America's Divided Recovery: College Have and Have-Nots 2016," Georgetown University Center on Education and the Workforce.
Separately today, the Federal Reserve released the results of a survey detailing the experiences and perspectives of 2,035 young workers ages 18 to 30 that suggests graduates also more optimistic about their futures.  The survey found that the majority of young adults (61 percent) are optimistic about their future job opportunities, up from 45 percent in 2013.
Percentage of young workers who believe they have enough education and training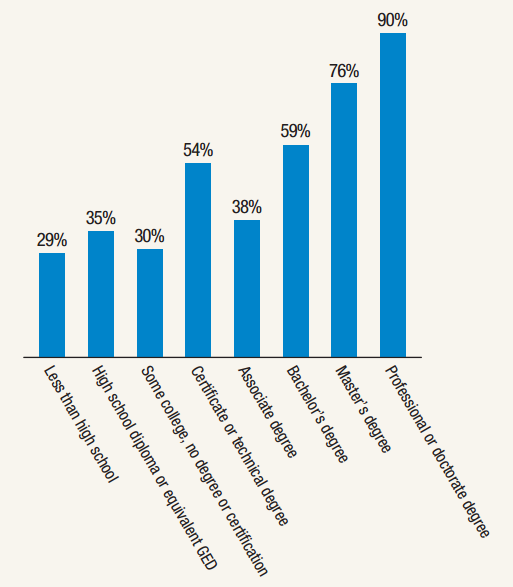 Source: "Experiences and Perspectives of Young Workers," Board of Governors of the Federal Reserve System, December, 2016.
The survey also revealed that 59 percent of young workers with a bachelor's degree and 76 percent of those holding a master's degree believe they have the level of education and training needed for the type of job they'd like to hold in the next five years. That compares to 35 percent of workers with a high school diploma (see chart above).
Why workers who want to continue their education aren't enrolled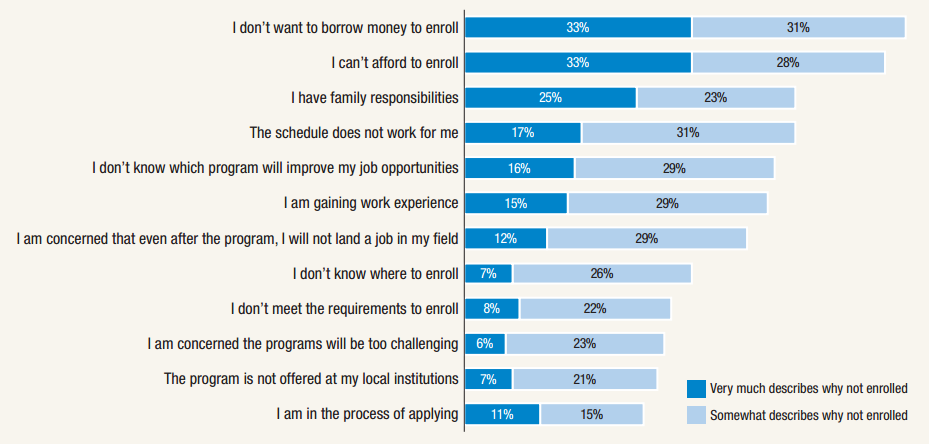 Source: "Experiences and Perspectives of Young Workers," Board of Governors of the Federal Reserve System, December, 2016.
All of which suggests that although students should try to minimize borrowing for college, the fear of taking on debt shouldn't stop them from obtaining a degree. Yet the survey found that borrowing was the biggest concern among workers who were interested in furthering their education, but who were not currently enrolled (see chart above).
For those worried about paying down student loans, Yellen said the "good news is that the vast majority of student borrowers who complete their degrees find work that allows them to keep up with their payments and pay off their loans."
Federal student loan defaults, by loan balance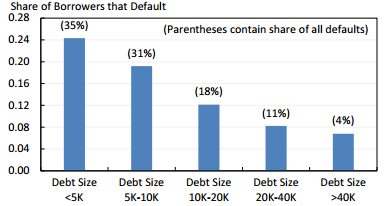 Three-year outcomes for borrowers entering repayment in 2011. Source: Department of Education, via White House report, "Investing in Higher Education: Benefits, Challenges, and the State of Student Debt."
A recent White House study shows that the larger the borrower's loan balance, the less likely they are to default. Those with larger loan balances are more likely to have advanced degree that boost their earning power, while many borrowers with smaller loan balances never completed their degree (see chart above).
Although not all college degrees will deliver the same return on investment, online tools can help prospective college students research what their degree will cost, and what they can expect to earn with it.
Despite all the alarming headlines and political rhetoric about rising student loan debt, borrowing for college peaked during the recession, and has been falling for five years in a row.
Annual federal and private student loan borrowing in 2015 dollars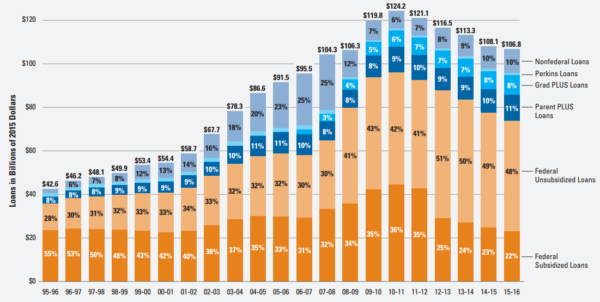 Source: "Trends in Student Aid 2016," the College Board.
According to the latest numbers from the College Board, students and parents took out $106.8 billion in education loans during the 2015-2016 school year, down from a 2010-2011 peak of $124.2 billion.
For students who have exhausted grants, scholarships, and low-cost federal student loans, private lenders offer education loans at rates that are competitive with costlier PLUS loans. Students and their families can use Credible.com to request personalized rates from multiple, vetted lenders offering in-school loans.
Once they've landed jobs and established an earnings and credit history, graduates may qualify to refinance student loan debt at lower interest rates with private lenders.
Refinancing with a private lender means giving up some benefits packaged with federal loans, like access to income-driven repayment programs and loan forgiveness. But many borrowers decide the savings they can achieve are worth more to them than the borrower benefits they give up.
---