Our goal is to give you the tools and confidence you need to improve your finances. Although we receive compensation from our partner lenders, whom we will always identify, all opinions are our own. Credible Operations, Inc. NMLS # 1681276, is referred to here as "Credible."
Whether you're buying a home or performing a routine financial review, you might be wondering how much homeowners insurance you actually need.
Adequate home insurance coverage is an essential step to protecting your home against unforeseen events (perils) and minimizing your out-of-pocket expenses should you need to file a claim.
Here's what you need to know about homeowners insurance, including the recommended amount of coverage most homeowners should have:
What does homeowners insurance protect you from?
Homeowners insurance policies cover your home and personal property against perils — events, like fires, that can cause damage or loss. A standard home insurance policy typically covers the following 16 named perils (although not all policies will cover all of these):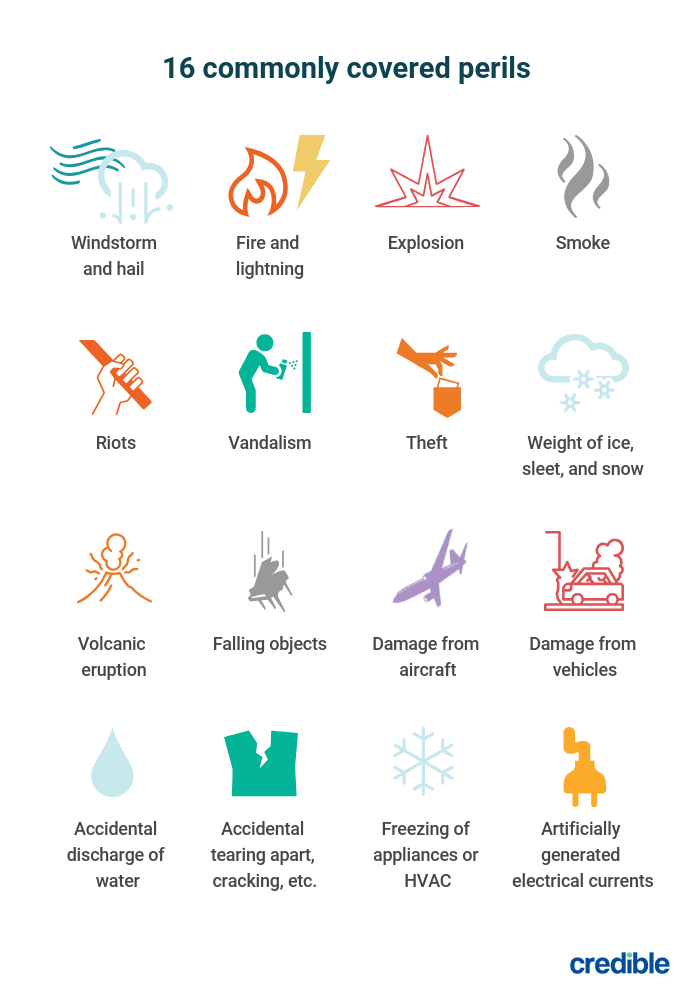 Named perils vs. open perils
When you purchase homeowners insurance, you can choose an open perils policy or a named peril policy. Here's a look at the differences between the two:
Named peril policy: Named peril coverage only reimburses you for damage or losses from perils specifically listed in your insurance policy. Any event not listed won't be covered.
Open perils policy: Open perils coverage reimburses you for damage or losses from all events except those specifically excluded from your policy. Insurance brokers sometimes refer to this type of coverage as "all risks" coverage.
The peril coverage you receive depends on the type of homeowners insurance you have.
For example, basic homeowners insurance (HO-1) may only cover 10 named perils instead of all 16.
Here are the most common types of homeowners insurance forms:
| Policy type | Number of covered perils | Type of peril coverage |
| --- | --- | --- |
| HO-1(Basic form) | 10 | Named perils |
| HO-2 (Broad form) | 16 | Named perils |
| HO-3 (Special form) | 16 | Open perils |
| HO-5 (Comprehensive form) | 16 | Open perils |
HO-3 coverage is the most popular homeowners insurance type, according to the National Association of Insurance Commissioners (NAIC). There are also different forms for condominium (HO-6), mobile home (HO-7), and renters insurance (HO-4). The coverage benefits are similar but are more tailored to fit the property type.
How much homeowners insurance do I need?
You should buy enough coverage to cover the full costs of rebuilding your home and replacing your belongings. In the event of a total loss, being underinsured may force you to draw on your savings or borrow money to cover the remaining costs.
If you're making a mortgage payment, your lender will also require you to have a minimum amount of home insurance.
Your home insurance policy typically includes six different coverage types.
Type of coverage
What it covers
Coverage amount
Dwelling
Damage and destruction to the home
You get to choose
(subject to minimums required by your mortgage lender)
Other structures
Structures on the property that aren't attached to the home, including sheds, fences, and free-standing garages
About 10% of dwelling coverage
Personal property
The cost to repair or replace damaged or stolen personal items, like furniture, appliances, clothing, and electronics. Also usually includes off-site storage units.
Often between 50% to 70% of dwelling coverage
Loss of use
Hotel expenses and some other living expenses while your house is being repaired
About 20% of dwelling coverage
Liability
Legal expenses if you are sued for any injuries or property damage that you or a family member cause to others on your property
Limits usually start at $100,000
Medical payments
Direct payments of medical bills for someone who was injured on your property
Usually between $1,000 and $5,000
Dwelling coverage
Recommended coverage: 100% of your home's replacement cost
Dwelling coverage is the most important benefit as it insures the physical structure of the home. While you can choose your dwelling coverage limit, strongly consider a limit that covers up to 100% of rebuilding or repair costs.
The NAIC states that if your dwelling coverage limit drops below 80% of the full replacement cost, your insurer may reduce the amount it pays you on a claim.
When estimating your replacement cost, you'll want to include the cost of building materials and labor. Look into average construction costs for your home's square footage, and consider getting a few quotes from local builders for a more accurate estimate.
Other structures coverage
Recommended coverage: 10% of your dwelling coverage limit
Any detached structure on your property is eligible for other structures coverage. The coverage limit is usually 10% of your dwelling coverage. For instance, if you had a $350,000 dwelling insurance limit, your policy would cover up to $35,000 in damage to other structures on your property.
Structures typically covered include:
Detached garages
Fences
Gazebos
Guest houses
Storage sheds
Swimming pools
Structures attached to your house — such as a deck or porch — are still covered under your dwelling insurance.
Personal property coverage
Recommended coverage: 50% to 70% of your dwelling coverage limit
Personal property coverage protects your personal belongings if they're stolen or destroyed by a covered peril. It's typically between 50% and 70% of your dwelling coverage limit. Many belongings in your home are eligible.
Consider making a home inventory list for these items:
Appliances
Clothing
Decorations
Electronics
Furniture
Jewelry
High-value items such as fine jewelry, artwork, and collectibles may qualify. However, the coverage limits can be less than your property's full value. If you own items like these and want more protection than what your current policy offers, you may need to add a personal articles floater — also known as scheduled personal property coverage — to your existing policy.
Tip: Taking pictures and keeping paper records of your possessions can make it easier to claim reimbursement.
Loss of use coverage
Recommended coverage: 20% of your dwelling coverage limit
When you can't live in your home due to damage from a covered peril, loss of use coverage — also known as additional living expenses (ALE) insurance — can reimburse you for reasonable housing, meal, and storage costs. It's usually 20% of your dwelling limit.
Liability coverage
Recommended coverage: Between $300,000 and $500,000
Personal liability coverage protects yourself and your family residents from lawsuits resulting in bodily injury or property damage. Liability coverage may also cover incidents stemming from pets.
Liability coverage can reimburse you for these expenses:
Legal fees
Pain and suffering
Lost wages
Repair bills
Your insurance policy may let you choose your coverage amount. Liability coverage limits typically start at $100,000. However, this might be insufficient for an expensive lawsuit. Consider carrying between $300,000 and $500,000 of liability coverage, or as much as you can afford.
Medical payments coverage
Recommended coverage: $5,000
Medical payments coverage pays the medical bills for guests injured on your property. It doesn't cover medical payments for your injuries or injuries to any family members living with you.
Most insurance carriers let you choose between $1,000 and $5,000 of coverage. So, if you elect the maximum $5,000 benefit, you'll be responsible for paying the remaining balance on any medical bills that exceed $5,000.
Compare home insurance from top carriers
Fully online, buy home insurance coverage instantly
Compare quotes from highly rated home insurance carriers in your area
No spam, phone calls, upselling, or fake quotes
Replacement cost coverage
In addition to coverage limits, you have a few options when it comes to reimbursement. You can insure your home and personal property for actual cash value or replacement cost value, and you can even upgrade to extended replacement cost coverage or guaranteed replacement cost coverage.
Here's a look at each of these coverage types:
Actual cash value: An actual cash value (ACV) policy reimburses you for the cost to replace your damaged or stolen property, minus depreciation. This means you'll receive a payout for the current value of the item, not what it was worth when you first bought it. An actual cash value policy provides less coverage, but it also costs less than replacement cost coverage, so you may want to purchase ACV if you're on a tight budget.
Replacement cost: A replacement cost value (RCV) policy pays the cost to replace or repair your home and personal belongings, up to your policy's limit, without deducting for depreciation. If a covered peril damages your sofa, replacement cost coverage would pay for a new sofa of similar quality at today's prices.
Extended replacement cost: You may also be able to purchase extended replacement cost coverage, which increases your replacement cost by 25% to 50%. This coverage is designed to help cover rising construction and material costs, and can offer more peace of mind.
Guaranteed replacement cost: This policy pays to replace or repair your home and personal belongings even when costs exceed your policy limits. This is the highest level of coverage and generally the most expensive option.
Homeowners insurance exclusions
Not every event or mishap occurring on your property is covered under your home insurance policy. Some common home insurance policy exclusions are:
Flood damage or a sewer backup
Earthquakes, mudslides, and sinkholes
Neglect or intentional loss
Legal ordinance or government action
War
It's possible to purchase separate flood insurance and earthquake insurance policies to cover these exclusions.
Other exclusions might be non-insurable. For example, when the peril stems from building code noncompliance or neglected maintenance.
Additional coverage you may need
While your homeowners insurance policy covers many situations, you might need additional coverage for peace of mind. In some cases, you can add endorsements to your home insurance instead of buying a separate product.
Flood insurance
Most home insurance policies don't cover damage caused by flooding. Instead, you must purchase a policy from the federal National Flood Insurance Program (NFIP).
If you live in an area prone to flooding, your mortgage lender may require that you carry flood insurance.
Earthquake insurance
Most insurance policies don't cover damage from earthquakes unless you add an endorsement or purchase a separate policy. Basic earthquake insurance includes dwelling coverage, personal property coverage, and loss of use coverage.
Personal articles floater
If you have several luxury items, the coverage limits are likely lower than your standard personal property coverage limits.
A personal articles floater, or rider, supplements your home insurance for valuables like:
Antiques
Cameras
Fine art
Jewelry
Musical instruments
Watches
Wedding rings and engagement rings
This policy may require a verified home inventory and professional appraisal to activate coverage. A personal articles floater only insures items individually listed in the policy.
Tip: Alternatively, you can add a broader valuable items endorsement that covers damages or losses in a specific category. For example, you may be able to add an endorsement to cover all your jewelry.
Home business coverage
Homeowners insurance may provide limited coverage for home-based businesses. For example, you may be eligible for up to $2,500 in business equipment with a standard policy. You may be able to add endorsements to increase the limit to $10,000.
However, you'll need to purchase a separate business insurance policy for additional liability and equipment protection. A standalone policy may also be necessary if you operate in a business with many customers or additional risks.
Identity theft
It's also possible to add identity theft protection to your homeowners policy. Your basic home insurance may only cover the theft of physical items and not your personal information.
Identity fraud protection can cover these expenses:
Identity and credit restoration services
Replacement of government-issued IDs
Lost wages
Travel expenses
Attorney fees
Cyber insurance
If you run a home business, cyber insurance can protect you in the event of a data breach or other cyber crime. Your benefits can pay for restoration and recovery services to make your devices safe and function properly again.
Umbrella insurance
An umbrella policy provides protection beyond your liability coverage limit. It can offer liability coverage for legal defense costs, property damage, and even claims like libel and slander.
How to get homeowners insurance quotes
It only takes a few minutes to request a free homeowners insurance quote with Credible Insurance. You can easily compare home insurance quotes and coverages from several insurance carriers from your area.
Compare home insurance from top carriers
Fully online, buy home insurance coverage instantly
Compare quotes from highly rated home insurance carriers in your area
No spam, phone calls, upselling, or fake quotes
Copyright (c) 2023, Credible Insurance, Inc. d/b/a Credible Insurance Agency (CA Lic. # 0M90597). Insurance Services provided through Credible Insurance, Inc., VA: Credible Insurance Agency, Inc., MN SOS: Credible Cover, Inc. Credible Insurance is a subsidiary of Credible Labs Inc. 1700 Market St. Ste. 1005, Philadelphia, PA 19103.