Our goal is to give you the tools and confidence you need to improve your finances. Although we receive compensation from our partner lenders, whom we will always identify, all opinions are our own. Credible Operations, Inc. NMLS # 1681276, is referred to here as "Credible."
Homeowners insurance covers what will likely be the largest purchase of your lifetime. After years of saving for a down payment, you'll want to protect your investment with a homeowners policy. Plus, your lender will require it.
Even if you're paying cash for a home, or if you own your home mortgage-free, you'll want this coverage. Homeowners insurance protects against the financial devastation of major property damage, a liability claim, or a total loss.
Here's what homeowners insurance covers in more detail:
What is homeowners insurance?
Homeowners insurance provides financial protection for your home and personal belongings against many different causes of damage, from natural disasters to accidents. These events are known as perils. When a covered peril occurs, your insurance carrier will pay your claim based on the coverage you've purchased.
Not all policies cover the same perils. Insurers use different policy forms (with names like HO-1 and HO-5) to provide different levels of coverage that you can then customize. It's important to understand what risks you face so you can get the homeowners insurance coverage you need.
These are the most common perils that homeowners insurance covers: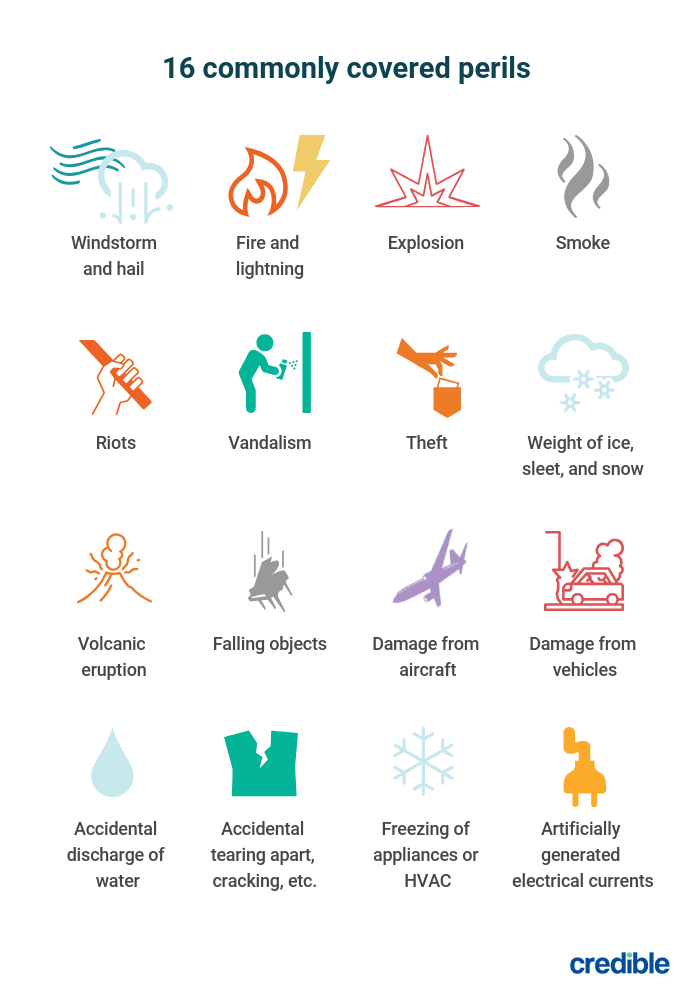 Open perils coverage vs. named perils coverage
When you buy home insurance, you can choose a policy that has open perils coverage or named perils coverage — or both. Here's a closer look at each:
Open perils coverage: An open perils policy covers any event that causes damage, as long as your home insurance policy doesn't list it as an exclusion. Flooding and earthquakes are two common home insurance exclusions.
Named perils coverage: A named perils policy only covers perils that your policy lists. If a peril isn't on the list, your homeowners insurance won't cover it.
The different homeowners insurance policy forms vary in the kind of coverage they provide. Here are the eight policy forms and what they cover:
| Policy form | Property type | What it covers | Best for |
| --- | --- | --- | --- |
| HO-1 (basic) | House | Limited named perils for structure and contents | Bare-bones coverage, where available |
| HO-2 (broad) | House | Greater number of named perils for structure and contents | More coverage than HO-1 but less than HO-3 |
| HO-3 (special) | House | Open perils for structure, named perils for contents | Most homeowners |
| HO-4 (contents broad) | Rental unit | Named perils for contents | Renters |
| HO-5 (comprehensive) | Higher-value house | Open perils for structure and personal property | Homeowners who want the most comprehensive coverage |
| HO-6 (unit-owners) | Condo or co-op unit | Named perils for contents and certain structural items | Condo or co-op unit owners |
| HO-7 (mobile home) | Mobile home | Open perils for structure, named perils for personal property | Mobile home owners |
| HO-8 (modified coverage) | Old, high-risk homes | Limited named perils for structure and personal property | Homeowners who don't qualify for any other coverage |
Compare home insurance quotes from multiple providers with Credible Insurance. In just a few minutes, you can find a homeowners insurance policy that fits your needs.
Compare home insurance from top carriers
Fully digital experience — Fill out all of your insurance forms online, no phone call required!
Top-rated carriers — Choose from a mix of highly reputable national and regional home insurance carriers.
Data privacy — We don't sell your information to third parties, and you won't receive any spam phone calls from us.
What does home insurance cover?
A standard home insurance policy includes six types of coverage:
Type of coverage
What it covers
Coverage amount
Dwelling
Damage and destruction to the home
You get to choose
(subject to minimums required by your mortgage lender)
Other structures
Structures on the property that aren't attached to the home, including sheds, fences, and free-standing garages
About 10% of dwelling coverage
Personal property
The cost to repair or replace damaged or stolen personal items, like furniture, appliances, clothing, and electronics. Also usually includes off-site storage units.
Often between 50% to 70% of dwelling coverage
Loss of use
Hotel expenses and some other living expenses while your house is being repaired
About 20% of dwelling coverage
Liability
Legal expenses if you are sued for any injuries or property damage that you or a family member cause to others on your property
Limits usually start at $100,000
Medical payments
Direct payments of medical bills for someone who was injured on your property
Usually between $1,000 and $5,000
Dwelling coverage
Dwelling coverage pays to either repair or rebuild your home if it's damaged by severe weather, fire, lightning, and other disasters. Typically it also covers attached garages.
Important: Dwelling coverage usually does not cover flooding or earthquakes.
You get to decide how much coverage you want for your dwelling, as long as you get at least the minimum required by your mortgage lender. Insurance agents will often make a recommendation based on current, local building costs or give you a couple of options. Make sure to choose an amount that covers the cost to rebuild your home.
Other structures coverage
Other structures coverage is just what it sounds like. It covers structures that are not attached to your home, such as fences, tool sheds, guest houses, and detached garages.
Since this coverage is typically a percentage of your dwelling coverage, you should make sure that it's enough to cover what you have.
Personal property coverage
Personal property coverage insures your personal belongings, like furniture, televisions, clothes, electronics, and appliances, even when they're not in your home — when you're traveling, for example.
It's a good idea to take photos or videos of each room in your house every couple of years. If you were to lose everything in a fire, these records would be indispensable in assessing what needs to be replaced — and making sure your insurance company pays you for it.
Tip: Keep your home inventory photos and videos backed up on a cloud drive or on an external hard drive that you don't keep at the house. You don't want to lose these records in the same incident that damages your home.
Loss of use coverage
Loss of use helps to cover your extra living expenses while your home is being repaired and you can't live in it. Here are some common expenses that normally qualify:
Cost of temporary housing, including utilities
Added transportation expenses (such as a long drive to work, public transportation, etc.)
Extra food expenses you would not have at home
The cost of boarding pets
Laundry expenses
Parking fees
Moving costs
Storing personal property
Note: Loss-of-use expenses must be "reasonable," as defined by your policy. Usually, high-end hotels and expensive restaurants are not covered. Rather, expenses are normally covered at your typical standard of living.
Additional living expenses (ALE) will be covered up to your policy's limit for this category. However, some policies also have time limitations.
For example, ALE may be covered for 24 months after the date of your loss. Make sure that you're familiar with all your policy inclusions, exclusions, and limitations before incurring expenses that may not be reimbursed.
Personal liability coverage
Personal liability coverage protects you from financial losses related to lawsuits for bodily injury or property damage that you or family members in your household cause to other people. It also covers damages caused by your pets.
If your dog bites a delivery person — or another person's dog at the dog park — personal liability coverage can help you pay for any legal costs. Personal liability coverage pays the costs of court defense and any judgment against you, up to specified coverage limits.
Medical payments coverage
Medical payments coverage pays the medical bills (and sometimes the lost wages) of people who are hurt on your property or by your pets.
This type of coverage doesn't apply if you are being sued (see personal liability coverage, above). Instead, it applies when someone is not suing but is requesting reimbursement.
See: High-Value Home Insurance: When Do You Need It?
Types of replacement cost
For your dwelling, other structures, and personal property, you can purchase different levels of reimbursement coverage.
Actual cash value
Actual cash value reimburses you for what your property is currently worth at the time of loss. You'll pay a lower premium for this level of coverage, because the value of physical assets usually decreases over time through regular use. Accountants and insurance professionals call this "depreciation."
Let's say your teenager starts a grease fire in your kitchen (last remodeled in 1995) while attempting to deep fry a candy bar. Your oak-veneer cabinets and laminated wood countertops are now charred. The microwave above the stove is partially melted. The range hood is toast.
All of these items must be replaced. However, since they're more than two decades old and are made from inexpensive materials, your actual cash value insurance coverage leaves you with very little money to fix the damage, especially after subtracting your deductible.
Replacement cost
Most homeowners insurance policies provide replacement cost coverage. While your premium may be higher than an actual cash value policy, the additional cost can be minimal compared with how much more coverage you get.
In the kitchen fire example above, you'd get a much larger claim check with replacement cost coverage. You'd get enough money to purchase new cabinets, countertops, and appliances of the same quality. If you wanted to upgrade to higher-quality materials, you would have to pay out of pocket for the upgrades.
Extended replacement cost
It can also be helpful to carry extended replacement cost coverage, which kicks in if a widespread disaster causes rebuilding costs in your area to increase substantially.
You may be able to rebuild your home from scratch for $200,000 if it's the only home in the neighborhood that burns down. But if a wildfire tears through your area and reduces hundreds of homes to ashes, increased demand and insufficient supply of labor and materials may push rebuilding costs to $300,000.
If you have 150% extended replacement cost coverage, your entire cost to rebuild, minus your deductible, will be paid for. Expect to pay more for this feature, and ask your insurer exactly how much additional coverage you can purchase. Limits vary by insurer.
Guaranteed replacement cost
Some insurance companies may offer guaranteed replacement cost coverage for an additional premium. Similar to extended replacement cost coverage, guaranteed replacement cost coverage kicks in when the cost to repair your home is higher than your policy limit.
However, this coverage is not capped at a percentage of your policy limit the way extended replacement cost coverage is. As a result, insurance companies may be more likely to offer extended replacement cost coverage.
Important: Guaranteed replacement cost coverage doesn't mean you can underinsure your property to reduce your premium, then rely on this coverage as a backstop. Insurance companies will require you to purchase a certain level of basic coverage as a condition of giving you this guarantee.
What does homeowners insurance exclude?
Your homeowners insurance policy doesn't cover everything. Some common perils that no homeowners policy covers include:
Floods
Earthquakes
Acts of war
Nuclear hazards
Neglect
Normal wear and tear
Intentional damage
Short-term rentals
Home businesses
Other perils, such as mold, may or may not be covered. It depends on whether the damage was caused by a covered peril (like a burst pipe) or neglect (failure to ventilate the bathroom where you shower).
Your coverage may also be limited. Having a $200,000 policy on your home, for instance, doesn't mean your grandmother's diamond ring is insured for $200,000. To fully insure expensive jewelry, art, firearms, furs, and other high-value items, you can usually add scheduled coverage to your existing homeowners policy (for an additional premium) with a personal property endorsement, or rider.
Good to know: In some cases, you may need to change insurers to get the coverage you need. For example, many insurers won't cover homeowners with certain dog breeds or homes in high-risk areas, such as wildfire-prone locations.
Also See: High-Value Home Insurance: When Do You Need It?
Additional coverages you can purchase
You can purchase extra coverages for your homeowners insurance policy for more protection. Some additional coverages you may want to consider include:
Flood insurance: Standard home insurance policies don't cover flood damage. You can buy flood insurance from a private insurance carrier or through the National Flood Insurance Program. If you live in a high-risk flood area, you may be required to purchase this coverage.
Earthquake insurance: You'll need to purchase earthquake insurance if you want to be covered in the event of an earthquake.
Scheduled personal property coverage: This rider increases your coverage for valuable items, like jewelry and antiques. It can also cover you against risks that your standard home insurance policy doesn't cover, like misplacing those valuable items.
Water backup coverage: Your homeowners insurance generally doesn't cover water damage from a backed-up sump pump or drain. This coverage will help pay to replace damaged furniture or remove the water that caused the damage.
How to purchase homeowners insurance
Follow these steps to purchase a homeowners insurance policy:
Gather basic information. Common questions on a home insurance application include the year your home was built, the foundation type, the construction type, the square footage, and the distance from the nearest fire department.
Decide how much coverage to buy. Find out how much homeowners insurance your mortgage lender requires you to carry. Compare that to the amount the insurance company recommends based on recent rebuilding costs in your area.
Choose your deductible. It should be an amount you could comfortably afford in an emergency. You can always increase or decrease it later.
Select additional coverages. These might include an endorsement for sewer backup or for an expensive piano.
Submit an application. Ideally, you'll apply with several insurance companies to see who offers the best coverage for the price. Simplify this process by comparing home insurance quotes from multiple providers through Credible Insurance.
Compare home insurance from top carriers
Fully online, buy home insurance coverage instantly
Compare quotes from highly rated home insurance carriers in your area
No spam, phone calls, upselling, or fake quotes
Copyright (c) 2023, Credible Insurance, Inc. d/b/a Credible Insurance Agency (CA Lic. # 0M90597). Insurance Services provided through Credible Insurance, Inc., VA: Credible Insurance Agency, Inc., MN SOS: Credible Cover, Inc. Credible Insurance is a subsidiary of Credible Labs Inc. 1700 Market St. Ste. 1005, Philadelphia, PA 19103.