Our goal is to give you the tools and confidence you need to improve your finances. Although we receive compensation from our partner lenders, whom we will always identify, all opinions are our own. Credible Operations, Inc. NMLS # 1681276, is referred to here as "Credible."
Homeowners insurance is a vital way to protect your house and property, helping cover repairs if your home is damaged in a disaster, fire, accident, or crime. It's so important that most lenders require you to carry homeowners insurance in order to close on a mortgage.
If you're not sure where to start, or you want to compare home insurance quotes from multiple providers, get started today with Credible Insurance. Customers who have used Credible Insurance for insurance have saved hundreds of dollars per year.
In this article, we'll go over what homeowners insurance is, how it works, and how to get a quote for a new policy.
What is homeowners insurance?
Homeowners insurance policies pay to repair or replace your home and belongings should they be damaged in an unexpected event, such as a fire or windstorm. These events are known as perils.
When you buy homeowners insurance, you can choose either an open peril policy or a named peril policy. An open peril policy covers you from all perils, unless they're specifically listed as an exclusion in your policy. A named peril policy only covers you against perils that your policy lists.
Most homeowners insurance policies cover 16 common perils: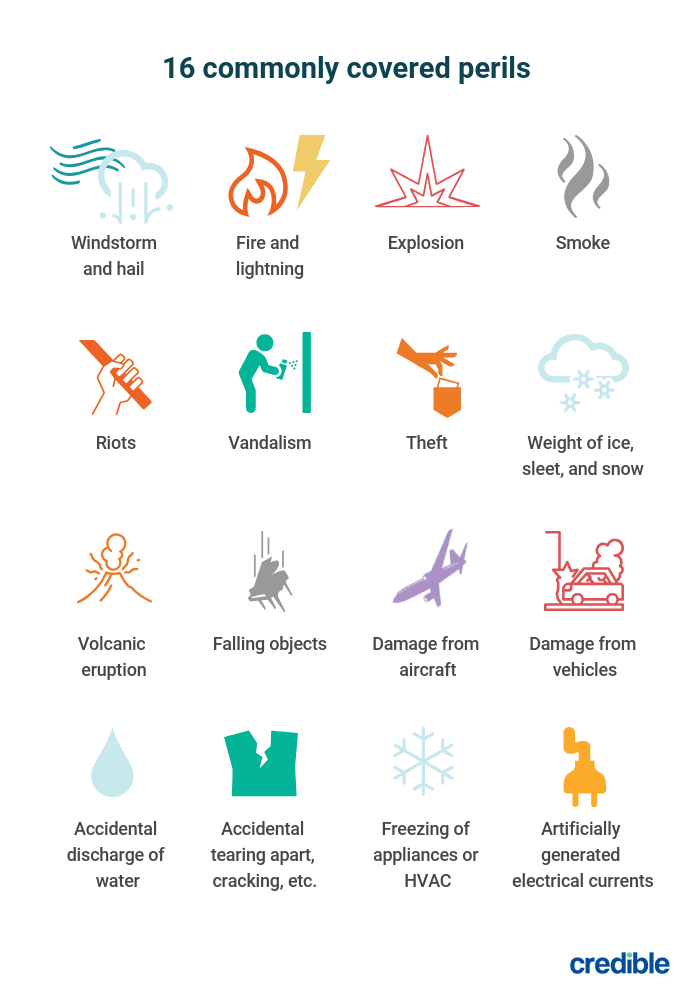 Homeowners insurance can also help cover your expenses if someone visiting your home is injured, or if you're sued.
How homeowners insurance works
To receive coverage, you'll pay a premium each year to an insurance carrier, and the insurer pays out if you need to file a claim.
You typically use an escrow account to pay for your homeowners policy as part of your monthly mortgage payment. Once your bill for the year comes due, your lender withdraws the funds from the escrow account and pays the bill on your behalf.
Compare home insurance from top carriers
Fully online, buy home insurance coverage instantly
Compare quotes from highly rated home insurance carriers in your area
No spam, phone calls, upselling, or fake quotes
Types of homeowners insurance policies
Depending on what type of home you have and how much coverage you need, there are a number of different types of homeowners insurance you can choose from. Your policy will likely cost more as the types of coverage increase.
HO-1: Basic Form
This is a bare-bones homeowners insurance policy that covers your house and belongings in a limited number of circumstances. You may be covered under an HO-1 policy if damage was caused by:
Fire or lightning
Windstorm or hail
Vandalism
Theft
Vehicles or aircraft
Explosions
Riots
Few homeowners insurance companies offer this type of coverage, instead preferring more comprehensive policies.
Also See: Does Homeowners Insurance Cover Theft and Break-ins?
HO-2: Broad Form
This type of homeowners insurance covers everything in HO-1, plus additional perils. These include:
Building collapse
Freezing, leaking, or burst plumbing pipes
Freezing or leaking HVAC or appliances
The weight of ice, snow, or sleet accumulation
Falling objects
HO-3: Special Form
This is the most popular type of homeowners insurance policy, and can be used to cover a single-family home or townhome. Instead of only covering certain circumstances, HO-3 covers all perils except for things specifically excluded — usually events like earthquakes, flooding, or nuclear accidents.
HO-4: Tenants Broad Form
Since these policies are intended for renters, an HO-4 policy only covers your belongings — not the structure of the home. These policies are similar to HO-2 in terms of the perils they cover.
HO-5: Comprehensive Form
This is one of the most expensive types of homeowners insurance, since it covers the broadest range of perils. These policies cover all circumstances except commonly excluded events like floods and earthquakes.
HO-6: Special Condominium Form
These policies cover condo units. Like the HO-4 form, the HO-6 covers your personal belongings but not the structure of the building. However, HO-6 policies do cover the interior of the unit. These policies may be harder to find as not all insurance companies offer them.
HO-7: Mobile Home Insurance
HO-7 insurance covers mobile homes and similar property. The policies generally cover the structure of the home, your belongings, and your legal liability if someone is injured while inside your property.
HO-8: Modified Coverage Form
This type of insurance is geared toward older homes where the cost to replace the property is higher than its actual value. In general, these policies only cover perils named in the policy.
What does homeowners insurance cover?
When shopping for homeowners insurance quotes, make sure you understand what coverage is included in a regular policy. Check out the table below for the main types of coverage you'll typically receive.
Type of coverage
What it covers
Coverage amount
Dwelling
Damage and destruction to the home
You get to choose
(subject to minimums required by your mortgage lender)
Other structures
Structures on the property that aren't attached to the home, including sheds, fences, and free-standing garages
About 10% of dwelling coverage
Personal property
The cost to repair or replace damaged or stolen personal items, like furniture, appliances, clothing, and electronics. Also usually includes off-site storage units.
Often between 50% to 70% of dwelling coverage
Loss of use
Hotel expenses and some other living expenses while your house is being repaired
About 20% of dwelling coverage
Liability
Legal expenses if you are sued for any injuries or property damage that you or a family member cause to others on your property
Limits usually start at $100,000
Medical payments
Direct payments of medical bills for someone who was injured on your property
Usually between $1,000 and $5,000
Once you've decided on the type of coverage you want, shop around for quotes. You can do this easily by using a home insurance broker, like Credible Insurance.
Different levels of coverage
When shopping for homeowners insurance, pay close attention to the level of coverage you choose. If you need to file a claim, your insurance provider will pay to repair or replace your property based on the level of coverage specified in your policy. You can generally choose between these coverage levels:
Actual cash value: This is the most common level of coverage. With actual cash value, claims pay out based on the replacement cost of your property minus its depreciation in value over time. For example, say you have a roof that's 15 years old, built with materials designed to last 20 years. If a lightning strike damages this roof, your insurance carrier wouldn't pay out the cost to replace it. Instead, you'd be covered for roughly 25% of that cost — since your roof has about one-quarter of its useful life left.
Replacement cost: With this type of coverage, your insurer pays out the cost required to replace the property that was damaged with similar materials. In the above example, your policy would cover the cost to replace the roof, regardless of its age. Premiums for replacement cost coverage tend to be slightly higher. To be reimbursed, you'll generally need to buy a replacement for whatever was damaged and provide your insurance company a receipt.
Extended replacement cost: This level of coverage gives you a slight buffer if replacement costs rise after you take out your policy — allowing you to still be covered if costs are between about 20% and 25% above your limits.
Guaranteed replacement cost: Guaranteed replacement cost coverage is considered the most comprehensive type of insurance you can get. With this insurance, you'll still be covered if the cost to repair the damage to your home exceeds the coverage limits of your policy. Many insurers won't offer this coverage on older homes.
What insurance doesn't cover
Before you buy a homeowners insurance policy, be sure you understand what is and isn't covered. While there's some variation between policies, most homeowners insurance policies don't pay claims if the damage was caused by:
Flood
Earthquake
Windstorm
Hail
Poor home maintenance
Sewer backups
Typically your pets and vehicles are also not covered under a homeowners insurance policy. Be sure to check out your policy's "Exclusions" section for a description of what isn't covered.
Additional coverage to consider
Standard homeowners insurance policies are fairly similar in what they cover, but most insurance companies allow you to choose from optional coverages to protect you in additional circumstances. These optional coverages may be called endorsements or riders. Some common ones include:
Flood insurance: If you live in a flood-prone area, flood insurance is a vital way to protect your property. In fact, your mortgage lender will likely require you to carry flood insurance if you live in a designated flood plain. The federal government offers flood insurance through the National Flood Insurance Program.
Earthquake insurance: These endorsements fill another common gap in standard home insurance policies. Your cost for earthquake insurance can vary greatly depending on how close to an earthquake-prone area you live, and the deductibles can be fairly high.
Personal article floater: While homeowners insurance policies usually cover your belongings, a standard policy likely won't cover certain valuables that are easily susceptible to loss — like jewelry, stamp collections, coins, furs or cash. If you own items like these and want to protect them, you'll need a personal article floater attached to your policy. To get this endorsement, you'll need a full inventory of the items to be insured and may even need them professionally appraised.
How much does homeowners insurance cost?
Homeowners insurance costs can vary widely depending on how much coverage you need, what your policy covers, and other factors.
The average cost for homeowners insurance across the U.S. is $1,251 per year, or $104.25 per month, according to data from the National Association of Insurance Commissioners.
Your actual premium will depend on several factors including:
Location: If you live in an area prone to natural disasters, for example, you'll often pay a higher premium. Your local government also plays a role. Insurers may also look at your city's fire-fighting capability while setting prices.
Deductible: The deductible on an insurance policy refers to the amount you pay toward repair costs before insurance covers the rest. Higher deductibles typically mean lower monthly premiums.
Amount of insurance coverage: Homeowners insurance policies generally have maximum amounts of coverage, based on the cost of replacing your home. Higher-value homes or homes in areas where it costs more to build may require higher amounts of coverage, meaning a higher price.
Age of the home: Newer homes may be cheaper to insure than older ones.
Your claim history: Insurance carriers will look at how often you've filed homeowners insurance claims in the past using a Comprehensive Loss Underwriting Exchange (CLUE) report. If this report shows you've filed numerous claims, you may be considered a higher risk on your new policy, and need to pay higher premiums.
Previous owner's claim history: A CLUE report also shows insurance claims made by anyone who lived at your address in the last five to seven years. So, although you may not have filed any claims, if the previous owner filed two, your insurance premium would be underwritten as though you filed both claims.
See: High-Value Home Insurance: When Do You Need It?
How to get a homeowners insurance quote
To get the right homeowners insurance policy for you, you'll need to figure out how much insurance you need, then compare offers from several different companies to find the best deal. Here are the steps you should take.
1. Determine how much coverage you need
Start with the coverage limit. Consider the cost of completely rebuilding your home and replacing all the belongings inside it. An insurance agent may be able to help you figure this out.
Your lender may require you to carry a certain amount of homeowners insurance — often equal to or greater than the amount of your mortgage. This may not be enough for your needs, so you can always purchase more.
At this stage, you should also consider whether you'd like to insure your belongings according to their actual cash value or replacement value.
2. Research home insurance carriers
Now that you know the type of insurance you're looking for, you can research insurance companies that offer it. Organizations like Consumer Reports offer ratings of different insurance providers, and your state's department of insurance may offer a similar service as well.
3. Request quotes and compare them
Once you have a few insurers in mind, you can request a rate quote from each. Typically, you can do this online by filling out a simple form. You can also use Credible Insurance to quickly gather and compare quotes for homeowners insurance.
Your rate quote should include the coverage limits, deductible and your monthly premium. It's important to shop around, since different carriers may charge significantly different prices. Be sure when you're comparing quotes that you're comparing apples-to-apples: Comparable quotes will have the same (or similar) coverage limits and deductibles.
Frequently asked questions about homeowners insurance
Do I need homeowners insurance?
You're usually not required by law to carry homeowners insurance. However, most mortgage lenders will require you to buy a policy as a condition of the loan.
Your policy not only protects you, but also your lender's investment. In fact, mortgage companies are allowed to buy a homeowners insurance policy for you and charge you for it if you fail to buy one on your own.
How much homeowners insurance do you need?
When you buy insurance, one of the main factors you look at is the coverage limit. This is the maximum amount the policy will pay out for different types of coverage. A standard insurance policy has six types of coverage, and each will have its own limit. Make sure you're comfortable with each limit before committing to a policy:
Depending on where you live, you may consider buying additional coverages that exceed what's in a standard homeowners insurance policy. For example, if you live in a flood-prone area, you may want to buy flood insurance in addition to your traditional policy.
What happens if you don't have homeowners insurance?
If you have a mortgage, your lender likely requires you to maintain homeowners insurance. If you don't have a policy, your lender is allowed under the law to buy a policy for you and charge you for it. This is called "force-placed insurance."
Failing to pay for homeowners insurance can send your mortgage into default, the same as if you didn't make your monthly mortgage payments. This puts you at risk of losing your home.
When do I need to get a home insurance quote?
Once you're under contract on a new home, it's time to start gathering homeowners insurance quotes. Most insurance carriers will need to know the address of the home you are looking to insure.
Do you need homeowners insurance at closing?
Yes, generally, you'll need to have your homeowners insurance policy in place before you can close on your mortgage. Your loan officer will likely ask you for proof of insurance as part of the standard underwriting process.
When gathering quotes, you can choose to ask your loan officer whether the policies you're considering meet the lender's requirements. Your closing costs often include pre-paying a portion of your homeowners insurance premiums.
How do I pay my homeowners insurance premium?
In most cases, you'll pay for your homeowners insurance as part of your monthly mortgage payment. It's part of your escrow account, money paid in addition to your principal and interest and held by your lender to cover things like property taxes and insurance. When the bill is due, your loan servicer typically handles the payment.
Compare home insurance from top carriers
Fully online, buy home insurance coverage instantly
Compare quotes from highly rated home insurance carriers in your area
No spam, phone calls, upselling, or fake quotes
Copyright (c) 2023, Credible Insurance, Inc. d/b/a Credible Insurance Agency (CA Lic. # 0M90597). Insurance Services provided through Credible Insurance, Inc., VA: Credible Insurance Agency, Inc., MN SOS: Credible Cover, Inc. Credible Insurance is a subsidiary of Credible Labs Inc. 1700 Market St. Ste. 1005, Philadelphia, PA 19103.
Miranda Marquit contributed to the reporting for this article.