Our goal is to give you the tools and confidence you need to improve your finances. Although we receive compensation from our partner lenders, whom we will always identify, all opinions are our own. Credible Operations, Inc. NMLS # 1681276, is referred to here as "Credible."
The amount you'll pay for home insurance varies, depending on your situation and how much coverage you need. Insurance costs also rely on other factors, like the age of your home, your location, and your home's value.
But having a home insurance policy doesn't mean you need to break the bank. Insurance carriers offer several incentives to help customers lower their homeowners insurance premiums. And you can save money without having to qualify for discounts.
Here are some ways to save money on your home insurance right now: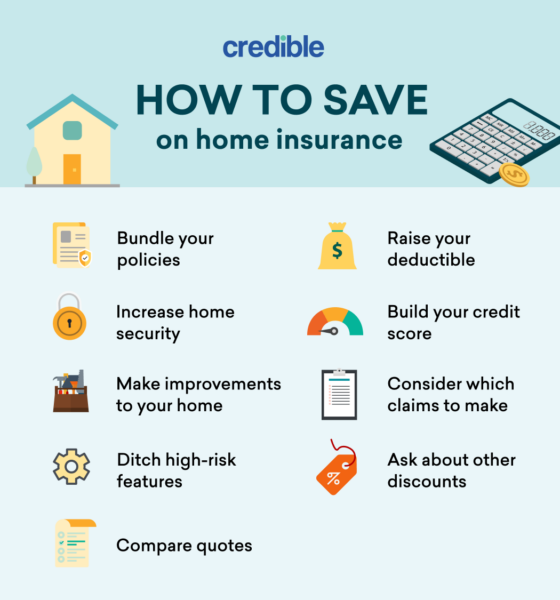 Bundle your policies
You can potentially save considerable money by bundling your insurance policies through one provider. Most insurance providers offer multi-policy discounts.
If your auto insurance is through one provider and your home insurance is through another, you could save money by simply moving one of the policies to the other insurer. The same goes for life insurance and other insurance coverages.
Good to know: Insurance carriers reward loyalty, so bringing your policies under one roof can help you save. Ask your insurance agent or provider what type of discount they offer for bundling your home insurance policy with other insurance coverage.
With Credible, you can easily compare homeowners insurance quotes from top carriers, all in one place.
Loading widget - hoi-embed
Raise your deductible
When you file an insurance claim, you pay a deductible. An insurance deductible is a set amount that you pay out of pocket before your insurance starts to cover costs. Your deductible amount depends on your policy, but often homeowners pay anywhere from $500 to $2,000 on claims.
By increasing your deductible, you can lower your insurance premiums.
Tip: If you have to make claims, this adds more out-of-pocket costs, so make sure you have enough savings to cover these potential expenses.
Increase home security
Few incidents are scarier than being a victim of a home break-in. There were 522,426 burglaries in the U.S. in 2020, according to FBI data. Upgrading your home security and other safety features could lead to insurance premium savings and protect your family.
Most insurance providers offer discounts to homeowners who install or upgrade security devices in their homes, including:
Home security systems
Fire alarm systems
Smoke detectors
Deadbolt locks
Sprinkler systems
Keep in mind: Costs to install these safety measures can add up, especially if you have to hire a professional. Consult your insurance provider to see what discounts it offers for adding security features to your home.
Consider which claims to make
Some insurance providers offer a claim-free discount, which rewards you for not filing claims with your insurance carrier. While it's tempting to file claims for any expense related to your home, it could mean losing out on the discount and, eventually, higher premiums. That's because insurance providers consider your claims history when they set premium rates. If you've made several claims recently, you could see your rates increase.
Don't forget that you still pay a deductible on your claims. So, if you file a claim for $1,000 and your deductible is $500, you still have $500 in out-of-pocket costs, plus you may lose out on a discount.
Tip: You're often better off paying out of pocket on minor repairs and improvements and saving your claims for larger expenses.
Learn More: How Much Homeowners Insurance Do I Need?
Make improvements to your home
You can also earn discounts when you upgrade your home. Many insurance providers offer discounts on insurance premiums for home improvements like a new roof or adding storm shutters. The same goes for upgrading the electrical and plumbing systems in your home. These improvements help your home run more efficiently, and they increase your home's protection from potential damage.
Good to know: Upgrades like a new roof, plumbing, or electrical systems can also increase your home's potential value should you decide to sell.
Build your credit score
In most states, insurance carriers use credit-based insurance scores to help determine insurance rates. Insurance scores are not the same as your credit score, but they share many similarities. The way insurers calculate scores varies, but often includes the following factors:
Payment history
Outstanding debt
Credit history length
New credit applications
Credit mix
If your credit isn't strong you could face higher premiums. The higher your insurance score, the better your chances of receiving lower rates.
Some simple ways to boost your credit score include:
Review your credit reports and flag any errors
Make on-time payments
Pay down existing debt
Keep older credit accounts open
Open a secured credit card
Keep in mind: Insurance providers don't rely on your credit-based insurance score alone when setting your rate, but it's an important factor in the process.
Ditch high-risk features
You want your home to be a place to relax, unwind, and have fun. But some property features are seen as a nuisance to insurance carriers and may drive up your premium costs. Features that could cause bodily injury and leave you liable may drive up the cost of home insurance, including:
Swimming pools
Playground equipment
Trampolines
Treehouses
Water features
Tip: Sometimes you don't need to remove the nuisance to reduce your premiums. Adding a fence or gate around the feature (like your pool) can often address the issue in the eyes of your insurance carrier.
Ask about other discounts
Depending on your situation, you may qualify for several other discounts from your insurance provider. Discounts vary based on the insurance carrier, but you can earn discounts on your home insurance for a variety of reasons:
Paying your bill on time
Setting up automatic payments
Getting green certifications for eco-friendly home features
Having a newer home
Being affiliated with an organization or business
Receiving paperless e-statements
Some insurers offer state-specific discounts. Farmers Insurance, for example, provides a discount to California homeowners who add earthquake coverage to their homeowners policy. Check with your insurer to see what kinds of discounts are available or that you could easily qualify for by changing your policy.
Compare quotes
Perhaps the best way to save money on homeowners insurance is to shop around for the best rates. Whether you're searching for insurance for the first time or you're a longtime homeowner, it never hurts to check rates through multiple insurance carriers. Insurers have different underwriting standards, and pricing may be more competitive through another provider.
Remember that rates aren't the only factor to consider when choosing homeowners insurance. You want to make sure the carrier offers good customer service and tools and resources to help you as a homeowner. If you find lower rates elsewhere, contact your insurance agent or provider to see if they'll match the lower rate. You can still shop around if you have multiple policies through one insurer. Just make sure that you check rates on all coverages and see if they offer bundling discounts before you buy home insurance.
Credible makes it easy to compare homeowners insurance quotes from various carriers.
Compare home insurance from top carriers
Fully digital experience — Fill out all of your insurance forms online, no phone call required!
Top-rated carriers — Choose from a mix of highly reputable national and regional home insurance carriers.
Data privacy — We don't sell your information to third parties, and you won't receive any spam phone calls from us.
Copyright (c) 2023, Credible Insurance, Inc. d/b/a Credible Insurance Agency (CA Lic. # 0M90597). Insurance Services provided through Credible Insurance, Inc., VA: Credible Insurance Agency, Inc., MN SOS: Credible Cover, Inc. Credible Insurance is a subsidiary of Credible Labs Inc. 1700 Market St. Ste. 1005, Philadelphia, PA 19103.