Our goal is to give you the tools and confidence you need to improve your finances. Although we receive compensation from our partner lenders, whom we will always identify, all opinions are our own. By refinancing your mortgage, total finance charges may be higher over the life of the loan.
Credible Operations, Inc. NMLS # 1681276, is referred to here as "Credible."
When home prices rise and inventory shrinks, you might be willing to forget the ready-to-move-in property and go for whatever's available in your price range.
Enter the fixer-upper: a home that requires extensive repairs but generally comes with a lower price tag. This type of property can help you move into your dream neighborhood and typically comes with less competition.
But before taking on the ultimate DIY home project, you'll need to first understand what it takes.
Here's how to buy a fixer-upper in eight steps:
1. Weigh the pros and cons
Fixer-uppers appeal to a lot of first-time homebuyers because they usually start at a lower purchase price. If you're looking to go this route, you'll need to consider the costs of buying the home and how you'll pay for repairs.
Here are some of the pros and cons you need to consider before proceeding:
Pros
Affordability: While home prices vary in every region and neighborhood, fixer-uppers generally cost less than homes that don't need extensive repairs.
Less competition: Fewer people are willing to buy a fixer-upper because of the work and costs involved, so you stand a better chance at winning the bid.
Chance for customization: You have the freedom to do whatever you'd like with your new home.
Cons
Expensive renovations: Full-home renovations cost nearly $47,000 on average, and some can cost much more. And because fixer-uppers can have hidden problems, it can be hard to nail down an accurate budget before you start construction.
Unexpected issues: Nearly a third of home improvement projects go over budget, according to a recent report from housing site Houzz, and they often take longer than expected. You'll need to prepare yourself for these possibilities.
Long-term construction: Depending on the work involved, you might have to live in a different home until the remodel is complete.
Learn More: How Much Does It Cost to Build a House in 2021?
2. Figure out how much you can afford
If you plan to buy a house that needs work, there's more to consider than just the mortgage. The costs ofbuying a fixer-upper usually fall into three major categories:
Upfront costs: Depending on the mortgage program you use, you'll likely need to cover the down payment and closing costs.
Monthly housing payment: Some financial experts say your housing costs shouldn't exceed 30% of your income. So if you earn $5,000 a month, for example, then you might spend $1,500 a month on this expense — including the mortgage payment, property taxes, homeowners insurance, and HOA fees, if applicable.
Cost of the repairs: Some mortgage programs allow you to roll the repair costs into your loan, but you can also finance them separately. Either way, check whether the repairs fit into your overall budget.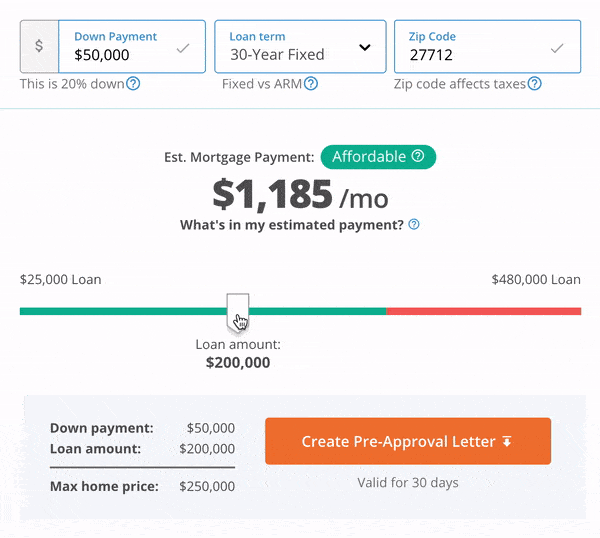 Getting a mortgage pre-approval can help you figure out how much you can afford. With Credible, you can get an instant streamlined pre-approval letter in just three minutes — without affecting your credit score.
Credible makes getting a mortgage easy
Instant streamlined pre-approval: It only takes 3 minutes to see if you qualify for an instant streamlined pre-approval letter, without affecting your credit.
We keep your data private: Compare rates from multiple lenders without your data being sold or getting spammed.
A modern approach to mortgages: Complete your mortgage online with bank integrations and automatic updates. Talk to a loan officer only if you want to.
Learn More: How Much Down Payment Do You Need to Buy a House

3. Look for fixer-uppers with good bones
Some fixer-uppers simply aren't worth your time or money. Here are some things you'll want to look for when shopping around for a fixer-upper:
Good location
Location is a significant factor when buying a fixer-upper (or any home, for that matter). Busy intersections, schools, and landfills can all impact home values. Seek fixer-upper homes in neighborhoods that have lasting market appeal to boost the return on your investment.
Appealing layout
The most popular home layout is a three-bedroom house with at least one bathroom, but this can vary by location. In a busy metro area, a two-bedroom condo could be the hottest configuration.
But in any home, the floor plan should flow well. Consider whether you'll need to take on big projects like removing walls, altering the room setup, or adding entrances.
Workable condition
Every fixer-upper needs work, but you should think about your budget and how much time you can — or want to — spend on fixing the home. Here are some common repair projects, from the minor to the more involved (and pricey):
| Minor fixes | Expensive repairs |
| --- | --- |
| Stripping, patching, and painting walls | Replacing major systems |
| Refinishing floors or laying tile or carpet | Repairing the foundation |
| Installing ceiling fixtures | Pouring concrete |
| Replacing broken windows or doors | Building accessory units |
| Replacing baseboards or adding trim | Complete remodels of the bathroom or kitchen |
4. Get a home inspection
A home inspection is a critical step for a fixer-upper because it can reveal issues that weren't noticeable when you first toured the property.
A professional inspection costs $338 on average, according to HomeAdvisor, but that can vary depending on the location and size of the home.
During the inspection, a professional goes through the entire interior and exterior of the home and checks the ceilings, walls, floors, major systems, and appliances. Afterward, they'll give you a report that explains problems with the home and all the repairs you'll need to tackle.

Find out: How to Conduct a Property History Search Before You Buy
5. Make a budget for repairs
Based on the inspection report, you can make a list of every project you'll need to complete and price out the cost of materials and labor.
Online resources like HomeAdvisor can help you estimate costs. From there, you can determine if the investment is worth your time and money.
Tip: If you buy the home, you'll need to hire a contractor to help you create a customized budget.
Check out: Are Condos a Good Investment? Figuring Out the Pros and Cons
6. Check if you need permits
Depending on the type of project and local zoning laws, some renovations require building permits.
Here's a good rule of thumb: Projects that majorly change the home's structure, involve new construction, or involve the mechanical systems usually require a permit.
Visit your municipal government office to research the rules in your area and apply for a permit. These documents can cost hundreds of dollars, but the price depends on your location and project. You might also need to provide detailed plans.
Tip: The process of applying and paying for a permit might seem inconvenient, but don't skip this step. If you're caught building without one, the local governing board could shut down your project and fine you hundreds or even thousands of dollars.
7. Think about what you can do yourself
While some repairs require a professional, there's plenty you can do yourself. Make a list of projects you can take on without a contractor, which will help you save money.
For example, you might be able to strip wallpaper and paint cabinets. But keep in mind: If you use a renovation loan, the lender might limit DIY projects.

More: 18 Home Improvement Projects You Can Wrap Up in a Day
8. Consider your financing options
When buying a fixer-upper house, you'll need to consider how you'll pay for the home and the repairs. You can either finance them separately or together.
Personal loan
If you go this route, you'll take out a mortgage for the home and a separate home improvement loan to cover the repairs. Home improvement loans are usually unsecured personal loans that you take out and pay back in installments over time.
This could be a good option if you like the idea of financing the repairs separately from the home, but make sure you qualify for the loan amount you need.
Credit card
Credit cards can be a good way to finance repairs if you don't need to borrow much and you qualify for a card with good terms.
Some home improvement stores, such as Lowe's and Home Depot, even offer co-branded credit cards that come with perks when you shop with them. But consider whether you'll use the card once your home projects are wrapped up.
Tip:
Look for credit cards with a 0% introductory APR for an extended time frame, usually 12 to 21 months. If you pay off the balance within that window, you'll fund your repairs interest-free.
But keep in mind, once the intro period ends, the interest rate will likely increase. You'll pay interest on any remaining balance, and the rate could be higher than what you'd pay on a personal loan or mortgage.
Renovation loans
A renovation loan allows you to buy and renovate a home using a single mortgage. This could be a cheaper way to finance a project — and the loan sizes are often higher than you might get with a personal loan or credit card.
Mortgage program
Min. credit score
Min. down payment
Loan limit
Fannie Mae HomeStyle loan
620
3% of the combined purchase price and repair costs for one-unit homes
Up to 75% of what the home will be worth after renovations
Federal Housing Administration 203(k) standard loan
500 or 580
(depending on down payment)
3.5% or 10%
Up to $35,000; the value of the property must fall within mortgage limits mortgage limits in your area
Department of Veterans Affairs' Alterations and Repair Loan
No credit score requirement
None, but there is a funding fee up to 3.6% of the home's purchase price and a construction fee of up to 2% of the home's purchase price
Up to 100% of the fully repaired value of your home
If you're considering a home purchase, be sure to shop around. Credible makes this easy — you can compare all of our partner lenders in the table below and see prequalified rates in as little as three minutes.
Loading widget - purchase-rate-table